A "must-do" experience when in London is a (vegan) afternoon tea. There is is no shortage in London with options and price ranges for everyone, vegans, vegetarians, and those who are gluten-free, alike!
Our "High Tea in London for Vegans, Vegetarians, and Gluten-Free" will look at:
---
---
This site is user-supported and that's why we use affiliate links. At no extra cost to you, we get a little bit of money when you purchase something through one of our links. Thank you for helping support ethical, sustainable, and plant-based travel! You can read more about our affiliate disclosure policy here.
---
Posh and Pricy – The Egerton House Hotel
Upfront Price: £45 per person (about $60) for afternoon tea (service charge not included)
Total Price (including extras): £67 (about $90)
Setting: Intimate, cozy, and classy
Food Quality: 10/10
Bonus: Stunning bathroom
If you're willing to spend a little more on a vegan afternoon tea in London, the Egerton House Hotel can't be beaten. The hotel is located near Harrod's, a very famous department store and is easily accessible by public transportation. The hotel itself is gorgeous, the chairs are comfy, and the tea sets are well worth a place on your Instagram. The tea room itself is rather intimate and feels very cozy. It is without a doubt, a photo-worthy place.
Once inside, our coats were immediately taken and hung up and we were seated by the window. Although there were other afternoon tea-goers, the space is designed to feel very intimate. You'll be presented with a menu and the waiter will go over the tea options after realizing you are not the typical tea connoisseur he normally serves. The menu is a lengthy option of beautiful teas, all of which are presented in teapots meant to enhance the experience. One of the best parts of this vegan afternoon high tea experience was that we didn't feel rushed to finish.
I also opted to try one of their tea cocktails, essentially a gin cocktail infused with some sort of tea. At a whopping £15 they're not cheap, but they are massive and incredibly strong. I didn't taste much tea in mine, but the gin was definitely present!
The food was absolutely spectacular. We were presented with loads of delicate pastries and baked goods, and I've never loved a finger sandwich more. The scones and vegan clotted cream were honestly out of this world!
There are also plenty of options for other types of teas. You can add champagne or choose a picnic version, a kids version, or even a dog version!
Conclusion: Worth it for the price because of the service, beauty, and wonderful food and tea! Overall, I spent almost £67 (about $90) at the end of the day, and though pricy, it was easily one of the best vegan afternoon tea in London experiences!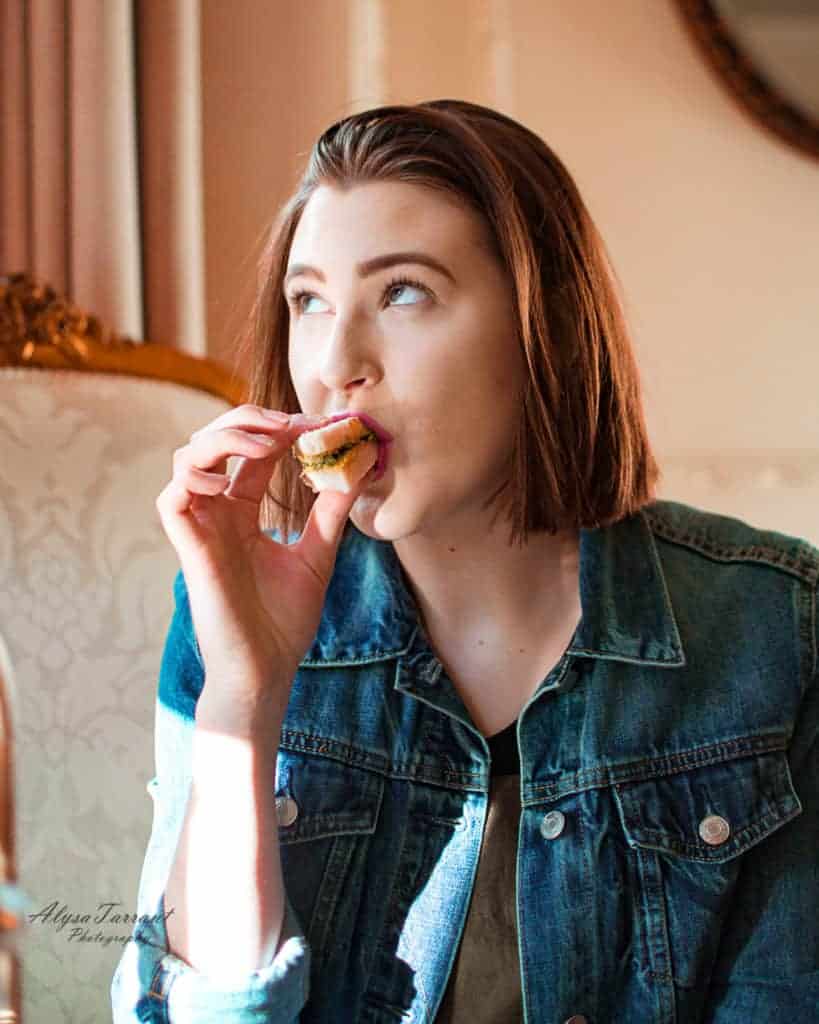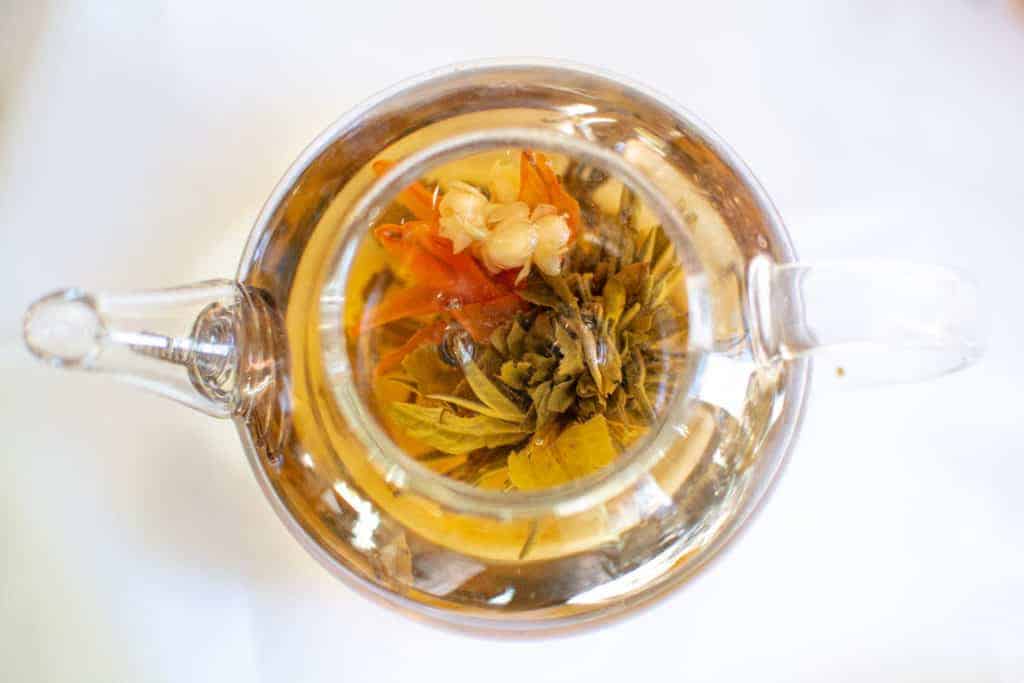 ---
---
Unique with the Splurge – Lady Dinah's Cat Emporium
Upfront Price: £25 per person (about $33)
Total Price (we didn't purchase anything else): £25 (about $33)
Setting: Lively because of the cats and a bit dark in the main cat area
Food Quality: 6/10
Bonus: Lots of loving cats!
If you're looking for a unique vegan afternoon tea in London, head over to Lady Dinah's Cat Emporium. While you can drop in for a drink or a cup of tea, if you opt for the high tea, you get to spend over an hour drinking and eating while watching and playing with cats. Lady Dinah's caters to many different diets so you're sure to find something for everyone in your group.
When you first arrive, the staff ask that you wash your hands, for the sanitation of yourself and the cats. From there you'll be led into a room with a large window where many people peer into the building wondering how in the world you got so lucky as to dine with playful felines everywhere!
You might be led down the stairs where you'll enter a cat's paradise. This area is a bit dark, so not great for photo lovers. There's a large tree in the middle of the room and cat toys everywhere. The cats can come and go as they please, whether that be on your lap or climbing on the shelves along the ceiling. Visitors are welcome to play with the cats but be aware that you can't touch them while they're sleeping or eating.
You'll receive your tea, of which you have unlimited for the duration of your time. You can also choose to have cold drinks. I recommend the sparkling elderflower drink – very tasty and refreshing! As tasty as the food is, I think it still leaves a little something to be desired. The sandwiches were more bread than filling and instead of clotted cream, we received butter. But let's be honest, the focus here is on the cats rather than the food.
You can upgrade to £35 per person to get unlimited food or for £10 get a bottle of prosecco. For the safety of the cats there are not unlimited alcohol options.
Conclusion: If you're a cat lover looking for a budget-friendly and unique afternoon vegan tea experience in London, this is the place to go. Not only will you get your fill of tea, but playing with the cats makes for a lovely afternoon.
Stay Connected: If you want mobile data while you're in the UK or Europe, I recommend ordering an EE pay as you go sim card. Have it sent to your accommodation for an easy and affordable way to stay connected.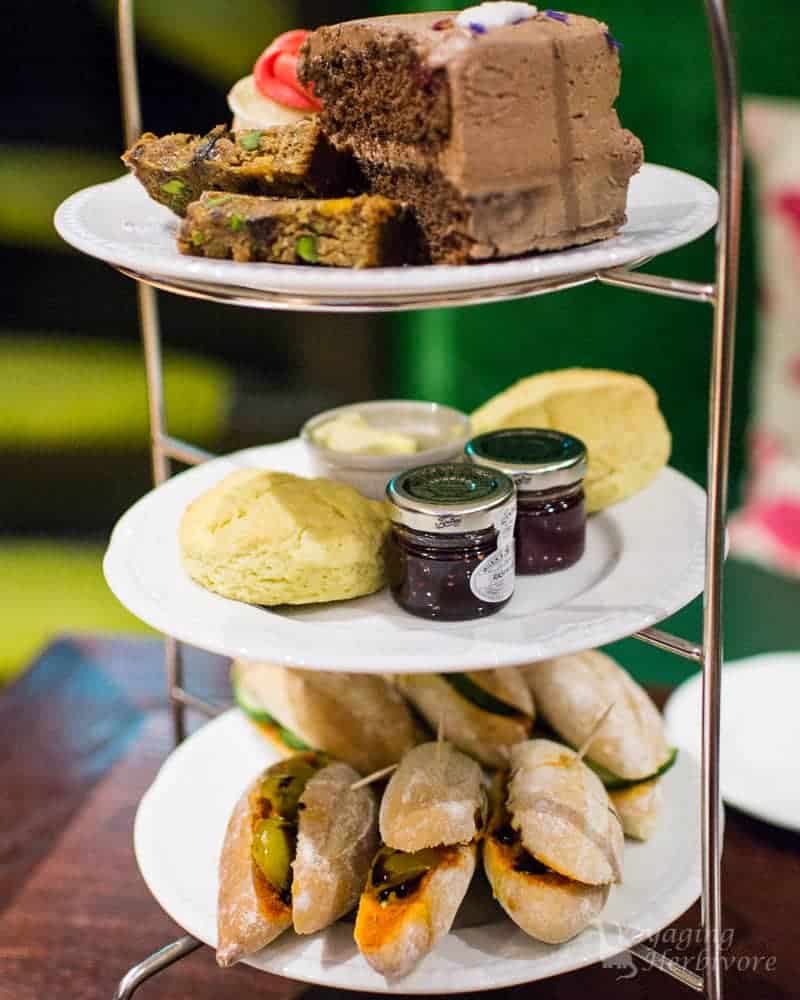 ---
Classic on a Budget – B Bakery
Upfront Price: £30 per person (about $40)
Total Price (we purchased nothing extra): £30 per person
Setting: Lively and close quarters
Food Quality: 7/10
For a budget-friendly and traditional afternoon vegan tea experience, check out B Bakery, located in Covent Garden in London. This afternoon tea is reasonable at £30. Though not a very intimate setting and located on a busy street, the tea and food are very good, and they are very accommodating for dietary restrictions. While you may opt for the traditional afternoon tea, B Bakery also has tea options such as a cruise on the Thames or in a classic red double-decker bus around the streets of London. These options are a little more expensive, so for the sake of our wallets, we'll stick to the bakery itself.
Upon arriving we were seated at one of the many tables that fill the large room. It's a bit of a tight squeeze with less than a foot between one table and the next, but at least the large windows allow for a lot of natural light for nice pictures. You'll receive a tea menu and pick out your tea, which has unlimited refills, before sitting back and waiting for the food to arrive. The savory food I received is some of the most unique I have had at afternoon tea. Finger sandwiches are the norm but there was an interesting variety of wraps, sandwiches, and something that required a spoon.
It was all tasty but if you're in the market for classic flavors this might not be the place for you. There are plenty of scrumptious sweets, followed by scones. To accompany my vegan scones (which were a bit less of a scone and more of a biscuit – in American terms) there was butter (sadly no vegan clotted cream).
For a slightly higher price you can also opt for a glass of prosecco, champagne, or Gin Lovers Afternoon Tea.
Conclusion: If your goal is to experience an affordable afternoon tea in London, this is a great place to head. This vegan afternoon tea in London is generally affordable and you'll get the experience and some great food and tea without paying for extra bells and whistles. While it's not the place to have an intimate conversation, it's a nice place to stop and enjoy London.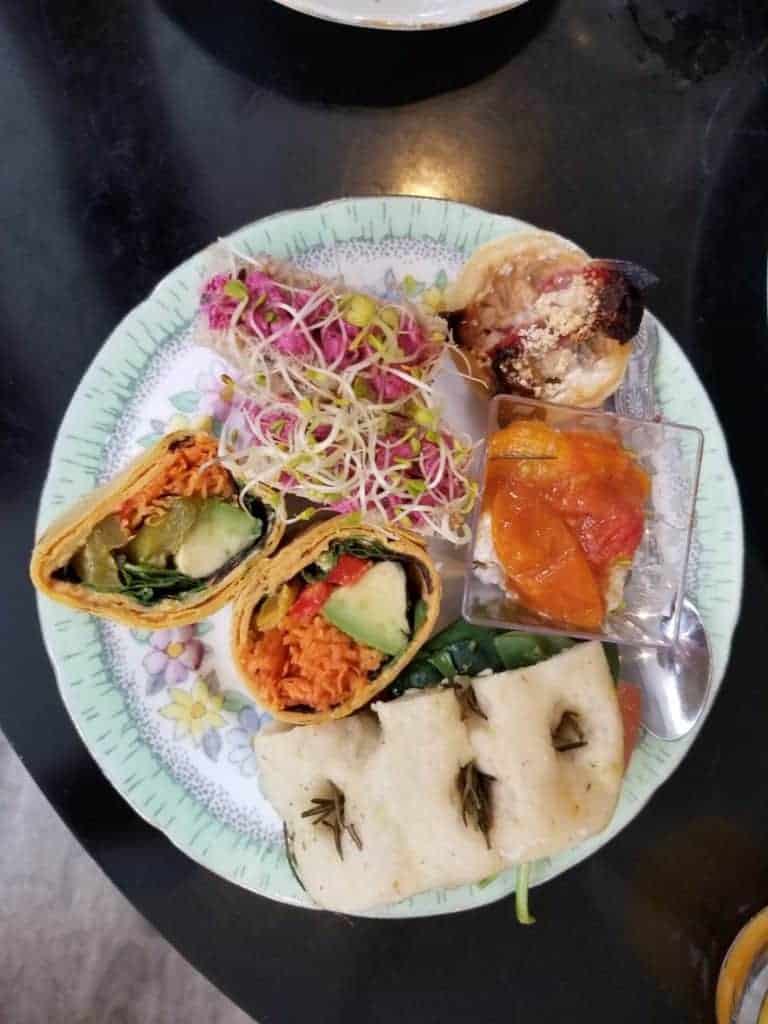 ---
Where to Stay in London
Use the map below to find an Airbnb in London or check out our full guide: 6 Short Stay in London Apartments for EVERY Budget!
---
More London Guides
---
Free Resources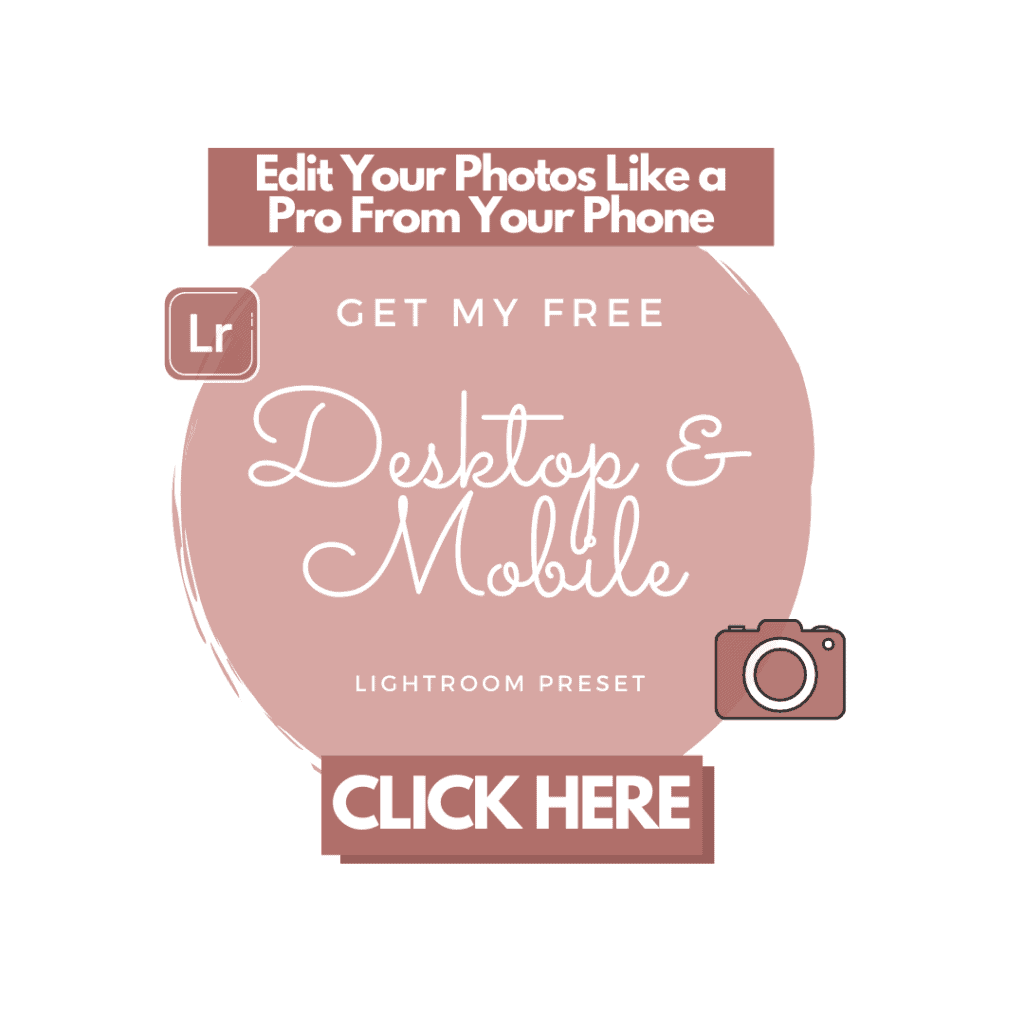 ---
What Camera Gear Do We Use?
If you want the full list of things we keep in our camera bag, check out the complete guide or browse our photography guides.
---