Located just around the bend behind Arthur's Seat, is a small village, loch, and gardens, unknown to many Edinburgh tourists and locals alike.
Keep reading to discover the history, what to do, and how to find Edinburgh's hidden village, loch, and gardens.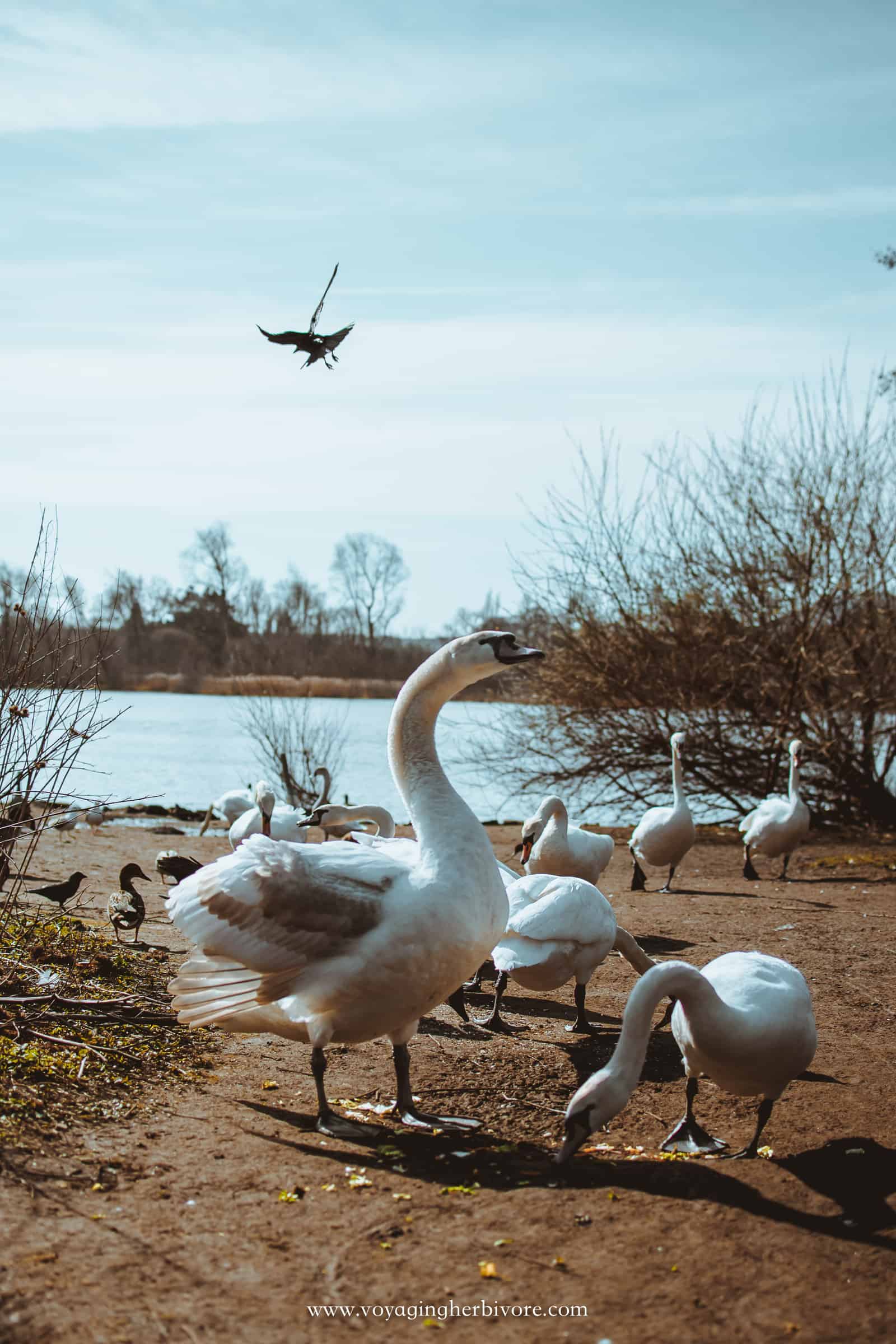 ---
This site is user-supported and that's why we use affiliate links. At no extra cost to you, we get a little bit of money when you purchase something through one of our links. Thank you for helping support ethical, sustainable, and plant-based travel! You can read more about our affiliate disclosure policy here.
---
Duddingston Village: The History
The village of Duddingston is one of the oldest villages in Edinburgh and is as old as the 12th century. In the 18th century, Duddingston was a major weaving town with over 40 looms. In 1745 before the Battle of Prestonpans, Bonnie Prince Charlie held a war council in the village.
Other claims to fame include Duddingston Loch which is featured in two famous paintings. The most famous of which is Henry Raeburn's 1790 work called The Skating Minister, featured below. Charles Lees Duddingston Loch work, also featured below is Skaters on Duddingston Loch by Moonlight.
Duddingston is also home to the oldest pub in Scotland, the Sheep Heid Inn, dating to 1360. The pub also has a skittles hall (like bowling) which can be rented for £10/hour. Famous guests for the pub include Robert Burns, Kelly Clarkson, and the Queen herself – who rumor has it just showed up and asked if a table was available.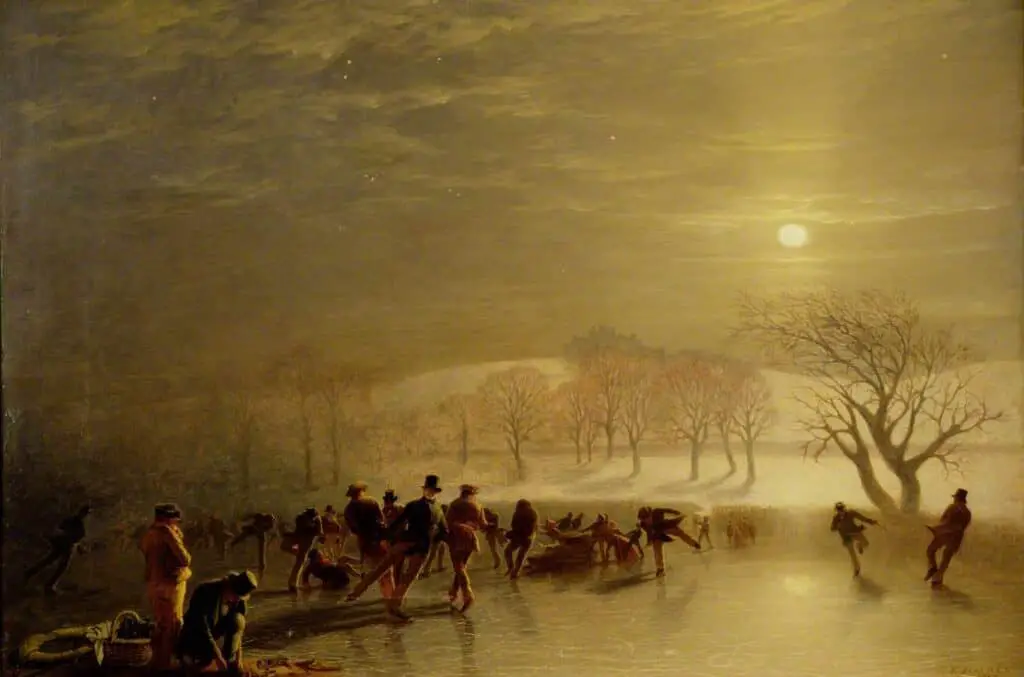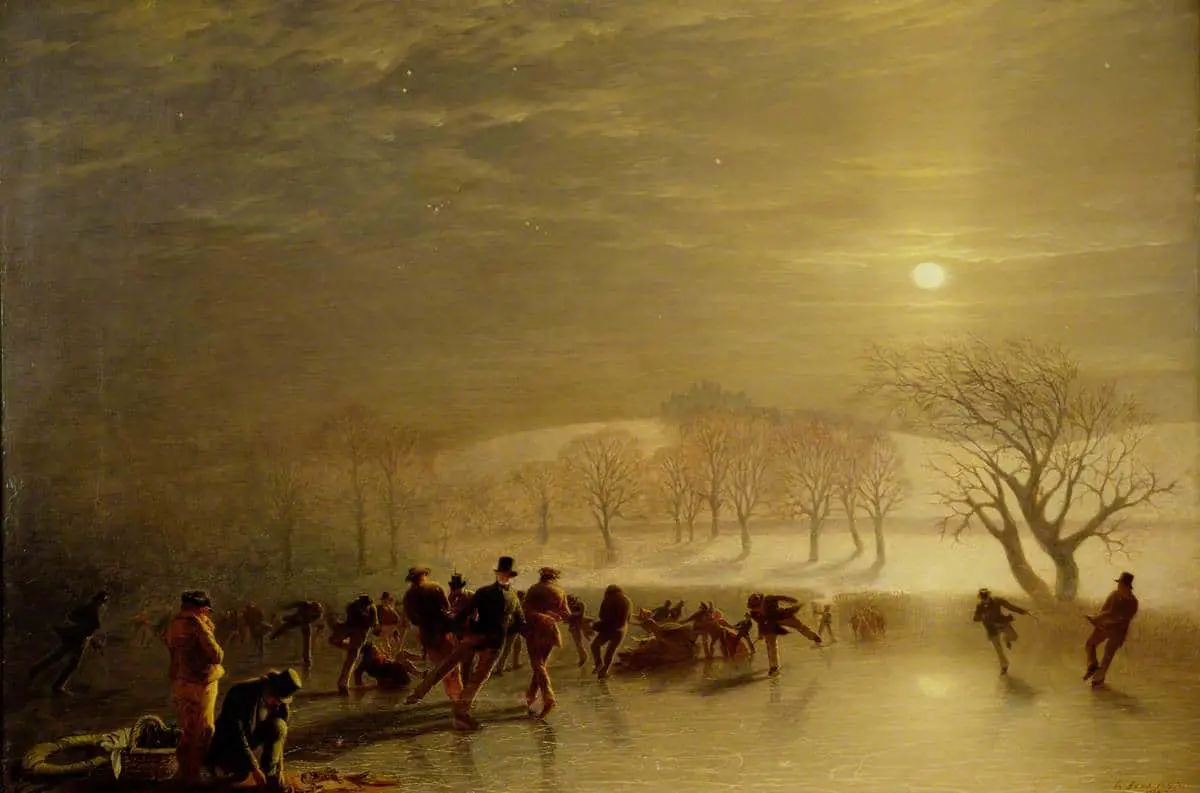 ---
Where to Stay in Duddingston
Easily one of the best places to stay in Edinburgh is Duddingston. This little village is quiet and safe and will leave you feeling like you're miles outside of the city. It's easy to reach the Royal Mile and other Edinburgh attractions by public transport, taxi, or Uber.
---
Where to Eat in Duddingston
The population of Duddingston is about 7,800 and the entire village is very residential with just a pub and the Duddingston church cafe as the places to eat.
Sheep Heid Inn
Although it may be the only place to eat and grab a pint in Duddingston village, the Sheep Heid Inn does not disappoint. As it's the oldest pub in Scotland, I was afraid that it would be quite touristy without much substance but I'm glad to say I was completely wrong.
The pub is cozy yet upscale with a well-priced menu with plenty of vegan options. The food is absolutely phenomenal and goes well beyond typical pub grub. It's quickly become one of our favorite vegan-friendly restaurants in Edinburgh. To drink you'll find loads of local beers on tap like Stewart brewing and my favorite local brewer, Innis and Gunn.
Fancy a game of skittles? You can rent the skittles alley for £10/hour and have your food and drink served in the private area.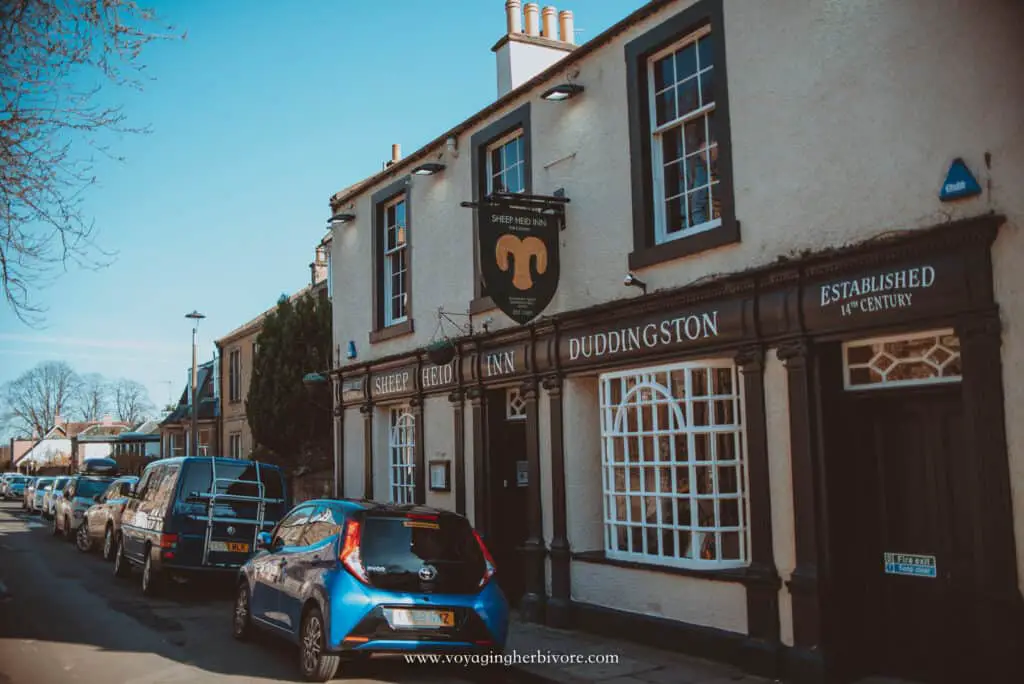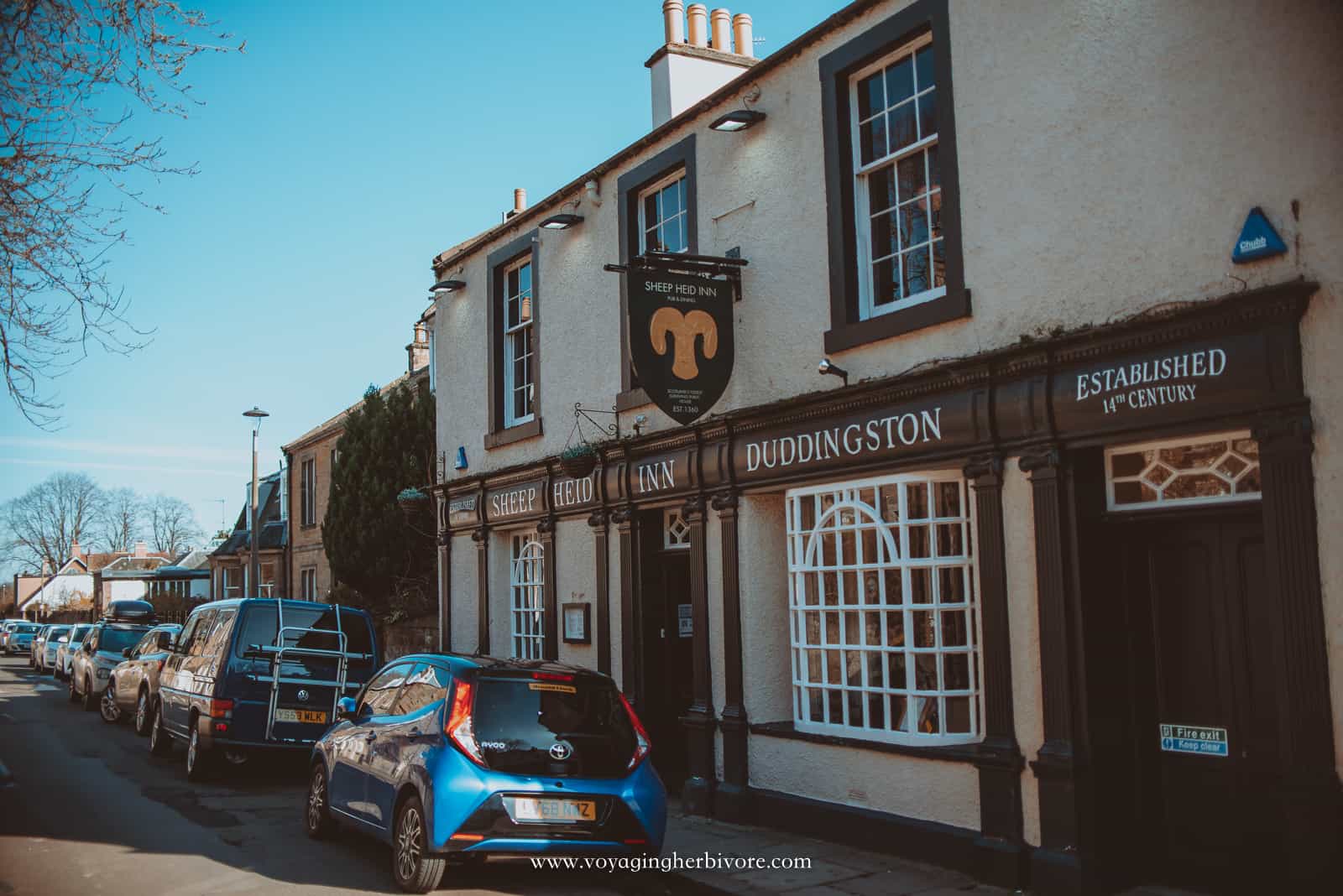 ---
Things To Do and See in Duddingston
"Small but mighty" is a good phrase to describe Edinburgh's Duddingston. Although it's mainly housing, there is a decent amount to explore making it the perfect place to explore on a warm afternoon.
Duddingston Kirk
As you enter the village from Arthur's Seat and Duddingston Low Road, on your right is Duddingston Kirk. The church and graveyard are small but cheerful and a perfect place for a stroll or a sit in the sun. You can also head into the Garden Room Cafe from the Duddingston Kirk entrance. The cafe is not open year-round, but prices are relatively cheap.
If the cafe is open, you can walk through to Dr. Neil's Garden.
---
Dr. Neil's Garden
Truly a hidden gem of Edinburgh is Dr. Neil's Garden. This free space is open to the public and is a gift to the community from doctors Nancy and Andrew Neil in 1963. The garden was originally created for their patients as a tranquil place to enjoy the benefits of nature and in 1997 the Dr. Neil's Garden Trust was formed to keep the garden open to the public.
Thomson's Tower is also part of the garden and was designed in 1825 for the Duddingston Curling Society as a place to hold their stones. Today the lower level of the tower is a curling museum and the upper level can be rented out for events. The garden can be rented out for wedding photos but they do not rent out for ceremonies of any sort.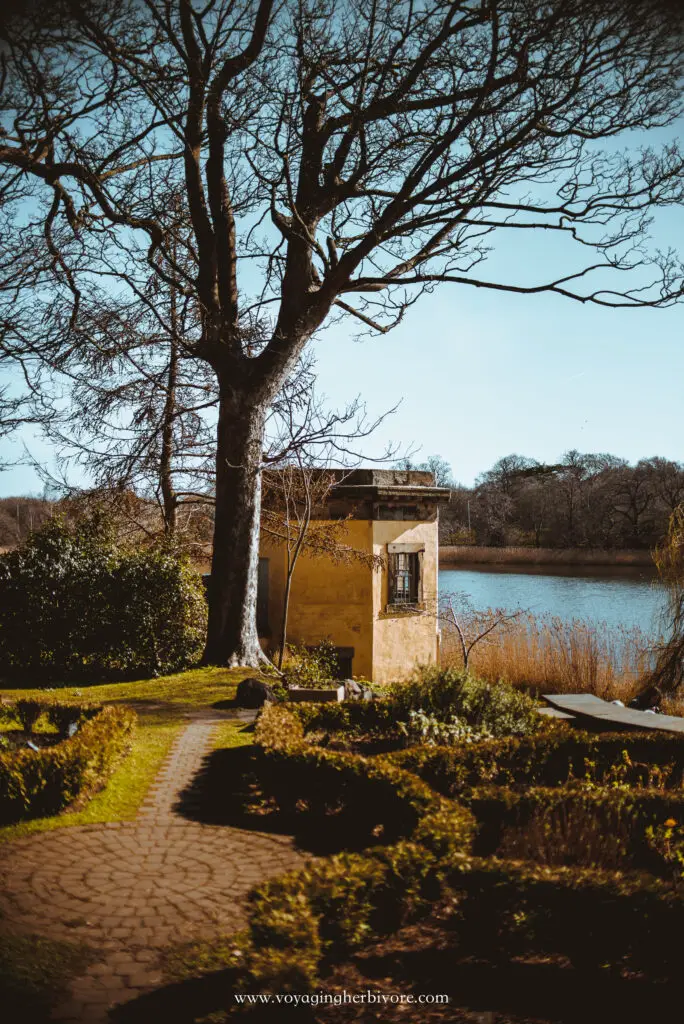 ---
Duddingston Loch
Duddingston Loch is the last natural freshwater loch (lake) in Edinburgh. The loch is thousands of years old and was clearly a popular place during the Bronze Age. In 1778 the loch was dredged and a large number of Bronze age artifacts were found and are now displayed at the National Museum of Scotland.
Since 1925 Duddingston loch has been a bird sanctuary. Please do not feed the birds when you're there as it makes them quite aggressive towards people. Just enjoy the view and imagine a time when the loch froze enough to permit curling and skating!
---
Duddingston Golf Club
Scotland is already known for its incredible golfing opportunities, and the Duddginston Golf Course, in the shadow of Arthur's Seat, does not disappoint. The course was established in 1895 and was originally part of a deer estate (which seems to be where you go and hunt deer) before being the encampment for the calvary of the Bonnie Prince Charlie.
Today, Duddingston Golf course has 18 holes and measures 6,525 yards. The club is open to nonmembers and prices vary by month.
---
Geocaching in Duddingston Village
If you're looking for something more unusual to do in Edinburgh, Duddingston is a great spot to try your hand at geocaching. 
Geocaching is a community activity in which members will hide "caches" around a city. A cache can be any sort of container from a Tupperware, to a tiny thimble size container, or even 3D printed dog poop (yep, really). In each cache will be a piece of paper on which you can write your name to show that you found the cache. If the cache is big enough, there will be trinkets inside. If you take something be sure to leave something as well!
A geocaching app gives you clues to finding them and you can keep track of the ones you do track down in the app. It's free or you can pay about £20/year to access the pro version with more complex caches. The caches in Duddingston are a set where when you'll be directed from one place to another, learning the history of the village along the way.
---
What Camera Gear Do We Use?
If you want the full list of things we keep in our camera bag, check out the complete guide or browse our photography guides.
---
Free Resources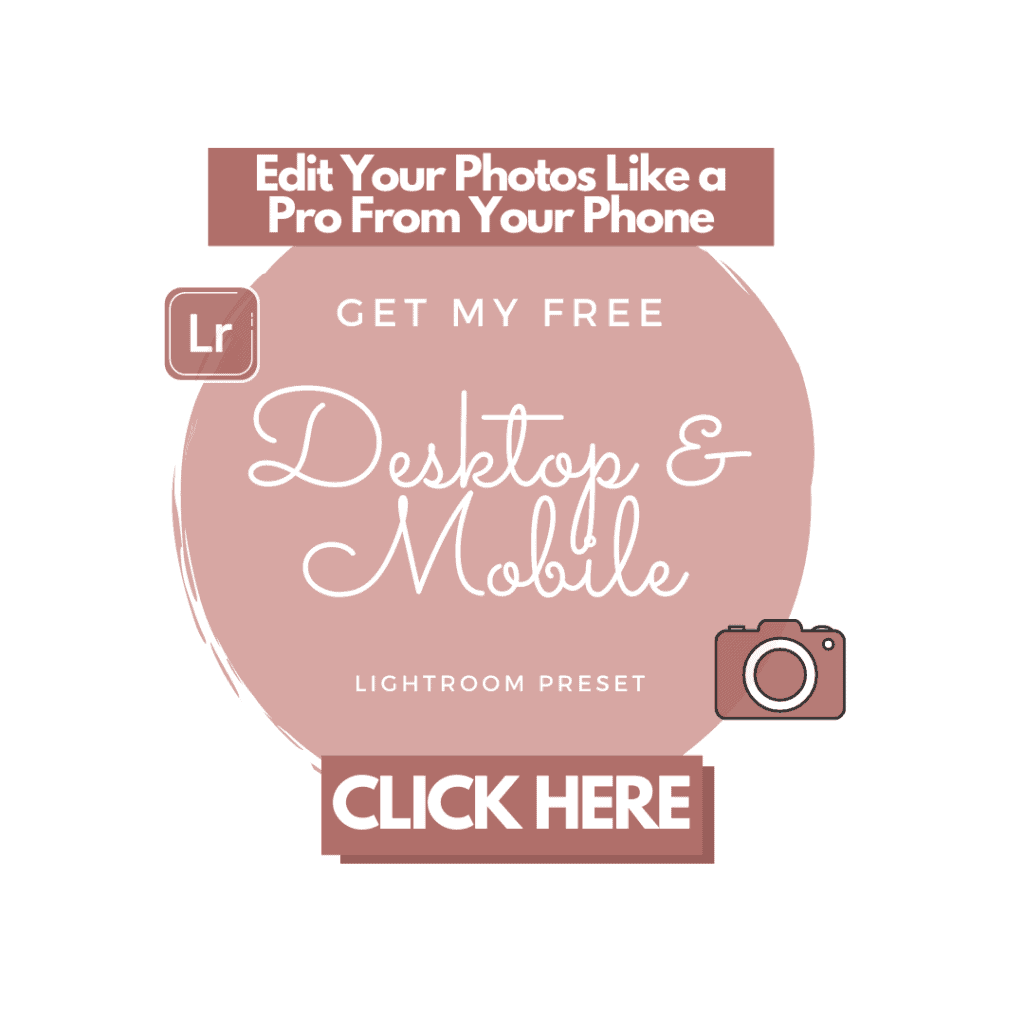 ---
More Scotland Posts
---
And as always, you can find more sustainable travel content on Instagram @VoyagingHerbivore, Youtube, and TikTok and to get updates straight to your inbox, enter your email below in the footer, or to the right on the sidebar.

If you found this guide helpful and want to help us keep these resources free,
please consider making your next Amazon, Expedia, Hostel World, Etsy, and Booking.com purchase through our links (just click right on those words – you can do it right now and unless you clear your cookies before your next purchase, it will remember). It costs you no extra and gives us a small commission. Thank you!
---
Pin Our Duddingston Edinburgh Guide for Later