For such a small city, Edinburgh has no shortage of incredible attractions – including activities that are free, affordable, or on occasion, worth the splurge!
Keep reading to discover the best things to do in Edinburgh for every budget.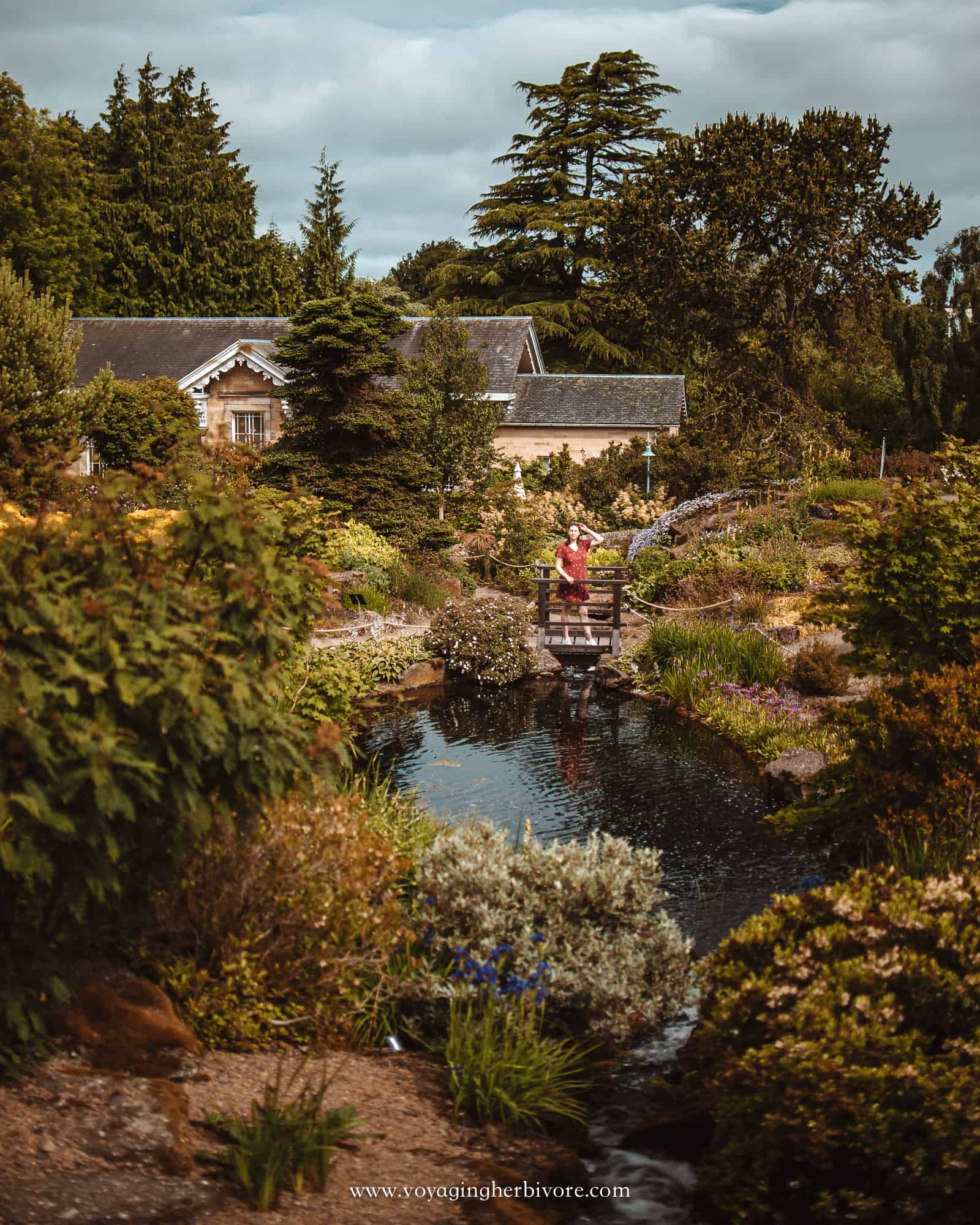 ---
This site is user-supported and that's why we use affiliate links. At no extra cost to you, we get a little bit of money when you purchase something through one of our links. Thank you for helping support ethical, sustainable, and plant-based travel! You can read more about our affiliate disclosure policy here.
---
Get a Skyline View of Edinburgh at the National Museum of Scotland
Price:  Free
Accessibility: Accessible via elevator
Recommended Time: 3+ hours to explore the museum, 15-30 minutes on the terrace
One of the best things to do in Edinburgh is head to the National Museum of Scotland, one of Edinburgh's many free museums, where you can then access the rooftop terrace with views over the Royal Mile and out to Arthur's Seat. The museum itself and the rooftop are free to visit and access. The terrace can be a bit tricky to find but there is an elevator and stairs. The staff are very friendly and happy to help, so just ask if you get lost!
Read More: 15 STUNNING Rooftop Bars in Edinburgh With Gorgeous Views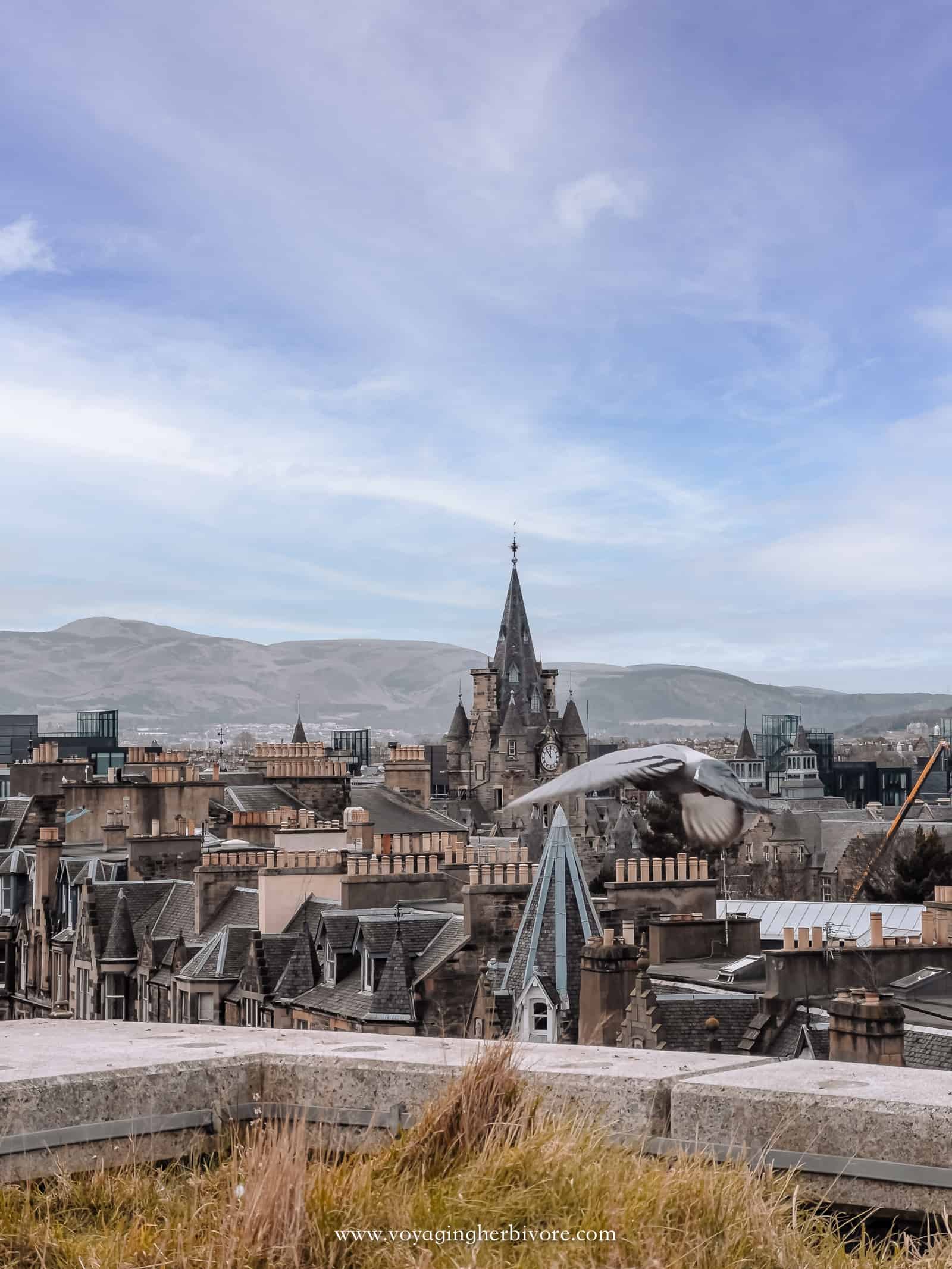 ---
Take an Edinburgh Tour by Foot or Bus
Price: Varies
Accessibility: Bus tours are accessible
Recommended Time: Varies by tour
Whisky, horror, Harry Potter-lover, or budgeter – Edinburgh has a walking tour for you. If you want a free walking tour along the Royal Mile that will give you insight into the city's history and point out a few of the lesser-known gems, try Rick Steves Audio Walking Tour app and choose the Edinburgh tour.
If you would rather have an in-person tour, you'll be spoiled for choice. Here are just a few fantastic Edinburgh walking tours of all different types:
Although Edinburgh is a relatively small city and is very walkable for the most part, there are also plenty of hop-on-hop-off bus tours in the city. If you're looking for something truly unique, try a comedy horror show bus tour.
Read More: 10 FANTASTIC Edinburgh Walking Tours
---
Visit the Writer's Museum
Price: Free
Accessibility: No ramps; entrance has 1 step and a handrail; additional details here
Recommended Time: 1 to 2 hours
Hidden just off of the Royal Mile is the Writer's Museum which features manuscripts and information on famous Edinburgh and Scotland-based writers such as Robert Burns, Sir Walter Scott, and Robert Louis Stevenson.
The museum is free to visit and is a lovely place to stop in for a wander. Be sure to check the hours ahead of time on the official website.
---
Walk the Causeway to Cramond Island
Price: Free
Accessibility: Steep stairs to access causeway or ramp with thin walkway (not big enough for a wheelchair)
Recommended Time: 2 to 3 hours
Just west of central Edinburgh and along the beach lies Cramond Island. The island is 19 acres wide and can easily be explored in a few hours. You'll find remnants of barracks from World War II and plenty of other abandoned buildings to explore, including what was once a holiday home. The views on Cramond Island are spectacular and it's a great place to come for a picnic or a swim if you can brave the cold water!
Cramond Island is accessible by a causeway but only at low tide. You can find safe crossing time here.
Read More: Cramond Island: The ULTIMATE Guide to Visiting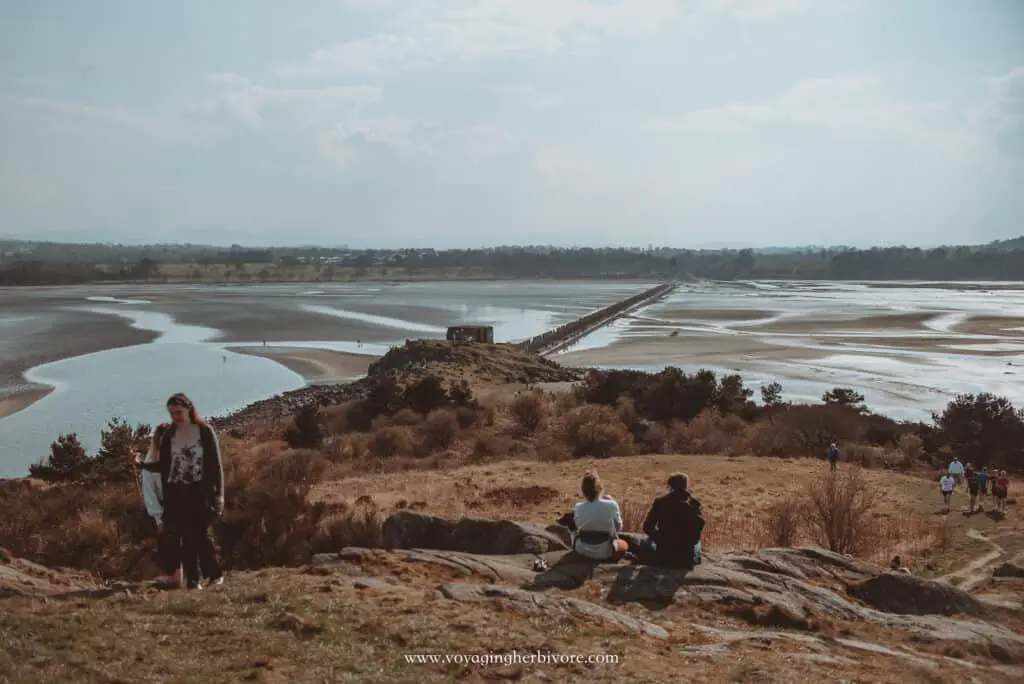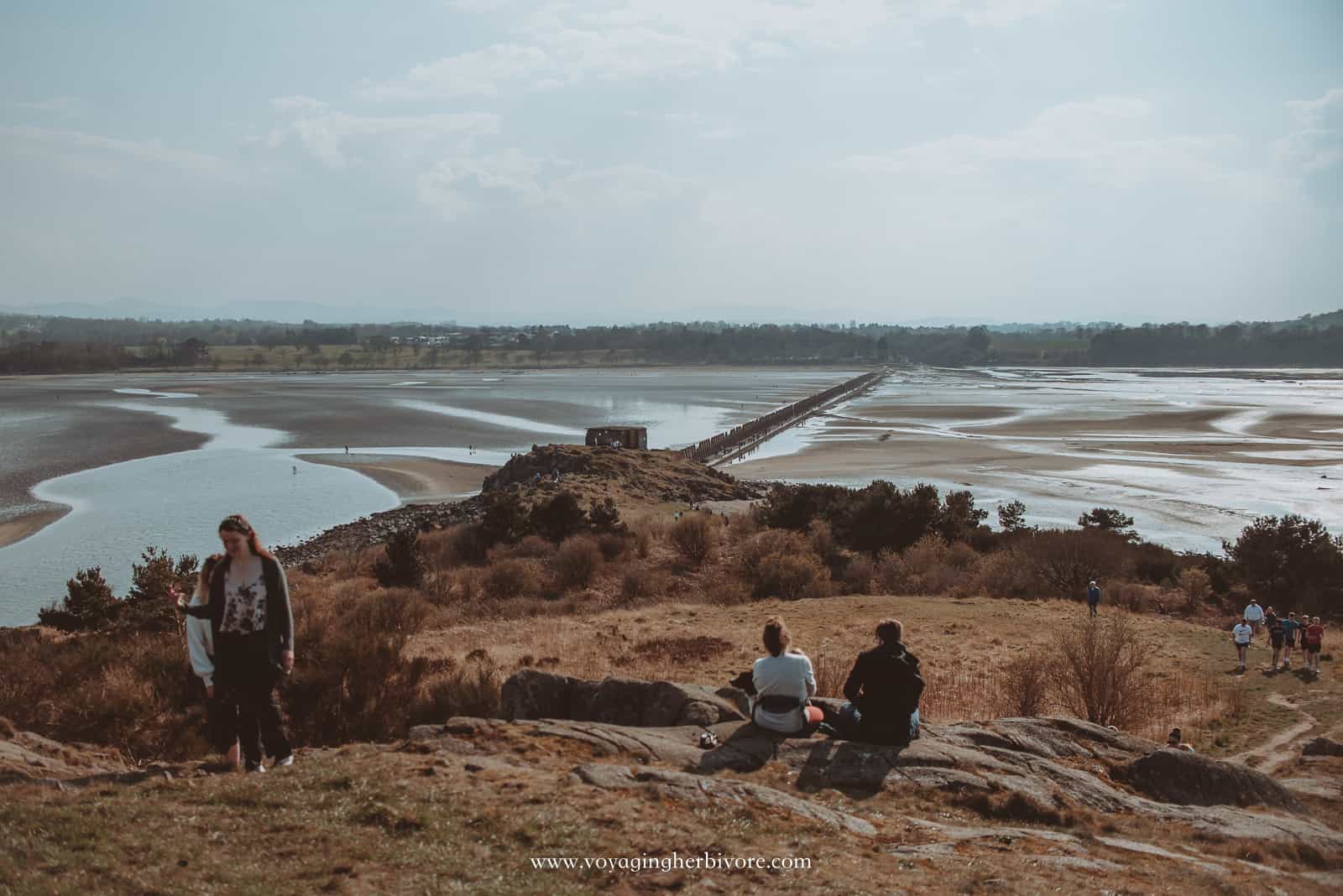 ---
Take a Boat Tour to See the Firth of Forth
Price: £15 to £30
Accessibility: Varies by tour, most are not accessible for wheelchair users
Recommended Time: Tours are typically 90 minutes
Take a boat tour to see three famous bridges located near Queensferry. If you're lucky, you might also get to see some wildlife like seals, puffins, and other seabirds. Your tour guide will outline the history of the bridges and details about the wildlife. A boat tour is a great activity if you're looking to step away from the traditional Edinburgh attractions and are looking for something a little more unique.
You can browse Edinburgh boat tours here.
---
Explore Dunbar's Close in Spring
Price: Free
Accessibility: No stairs as far as I can remember and wide paved walkways so likely accessible for wheelchair users (please comment if this has changed)
Recommended Time: Can easily look around in 10 to 15 minutes
Nestled just off the Royal Mile is Dunbar's Close. This lovely garden is open to the public and in the spring you can find gorgeous flowers, benches to sit on, and grassy areas that are perfect for a picnic. If you're in the area, it's worth popping in for a quick look around. Plus, in Scotland, it's legal to drink outside, so if you want to bring an alcoholic drink in to enjoy, you can!
---
Scottish National Portrait Gallery
Price: Free
Accessibility: View more here
Recommended Time: 2-3 hours (less if you're not reading the details)
The Scottish National Portrait Gallery is often overlooked in favor of slightly more central museums, even though the National Portrait Gallery is just a short walk to Prince's Street. It's known for its impressive main hall (featured below), but the entire museum offers a wide range of different portraits over thousands of years.
Read More: 7 Fantastic FREE Museums in Edinburgh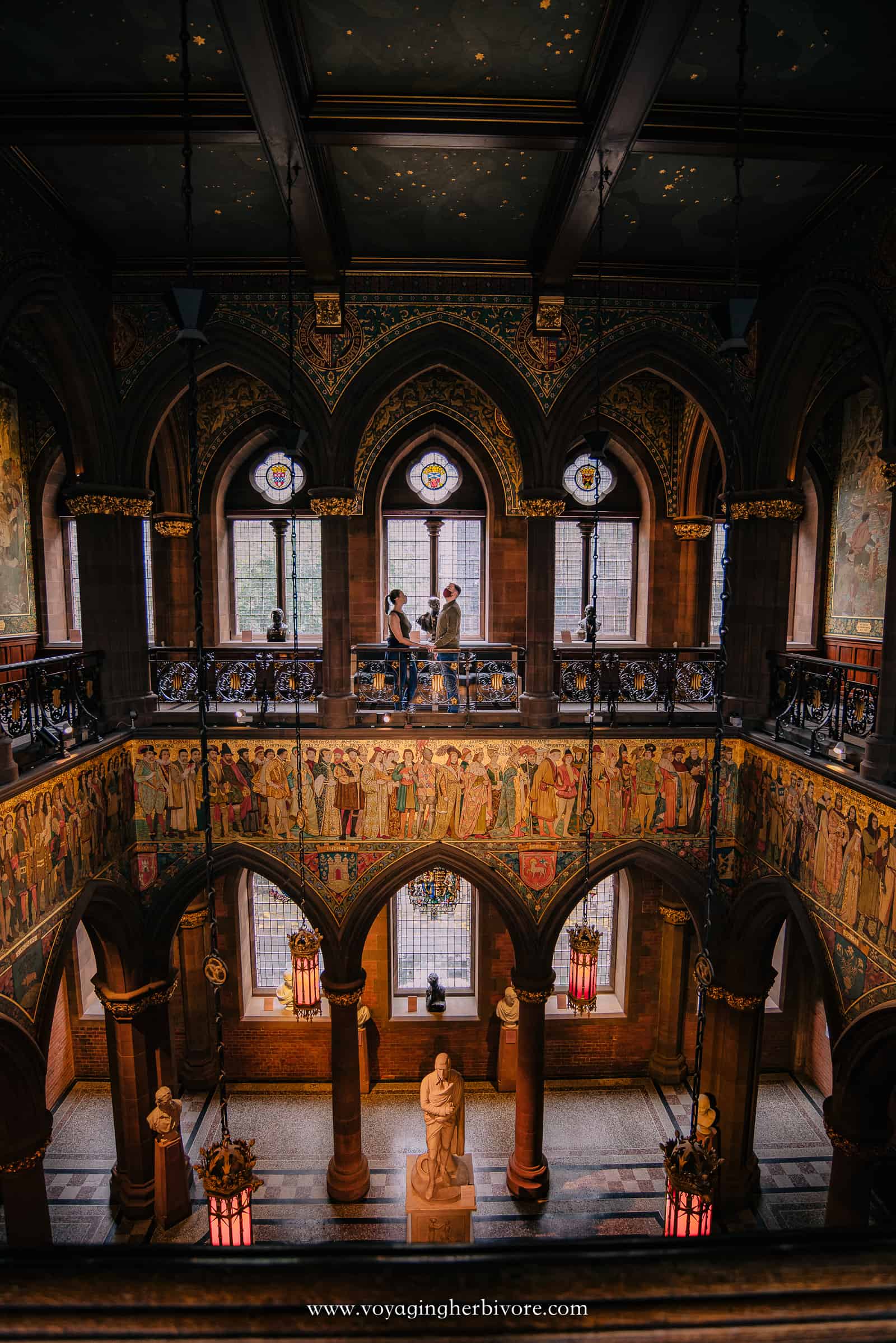 ---
Shop at a Local Market
Price: Free entry to most markets
Accessibility: Generally step-free access (varies by market)
Recommended Time: 30 to 60 minutes browsing
One of Edinburgh's best features is its many markets. You'll find consistent weekly markets and unique pop-up markets that often cater to a specific crowd, like vegans, for example.
Most market stalls accept card payments and some will not accept cash at all so grab your tote bag and reusable silverware and head off to see what you find!
Here are a few great Edinburgh markets that you can find on a weekly basis:
Stockbridge Market: Located in the Jubilee Gardens, 10am-4pm every Sunday
Grassmarket Market: Located in Grassmarket Square, 10am – 5pm every Saturday
Edinburgh Farmers' Market: Located on Castle Terrace, 9am-2pm each Saturday
The Pitt Market: More of a streetfood market with an entry fee; Located at 125 Pitt Street, hours vary by season so check their Facebook page
Leith Market: Located on Dock Place, 10am-4pm every Saturday
Edinburgh offers a seasonal Christmas Market, but wouldn't waste your time here. All of the stalls offer exactly the same things and prices are ridiculously expensive. It's far better to head to the weekly markets. Different pop-up markets are harder to source, but I recommend joining different Facebook groups that resonate with your interests, like Vegan Edinburgh, to hear about new ones.
---
Head to North Berwick and the Isle of May to See Puffins
Price: £50 – £60 (train + boat tour ticket)
Accessibility: Most ferries have partial disabled access but the island itself is not suitable for those with accessibility difficulties
Recommended Time: 3-4 hours to explore the island
The Isle of May is a nature reserve that welcomes visitors from April 1st to September 30th each year, weather dependent. It's free to visit, but you will need to take a private ferry or boat over. We recommend catching a train to North Berwick (only about £10 return) and heading to the Scottish Seabird Center. From there, you can choose between several different tours of different islands.
On the Isle of May you can expect to see a variety of seabirds, including puffins, and grey seals. You can also visit the lighthouse. It's an all-around exciting day out.
While you're in North Berwick, why not stop by Tantallon Castle? It's free to visit and is one of many incredible Scottish castle ruins that you can explore.
Note: I'm really disappointed with the quality of the photos I took on the Isle of May. I used something like this lens with my Nikon d750 and I would not recommend it. It's a super budget version but I recommend saving up for a higher-quality zoom lens with a longer range like this one.
Read the Full Guide Here: Isle of May Boat Trip: Read This BEFORE Seeing the Puffins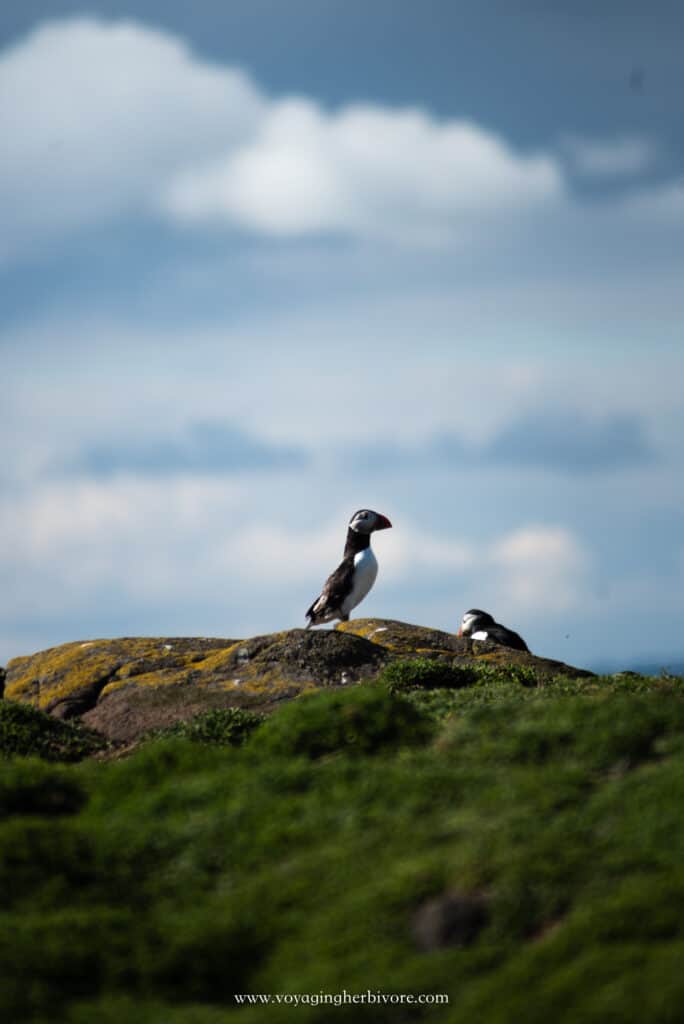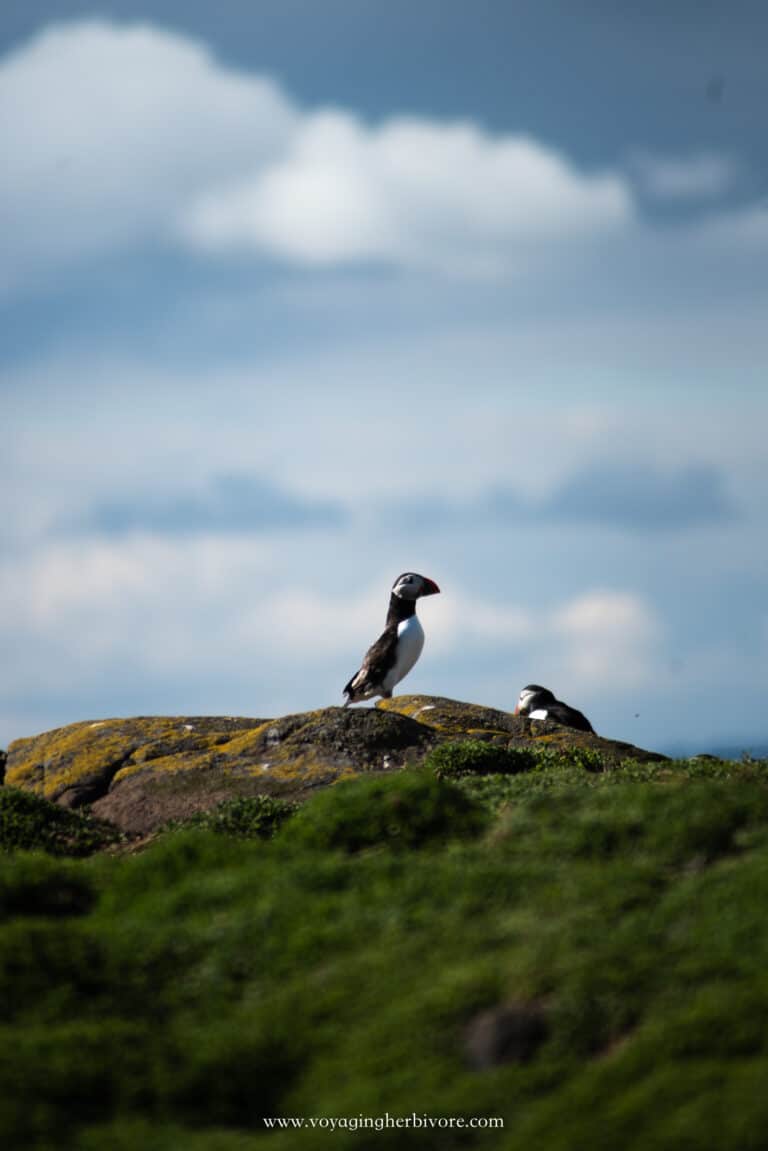 ---
Go Bowling at Lane7 in the St. James Center
Price: £10 – £20
Accessibility: The St. James Center does have accessibility options but options in Lane7 are unknown
Recommended Time: 2-3 hours
No need to grab your shoes, just grab your ID and head to the St. James center where you'll find Lane7. This arcade/bowling alley/ping pong hall has major Shoreditch vibes with glow-in-the-dark graffiti-covered walls and long tables to drink the night away at. It's a great spot to start a night out in Edinburgh.
If you feel like dancing the night away you can head to one of Edinburgh's nearby clubs such as CC Blooms or El Barrio.
---
Greyfriar's Kirkyard
Price: Free to visit
Accessibility: Uneven paths and stairs
Recommended Time: 20-30 minutes
We can't have a list of things to do in Edinburgh without mentioning Greyfriar's Kirkyard. Harry Potter fans will want to stop and see Tom Riddle's grave, and ghost enthusiasts will love to do a nighttime tour. You won't want to walk home alone after because of the chilling tales that you'll hear!
The graveyard is located near the Royal Mile and Grassmarket and is open daily.
---
Explore the Village of Duddingston
Price: Free
Accessibility: Village is relatively flat and well-paved
Recommended Time: 3-4 hours
If you feel like getting out of the city but don't want the hassle of catching a train or driving somewhere, head to Duddingston. This little village is hidden just behind Arthur's Seat and has a lot of countryside charm. Be sure to wander around Duddingston Loch and stop in at the Sheep Heid Inn where the Queen herself dined in 2016. Their vegan options are spectacular and you can try your hand at a game of skittles (like bowling). Have a wander around Dr. Neil's Garden, a true hidden gem. 
Read More: Duddingston: Edinburgh's Hidden Loch & Village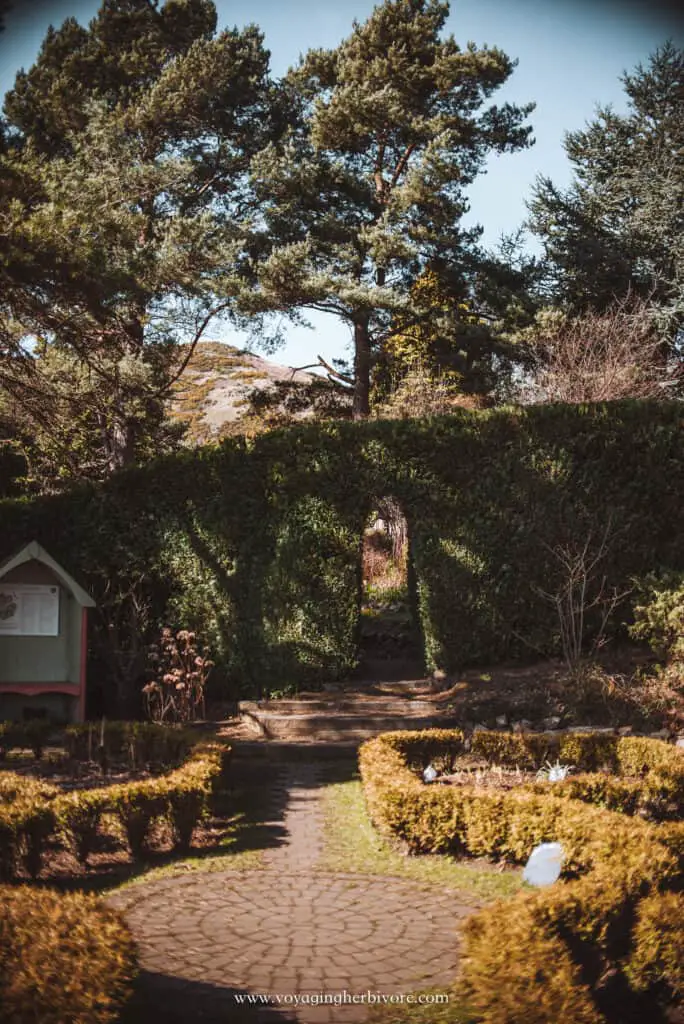 ---
Chocolatarium
Price: $25
Accessibility: Not suitable for wheelchair users
Recommended Time: 1.5 hours
Chocolate may not be the first thing you think of when looking for things to do in Edinburgh, but nevertheless, something pretty off the beaten path is Edinburgh's Chocolatarium. You'll learn how chocolate, where it originated from, get a chance to taste a variety of very unique chocolates and make your own customized chocolate.
There are vegan and lactose-free options throughout the tour. Check out tour options here.
---
Go Hiking in the Pentlands
Price: £5-£10 for bus tickets
Accessibility: Varies by hike
Recommended Time: Varies by hike
Once you've conquered Arthur's Seat, you might want to head to the Pentland Hills, a range of about 20 miles of hills to the southwest of Edinburgh. Alltrails is a great free resource to find hikes in certain areas.
To get to the Pentlands, you can take standard buses from Edinburgh called the Borders Buses. Use Google Maps to figure out which stop to catch your bus at, and be sure to download and purchase the appropriate ticket via the Border Buses app which you will then show to the driver.
Tip: Wait until really close to your stop to push the Stop button on the bus that lets the driver know that you want to get off. I pushed the button about a mile away when mine was the next stop, but the driver pulled over right there on the side of the road. This doesn't happen in the city but seems to be common in buses outside of town.
---
Rent a Campervan
Price: Check with your dates
Accessibility: Varies by motorhome or campervan
Recommended Time: Minimum 1 night
Fancy spending a little more time exploring the beautiful nature and views that Scotland has to offer? Why not rent a campervan and spend a few days exploring or even take a Scotland road trip. Scotland has so many beautiful nature spots and it's legal and easy to park overnight and wild camp in many places. Even in Edinburgh, on the outskirts like the beach near Granton, you can find plenty of gorgeous beach views to park overnight.
Try a campervan instead of an Airbnb or hotel for transportation and a bed in one! Check prices and find different van and RV options here.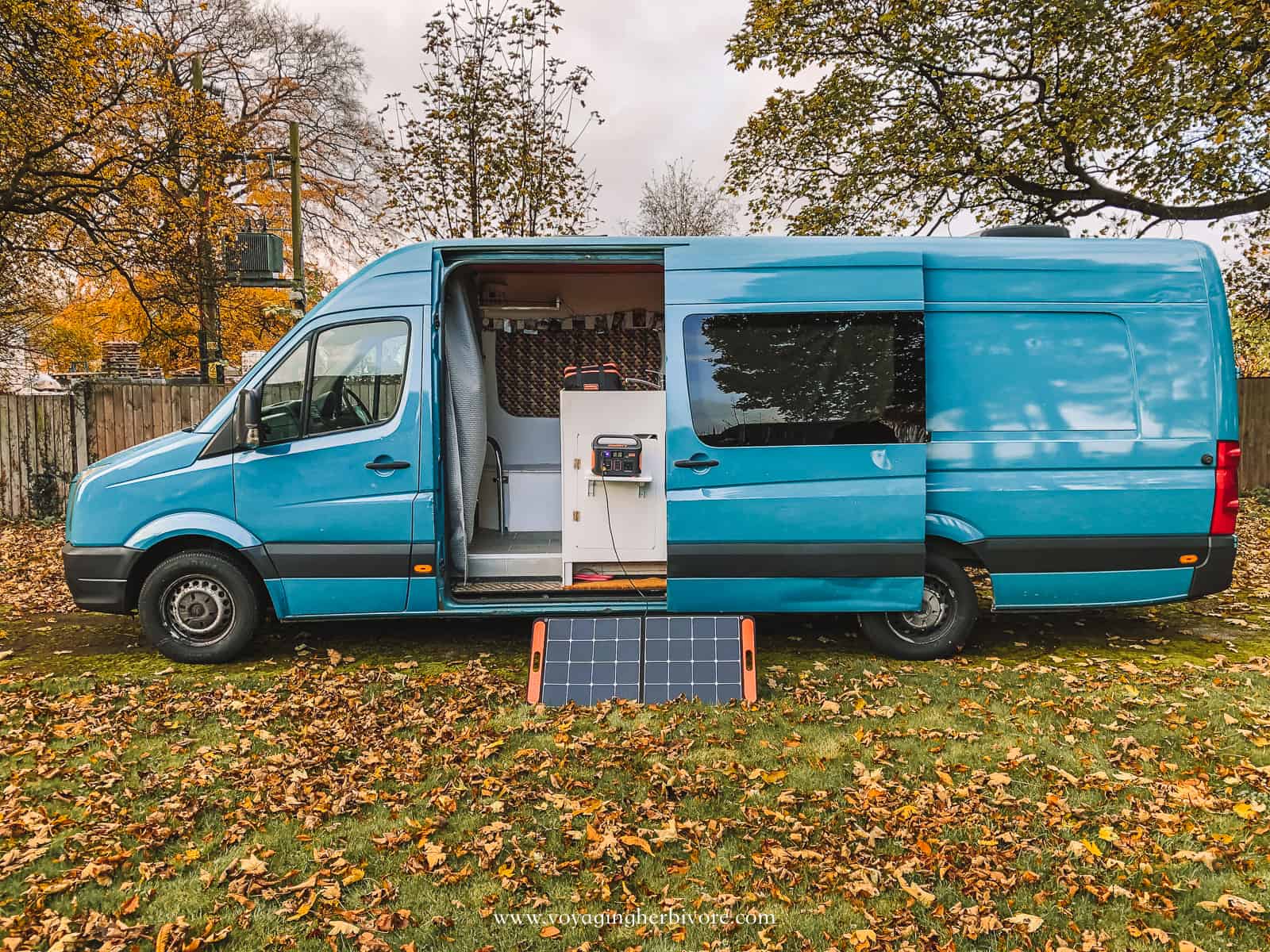 ---
Try (Vegan) Haggis
Price: £3-£5
Accessibility: No problems here, eat to your heart's content!
Recommended Time: However long it takes you to eat!
If you haven't heard of haggis before, it's a traditional Scottish dish that most tourists aren't too keen to try. It consists of "a sheep's or calf's offal mixed with suet, oatmeal, and seasoning and boiled in a bag, traditionally one made from the animal's stomach". You can also opt for the vegan version which is a bit more appetizing and consists of delicious lentils and beans.
They have a great and affordable version at The Baked Potato Shop, one of Edinburgh's many fantastic vegan restaurants. You can also buy vegan haggis at the grocery store.
---
Explore Real Mary King's Close and Underground Cities
Price: £20/adult ticket
Accessibility: Limited. Full details here
Recommended Time: 1 to 2 hours
A city ripe with history, one of the best things to do in Edinburgh is to explore The Real Mary King's Close. An entire city is once hidden underneath and between the streets of Edinburgh. You'll have to go in with a tour group, but it's well worth it! I was on the edge of my seat and truly enjoyed the mysterious and somewhat ominous experience. The tour leaders are actors in character so you're sure to get a good show! Make sure you book in advance as the tours do fill up quickly.
---
Camera Obscura Museum of Illusions
Camera Obscura is a fantastic museum located right next to Edinburgh Castle. The entire museum is filled with different illusions, including a bridge that is very difficult to cross because of the way that the light moves. The main attractions are the rooftop and the Camera Obscura, which is an invention of the 11th century. It's well worth a visit, regardless of your age.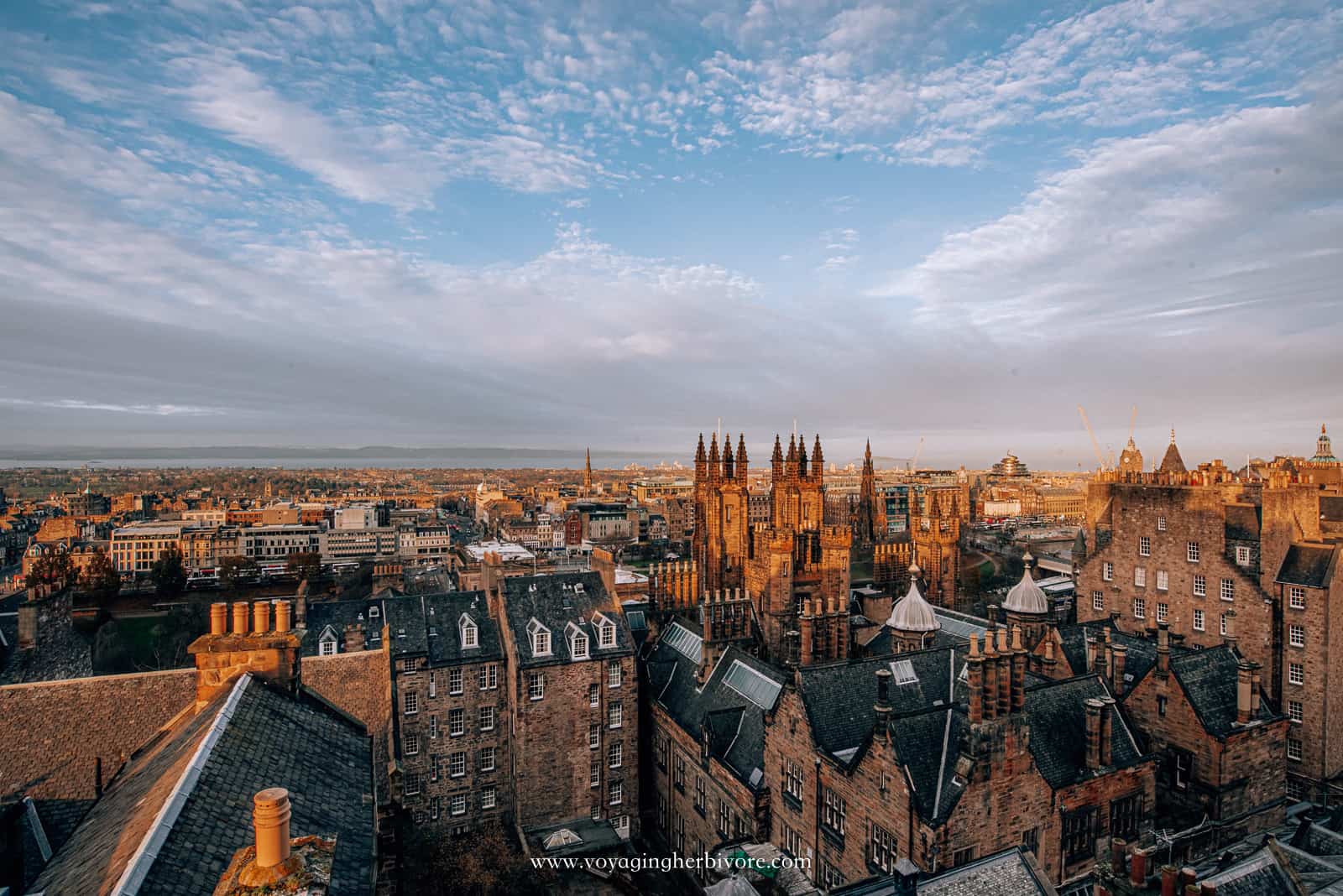 ---
Palace of Holyroodhouse
Price: £10-£19 dependent on age and time of year
Accessibility: Mobile scooters can be used outside and inside the palace as long as they fit in the lift; more details here
Recommended Time: 2-3 hours
The Palace of Holyroodhouse is quite an exciting place to visit because it's where the Queen stays when she comes to Edinburgh! It's also truly a beautiful palace and the audio tour is comprehensive and interesting. The Abbey is a stunning sight and could be a wonderful addition to the photography guide to Scotland. It is a pretty penny to enter, so I wouldn't put it at the top of your list unless you're truly a palace fanatic.
---
Take a Daytrip Bus Tour
Price: £40+ (varies by tour)
Accessibility: Varies by tour
Recommended Time: Varies by tour
Edinburgh has so much to offer and you'll easily be able to fill days, weeks, or even months exploring the area. But that being said, Scotland as a whole is incredible and worth discovering! There are several tour companies based in Edinburgh that offer day tours and multi-day tours all over Scotland. Tours are typically small with less than 15 people and a dedicated driver/tour guide.
Heart of Scotland: Heart of Scotland is a small tour company that offers a variety of tours across Scotland. From Loch Ness to various castles to whiskey tours to white sand beaches, these tours are spectacular and relatively affordable for the quality offered. Read the full Heart of Scotland tour review here.
Rabbies: Rabbies is a tour company that offers tours across England, Scotland, Ireland, and Europe. Their tour from Inverness to the Black Isle was incredible and they have a large selection of tours from Edinburgh that are perfect for a day trip.
Get Your Guide: Get Your Guide is one of the best places to look for activities in Edinburgh, including tours and tastings, as well as day trips. You can do a Loch Ness and Highlands Day Trip (eco-certified) or a 2 Day Outlander Experience among many other options available here.
Viator: Similar to Get Your Guide, Viator is another website that offers a variety of different activities and tours in Edinburgh. You can do a day trip to Loch Ness, Glencoe, and the Highlands, St. Andrews, and Fife, or even to see the famous Hogwarts Express in the north of Scotland.
Fancy a Walking Tour instead? Read More: 10 FANTASTIC Edinburgh Walking Tours
---
Take a Walk Along Portobello Beach (Swimming Optional)
Price: Free
Accessibility: Smooth walk with wheelchair access. More details here
Recommended Time: 3-4 hours
One of the best things about Edinburgh is that you can not only find everything from hills to climb, and quaint villages to explore, to bustling streets, and unique food around every corner, but you can also lounge on beaches and take a dip in the sea. Portobello Beach is a popular Edinburgh attraction with a sandy beach and a long flat boardwalk where you'll find loads of different restaurants, including some vegan options.
If you're feeling brave, you can take a dip in the sea. If you're in Edinburgh on New Year's Day, head down to the beach to join in on the New Year's Day Polar Plunge!
---
More Scotland Posts
---
What Camera Gear Do We Use?
If you want the full list of things we keep in our camera bag, check out the complete guide or browse our photography guides.
---
Free Resources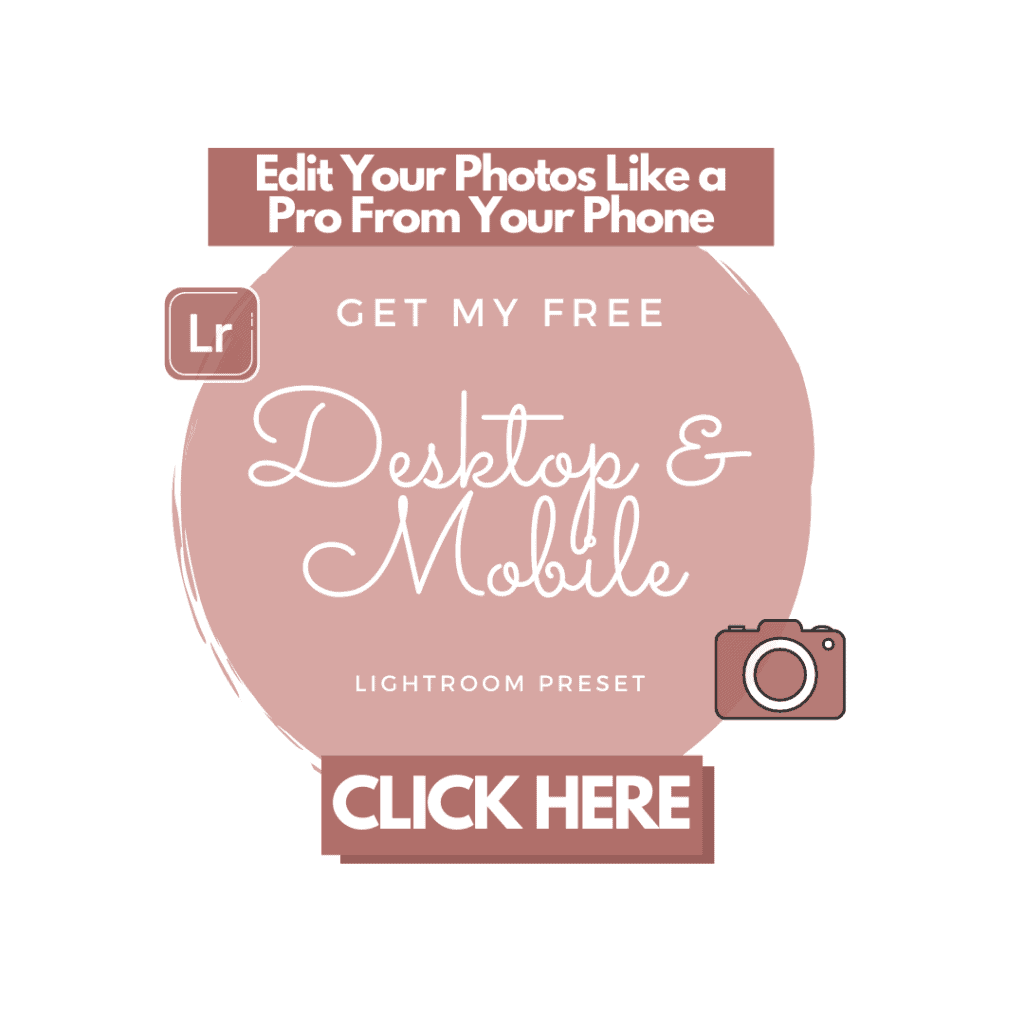 ---
And as always, you can find more sustainable travel content on Instagram @VoyagingHerbivore, Youtube, and TikTok and to get updates straight to your inbox, enter your email below in the footer, or to the right on the sidebar.

If you found this guide helpful and want to help us keep these resources free,
please consider making your next Amazon, Expedia, Hostel World, Etsy, and Booking.com purchase through our links (just click right on those words – you can do it right now and unless you clear your cookies before your next purchase, it will remember). It costs you no extra and gives us a small commission. Thank you!
Pin Epic Edinburgh Attractions For Later