Although I've only spent a few days in Edinburgh here and there, it's easily become one of my favorite places and the more I learn about it, the more I want to go back and experience everything! When my mom and I visited in 2018, we spent the first and last few days of our 10 Day Scotland Road Trip in Edinburgh, enjoying vegan haggis in our Airbnb, and deciding which of these top things to do in Edinburgh would be next on our list!
---
In this "Top 10 Things to do in Edinburgh, Scotland" list, we'll explore:
Try vegan haggis
Explore the Real Mary King's Close
Free Rick Steves Audio Tour
Get lost in Camera Obscura
Get your royal on at the Palace of Hollyrood House
Hike Arthur's Seat
Take a bus tour day trip
Taste Scottish Whiskey
Try a unique Airbnb Experience
Visit the Scottish National Portrait Gallery
---
1. Try Vegan Haggis
If you haven't heard of haggis before, it's a traditional Scottish dish that most tourists aren't too keen to try. It consists of "a sheep's or calf's offal mixed with suet, oatmeal, and seasoning and boiled in a bag, traditionally one made from the animal's stomach". You can also opt for the vegan version which is a bit more appetizing and consist of lentils and beans. They have a great and affordable version at The Baked Potato Shop.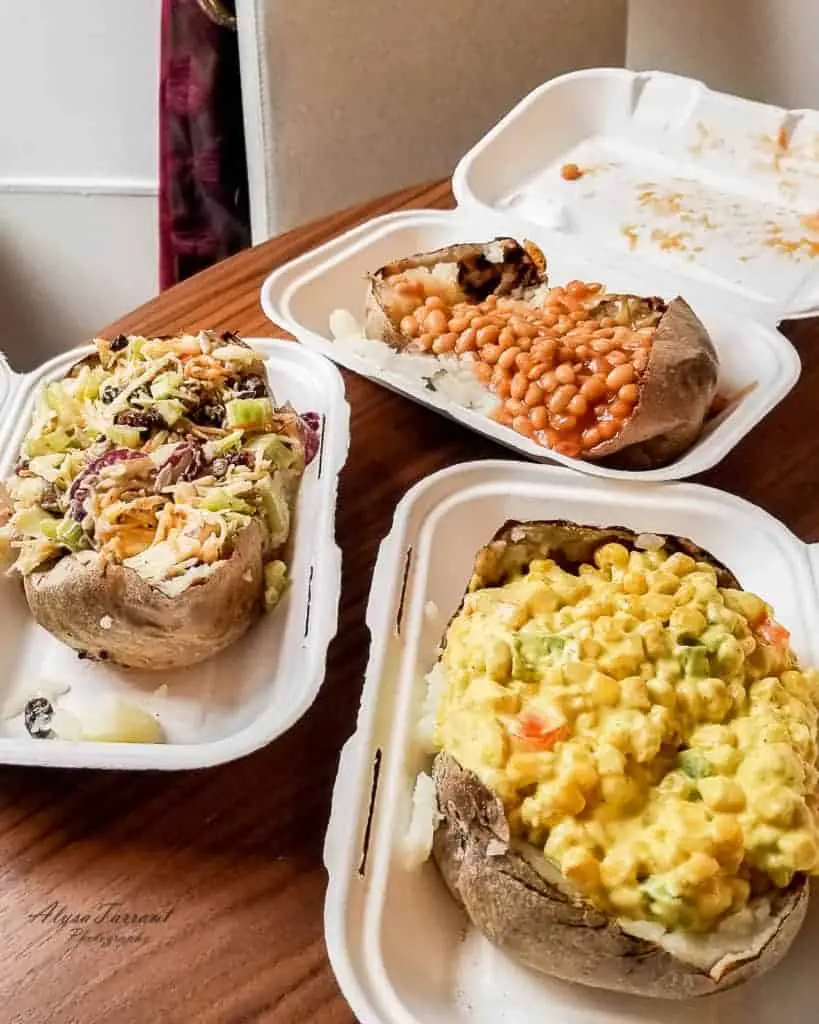 ---
2. Explore Real Mary King's Close
A city ripe with history, one of the best things to do in Edinburgh is explore The Real Mary King's Close. An entire city once hidden underneath and between the streets of Edinburgh. You'll have to go in with a tour group, but it's well worth it! I was on the edge of my seat and truly enjoyed the mysterious and somewhat ominous experience. The tour leaders are actors in character so you're sure to get a good show! Make sure you book in advance as the tours do fill up quickly.
---
Read More: Where to Stay in Scotland
---
3. Rick Steves Free Audio Tour
I am a sucker for anything labeled free and apps are no different! If you have any plans to travel to Europe or the UK, you absolutely must download the Rick Steves' Audio Europe app. It's free on all devices (at the time of writing) and really is some amazing content. I've used the app in a few cities now, and my favorite things to do are the city walking tours. Download the audio for offline listening, pop your headphones in, and let Rick Steves guide you through the city. You'll learn about the history, explore famous landmarks, and even be led to little hidden gems of the cities. Whenever I'm planning a trip, I always look to this app to see if there are any walking tours. I highly recommend starting your trip with this so that you'll have a better overall understanding of the city and its gems.
---
Read More: Travel Bloggers Recommend their Favorite Travel Apps
---
4. Camera Obscura
This is one I haven't personally been to, but I remember walking by it and being intrigued. After learning what it was I wish I had gone in! Camera Obscura is surely a must on the list of things to do in Edinburgh. A museum of allusions and interactive experiences that is sure to delight all. I'm told that there is a bridge created in such a way with optical illusions that your brain won't let you cross it. Have you been? Let us know if you would recommend the experience!
---
5. Palace of Hollyrood House
The Palace of Hollyrood House is quite an exciting place to visit because it's where the Queen stays when she comes to Edinburgh! It's also truly a beautiful palace and the audio tour is comprehensive and interesting. The Abbey is a stunning sight and could be a wonderful addition to the Instagram Guide to Scotland. It is a pretty penny to enter, so I wouldn't put it at the top of your list unless you're truly a palace fanatic.
---
6. Hike Arthur's Seat
Another one that I have yet to do! When my mom and I visited it was freezing and snowing in Edinburgh so this wasn't our first priority. Arthur's Seat is supposedly a stunning view and it's not supposed to be too difficult. If you're able, try to be at this spot for sunrise!
---
Read More: Instagram Guide to Scotland
---
7. Take a Daytrip Bus Tour
This is one of my favorite memories of my trip to Scotland. There are several companies that offer day trips or longer trips from Edinburgh. You can choose to visit another city or explore famous landmarks and castles. It's a worthwhile and productive way to spend the day and is surely one of the best things to do in Edinburgh. I took trips with Heart of Scotland Tours and Rabbie's Tours. I highly recommend both!
---
Read More: Heart of Scotland Tours and Rabbie's Tours
---
8. Whiskey Tasting
This is an obligatory event to add to the Scotland "must do" list. To be honest, I don't like whiskey. How anyone can drink it I will never understand. So if you are like me and have no desire to drink firewater, opt instead to sample some whiskey liquors. Massive amounts of sugar help quell the burning sensation and you can still say you've tried the drink at its origins!
---
9. Try an Airbnb Experience
Airbnb Experiences are a wonderful way to explore the city from a local's perspective. Whether you're looking for a sunrise hike, a secret bar tour, a portrait session, or the ultimate Harry Potter tour, you're sure to find something.
---
10. Scottish National Portrait Gallery
Another beautiful piece of architecture to explore in Edinburgh. The Scottish National Portrait Gallery is a beautiful and serene way to explore Scotland's history Although I haven't personally been, the photos I've seen have brought it to the top of my list for my next visit to Scotland.
---
More Scotland Posts
---
Find Accommodation in Edinburgh
---
What Camera Gear Do We Use?
If you want the full list of things we keep in our camera bag, check out the complete guide or browse our photography guides.
---
Free Resources
---
And as always, you can find more photos of our adventures on Instagram @VoyagingHerbivore, Youtube, and TikTok and to get updates straight to your inbox, enter your email below in the footer, or to the right on the sidebar. If you want to help us out even more, you can buy us a bit of fuel!
---