Scotland is a country of ultimate romantic experiences, from stunning landscapes to cosy evenings inside the cottages while the wind is strong outside, there is something for everyone's taste. You can explore Scottish nature and history together, enjoy gastronomy, visit the spa, and have a fantastic romantic break Scotland offers. A Scotland romantic getaway is an excellent idea for a couple on a honeymoon or someone simply seeking new adventures for two.
Keep reading to see the most romantic places in the country listed below!
Read More: 10 Cute Date Ideas in Edinburgh for a Romantic Night

1. Aos Sí Lodges: Romantic Getaway in Scotland in a Perfect Glamping Location
Address: A82 St John's Old Rectory, Ballachulish PH49 4JP, United Kingdom
What is more romantic than being in the countryside with a view of the sea, surrounded only by hills and flowers? Aos Sí Lodges offers just that! This amazing glamping location is nestled by the sea, far from the town centre of Ballachulish. Steps away from your tent you will see a stone church from the 19th century, St. John's Scottish Episcopalian Church, and not far from there there is also a WWI Memorial. The town offers many hiking and cycling opportunities with  spectacular views.
These excellent chalets have terraces, private bathrooms, king-size beds, microwaves, coffee machines, and more. If you have never experienced glamping this is a perfect opportunity, as you will have all the luxury of a hotel room, but in a private and cosy location where you can relax and unwind.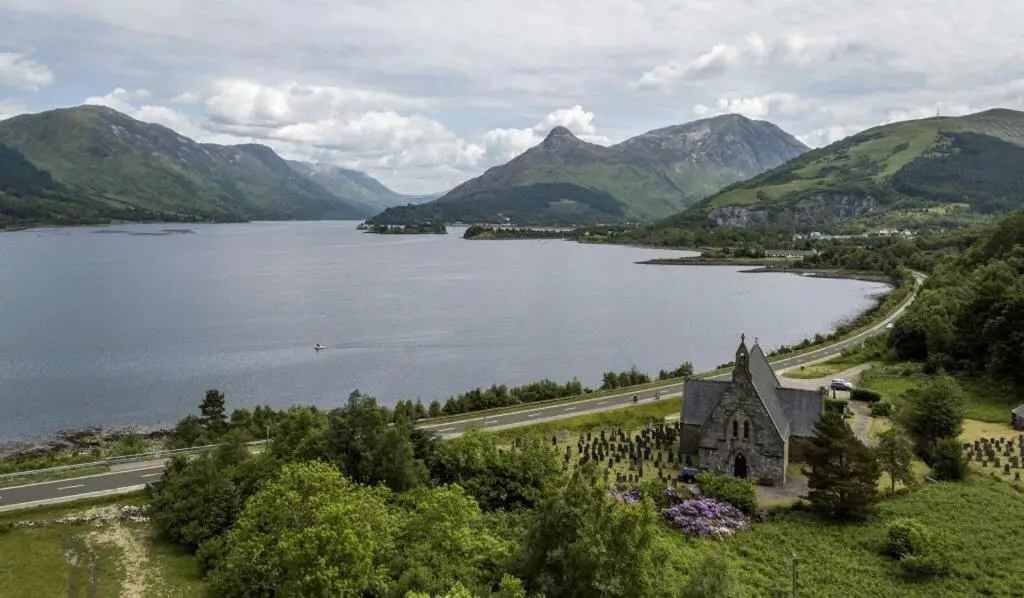 ---
2. Virgin Hotels Edinburgh: A Scotland Romantic Getaway in the City
Address: 1 India Buildings Victoria Street, Old Town, Edinburgh EH1 2EX, United Kingdom
Read More: 10 Most Romantic Hotels in Edinburgh for Newlyweds
If you want to see inside the first Virgin hotel that opened in Europe, this is the perfect place for you! With amazing spacious luxurious rooms, views of the city, tasty food and drinks, and superb staff, this hotel is ideal for a romantic city break. Only a few minutes' walk from the busiest streets of Edinburgh and the biggest attractions of the city, this hotel offers a sanctuary from the city noise.
This hotel features 222 rooms and a variety of dining options, bars, and cafes. It is situated in the historic India Buildings, which was initially constructed in 1864. The Commons Club, a contemporary social club where visitors may both work and play throughout their time at the hotel is also a part of the hotel. 
---
3. Romantic Aurora Rural Retreats in Glendale
Address: 5A Upper Milovaig, Glendale IV55 8WY, United Kingdom
Experience rural life at its finest on a Scotland romantic getaway in Glendale. Fantastic nature, numerous trails and viewpoints, are ideal for nature lovers that want to spend some time alone. Numerous seabirds call the high cliffs of Glendale home, and this region is unquestionably the greatest site on Skye to watch whales, dolphins, porpoises, and basking sharks.
Read More: Best Places To Visit In Scotland For Couples: A Guide
The meadows in Glendale are covered in bluebells, orchids, violets, and primroses, and the area is well known for its stunning displays of wildflowers. While Dunvegan Castle is 18km away from the chalets. Each cosy unit offers everything you need for a romantic getaway in Scotland, including a terrace with a beautiful view, air-conditioned rooms, and all the appliances.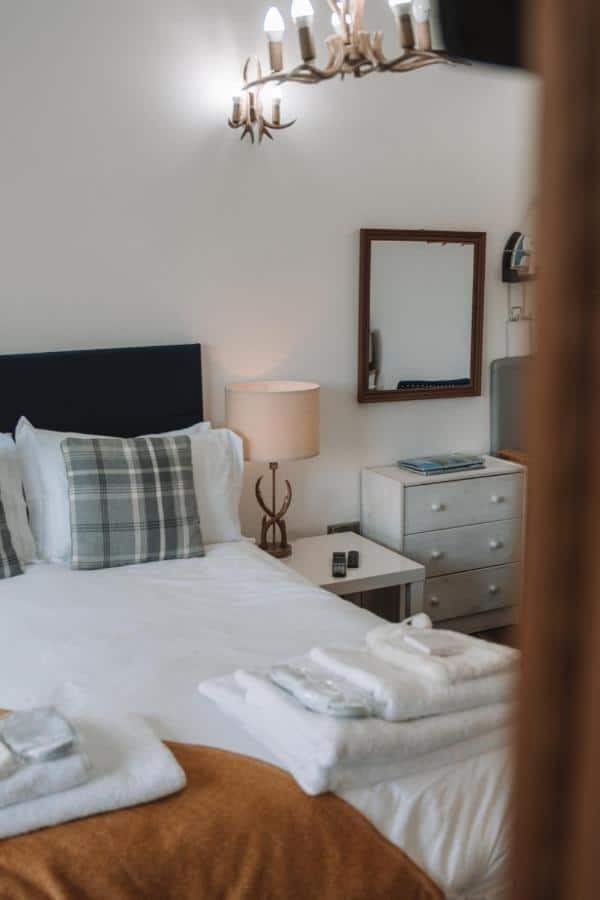 ---
Address: 31 Waternish, Geary, Isle of Skye IV55 8GQ, United Kingdom
Also at the stunning Isle of Skye, there are cottages for rent, for all simple life lovers. Mint Croft offers two cottages which mix ancient Hebridean architecture with opulent conveniences like modern bathrooms and wood-burning stoves to integrate well with the environment. It should go without saying that each offers breathtaking vistas.
Mint Croft is a peaceful haven away from the ordinary. The one-bedroom luxury cottages are perfect for couples seeking a luxurious romantic getaway. Located within 10 minutes drive from the island's oldest pub and sole Michelin-starred restaurant, both of which are in the picturesque and isolated seaside town of Geary, you will have plenty of options for enjoying the time at the Isle of Skye.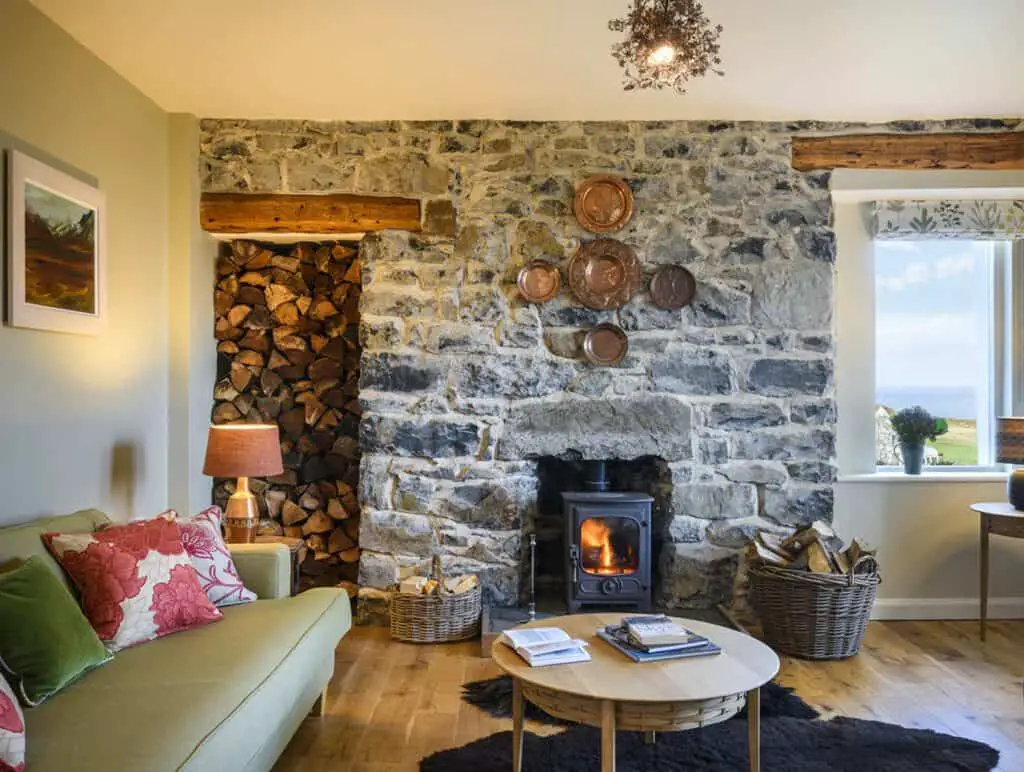 ---
5. Raasay House Hotel, for a Luxurious Romantic Getaway
Address: Isle of Raasay, Raasay IV40 8PB, United Kingdom
Feel like royalty at this luxurious hotel housed inside the mansion with perfect views of Scottish landscapes. The charming Isle of Raasay's Raasay House Hotel is just a 5-minute walk from the ferry dock and is housed in a Georgian townhouse with wonderfully planted gardens. 
The house provides luxurious lodging with a bar, a cafe, free Wi-Fi, free parking, and a restaurant. It also has views of the Cuillin Mountains of Skye over the Sound of Raasay. The majority of rooms at the Raasay House Hotel include an en suite bathroom with complimentary amenities, a desk, and patio views. A few rooms also have lovely sea views.
---
6. Ardanaiseig Hotel: A romantic Time in Kilchrenan
Address: Kilchrenan, Kilchrenan PA35 1HE, United Kingdom
If you are planning romantic breaks Scotland is the ideal fairytale-like land to do it! Travel to Kilchrenan if you are dreaming of staying in a luxurious hotel on the banks of Loch Awe, and exploring perfect views of the surrounding area.
The Ardanaiseig Hotel provides 240 acres of forested gardens, a restaurant, and opulent accommodations within a beautiful palace in the baronial style. The restaurant offers modern food and loch views. Additionally, visitors can partake in afternoon tea or bring a picnic on the private island, which is an ideal time for creating life-long romantic memories.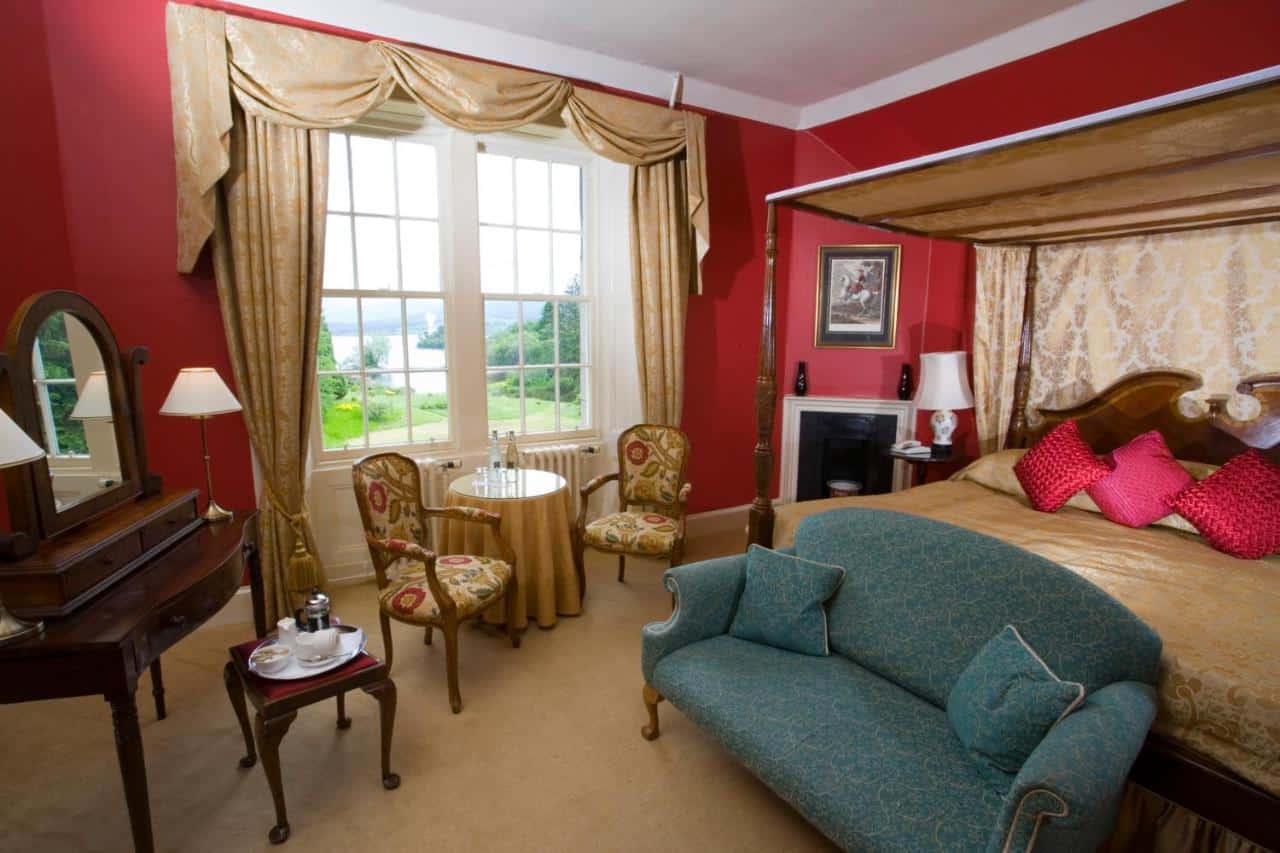 ---
7. Loch Melfort Hotel, Romantic Getaway with a View
Address: Arduaine, Ardfern PA34 4XG, United Kingdom
Scotland's west coast is home to the lovely country house hotel Loch Melfort Hotel. It overlooks the charming bay of Loch Shuna and is situated immediately next to Arduaine Garden, which was previously a part of the estate and is now managed by the National Trust for Scotland. At low tide, you may see seagulls feeding and otters playing in the sand close to the coast. 
The hotel provides a variety of rooms with views of the gardens or the ocean, but the Master Suite in the main house is without a doubt the most beautiful accommodation. On-site dining options include two restaurants: a formal dining room featuring the freshest local products and a more relaxed cafe with a lovely sundeck. 
---
8. Kingshouse Hotel, Away From Everything
Address: Kingshouse Hotel, Glencoe, Ballachulish PH49 4HY, United Kingdom
If you are looking for a special place in Scotland to plan your honeymoon, this iconic hotel will exceed your expectations. The Glencoe Kingshouse Hotel is one of the most famous inns in the world. Kingshouse has been a haven for weary travellers for more than 250 years. It is tucked away at the entrance of this notable glen in the Scottish Highlands and is situated on the well-known West Highland Way. 
It has changed from a traditional inn to one of the top hotels in Scotland following a recent renovation in 2019. The hotel's bar, restaurant, and opulent suites welcome guests with the warmest Highland hospitality and provide breathtaking views of the mountains around. From here it is easy to go on a trip to explore the Highlands and iconic views of Scotland's phenomenal landscape.
---
9. Eagle Brae Log Cabins, Loch Ness's Cosy Paradise
Address: Eagle Brae, Struy IV4 7LE, United Kingdom
Between Loch Ness and Glen Affric, Eagle Brae provides opulent log cabins in a breathtaking Scottish Highlands environment. You can unwind here amidst majestic glens and soaring Munros. The breathtaking beauty and raw nature of the Scottish Highlands are combined in this 5-star self-catering retreat. 
Enjoy ultra-luxurious lodging with all the conveniences of home and animals wandering outside your door. These lovely dog-friendly log cabins provide breathtaking vistas and are an exceptional Highland hideaway. Each cabin is created by hand using only the best sustainable materials. Eagle Brae offers a range of guest amenities, such as grocery shopping or home-cooked meals delivered to your cabin, although their primary focus is self-catering. 
Read More: 6 Dog-Friendly Hotels in Edinburgh Your Pooch Will Love!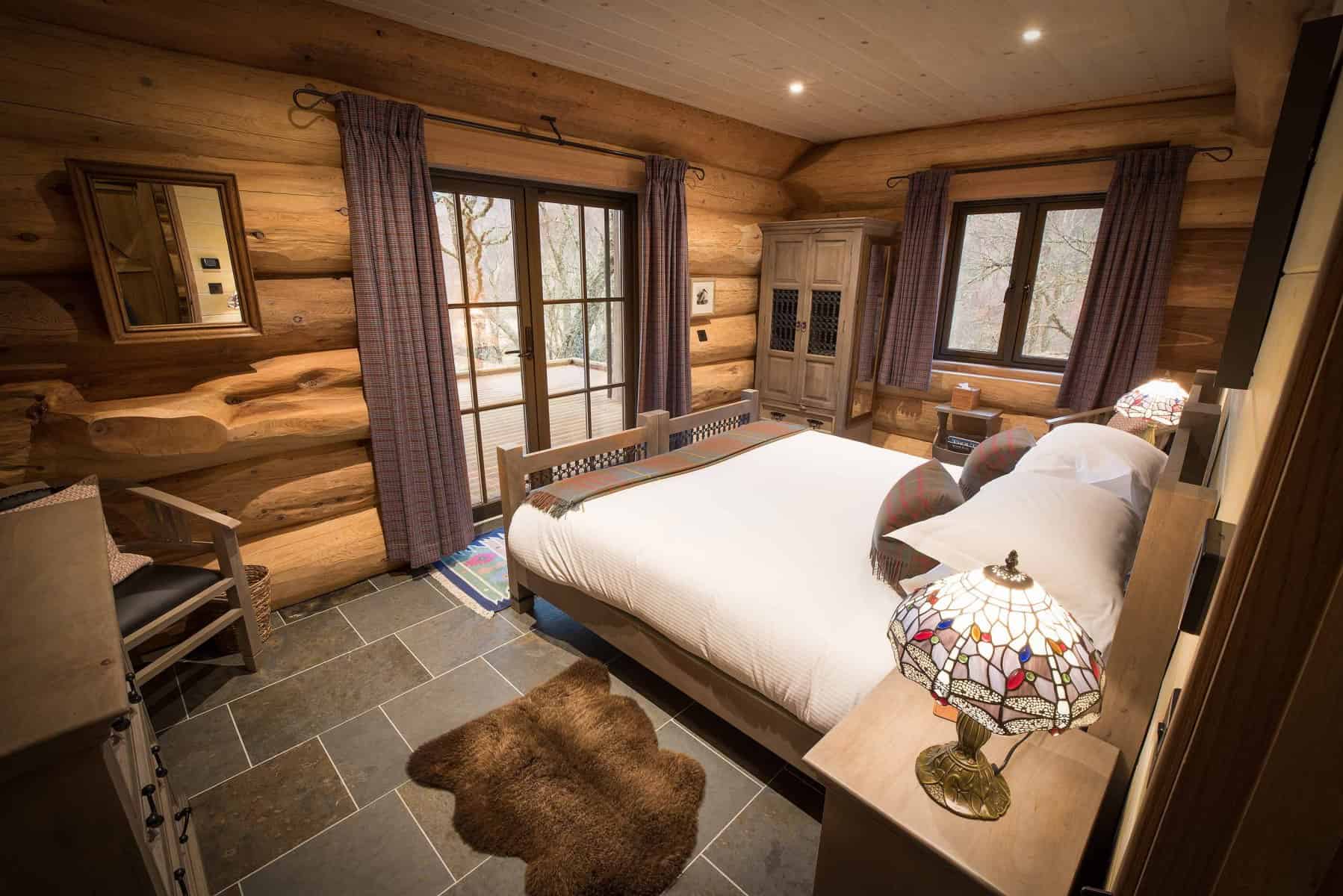 ---
10. Croft 103, Highlands with the Modern Twist
Address: Port na Con, Laid, Sutherland, Durness IV27 4UN, United Kingdom
Ultimate Scotland romantic getaway for those who love modern architecture that fits in the ancient landscape. The two lovely homes that make up Croft 103 have excellent green credentials. They are carbon negative and are powered mostly by a modest wind turbine. 
Each has an enormous, feather-topped bed that is seven feet tall, a fully functional kitchen, and breathtaking vistas. The two bathrooms of Hill Cottage, including an outdoor bath with a view of the sea, give it a little advantage. Each bath can accommodate two people. Staying here allows you to explore wild nature all day long and then unwind with a glass of wine in an outdoor bath.
---
Scotland Romantic Getaway FAQs
Where to go for the best romantic getaway in Scotland?
You can visit cities like Edinburgh or Glasgow, but if you want something really special choose the Highlands or Isle of Skye.

What are the best activities for a romantic trip in Scotland?
There are so many romantic things you can do in Scotland, including stargazing, island hopping, spa breaks, hiking, and more.

How much in advance do you have to book romantic trips in Scotland?
Some fantastic locations are booked months in advance, so try to book at least six months before your trip. Sometimes you can book last minute, but it is much better to plan ahead to make sure the best location is yours!

---
More Scotland Posts
---
Free Resources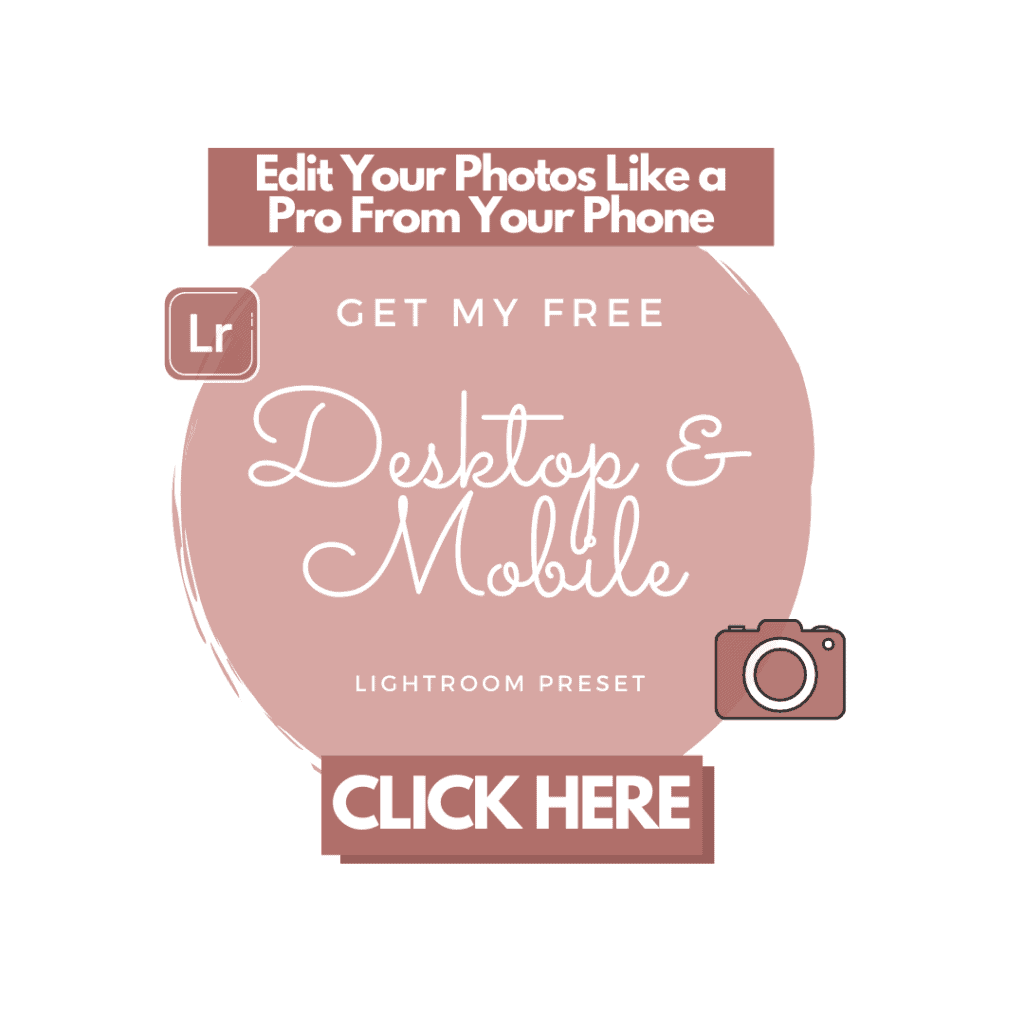 ---
And as always, you can find more sustainable travel content on Instagram @VoyagingHerbivore, Youtube, and TikTok and to get updates straight to your inbox, enter your email below in the footer, or to the right on the sidebar.

If you found this guide helpful and want to help us keep these resources free,
please consider making your next Amazon, Expedia, Hostel World, Etsy, and Booking.com purchase through our links (just click right on those words – you can do it right now and unless you clear your cookies before your next purchase, it will remember). It costs you no extra and gives us a small commission. Thank you!
---
Pin Scotland Romantic Getaway