What if I told you that there was a solution for easily creating interactive website maps – and it was free?
Keep reading to find out more!
---
This post is sponsored by Proxi. We only work with brands that we truly believe in and whose values align with ours and whose products we truly love. So although this post is sponsored, all opinions expressed are our own. Sponsored posts help keep this website free and alive, so thank you for your support!
This site is user-supported and that's why we use affiliate links. At no extra cost to you, we get a little bit of money when you purchase something through one of our links. Thank you for helping support ethical, sustainable, and plant-based travel! You can read more about our affiliate disclosure policy here.
---
What is Interactive Website Map Software?
Interactive website maps are pretty much what they sound like – custom maps that you create and add points to. Your audience can then interact with these maps. Interactions might include using the map for navigation, liking map points, adding additional map points, or adding feedback like comments or photos to map points.
The options are really limitless. While I use interactive website maps on my blog to help users visualize where restaurants, hotels, or activities are in a certain city there are plenty of non-travel-blog-related uses.
Here are some ideas of what you could use an interactive custom map for (including some from Proxi's templates)
Vacation Rental Area Guide
Crowdsourced Events Guide
Local 4th of July Activity Map
Bar Crawl Map
Conference Sessions
Organizing Volunteer Locations
Festival Planning (multiple festivals or shows/events at a single festival)
Neighborhood Trick-or-Treat Map
Store Locator
Local Holiday Lights
Parade Route
Bucketlist
As you can see, there's no limit but your imagination when it comes to creating these maps.
This all sounds great, but does it sound a little bit too techy or expensive for your website – and what if you don't have a website?
This is where things get good – you can actually create interactive website maps for free and they're really user-friendly. If you have a website you can embed them directly, but if you don't you can simply send a link. More on this later!
---
How to Use Maps as a Creator and Why You Need To
As creators, we spend so much time creating content, negotiating with brands, answering comments and messages, and solving tech problems among the other many hats a business owner must wear so you might be asking yourself why in the world you should be adding interactive maps into the mix. I've got a few reasons for you.
Increase the dwell time on your website by adding interactive features. Maps and videos are fantastic ways to get people to stay on a page longer. Rather than just skimming through content to find the one section that they need, interactive features like maps and videos encourage people to stop scrolling and watch or click through. The longer that people stay on a page, the more Google thinks that the page is a high-quality one and that it should be shown to more people – after all, why would someone stay for a long time on a useless page?
Get your audience involved by crowdsourcing map points. We all like to feel heard, and your audience is no different. They might know of a fantastic photo spot or restaurant that isn't yet on your list. By giving them the opportunity to contribute, you develop a connection and increase the likelihood that people will come back to your map to see how many others like their suggestions. Plus, as an added bonus the more crowdsourcing you do, then the more value you can provide with less effort.
The more value that you can provide to your audience, the better. Value, value, value. If you've taken any creator courses, you'll know this is key to success in the creator industry. You need to provide as much value as you can to your audience, especially in such a saturated field. So although it's already a lot of work to make a guide to restaurants in your city, it's worth going to extra mile to create an interactive map as well.
Even if you're a creator without a website, maps are a great communication tool between you and your audience. Youtubers, Instagrammers, and TikTokers – I'm looking at you. Even if you don't have a website to embed a map on, you should absolutely still use maps to connect with your audience. With Proxi, you can simply generate a link to the map which you can then add to the link in your bio. Want to crowdsource points? Just toggle the link sharing option to crowdsourcing, and you're done.
---
How Creators Can Monetize Maps
Yet another reason why creators should use interactive maps software like Proxi is for monetization.
With map insights (see the screenshot below) such as the total map views, the top 10 most viewed points, and the total map bookmarks (with more insights coming soon!), potential brand partners can see the number of eyes that your map actually gets and you can charge accordingly.
Another major benefit of using a map creator tool like Proxi is that you can feature points. As you can see in the screenshot below (or the interactive Proxi map on this post if you keep scrolling), certain points have a yellow ring around them. These are points that I have chosen to "feature". On this particular map, they're just marking my favorite restaurants in Edinburgh, brands could pay creators to feature their location.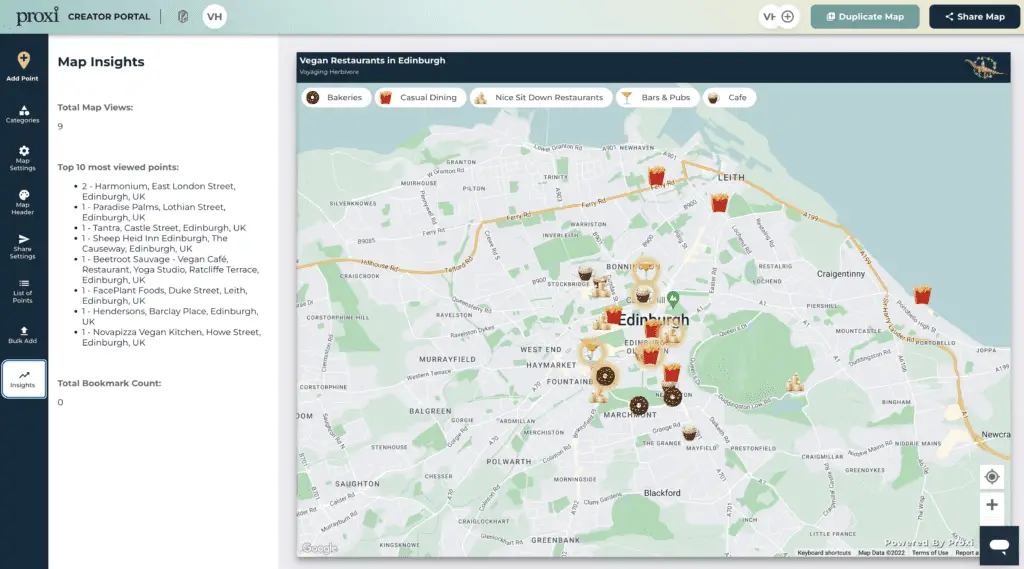 ---
What is Proxi and How to Use It
Now that we've covered what interactive website maps are and why you need to start using them, let's cover the who: Proxi.
Plus, a walkthrough of Proxi's creator portal and how to get started with making your own map.
---
How Much Does Proxi Cost?
Proxi's interactive website maps are totally free! Their free plan includes:
Unlimited maps
Up to 1000 points/map
Crowdsourcing
Featured points
Map customizations
For websites that perhaps need more support with custom templates, Proxi is available to help with prices that are discussed when you contact them.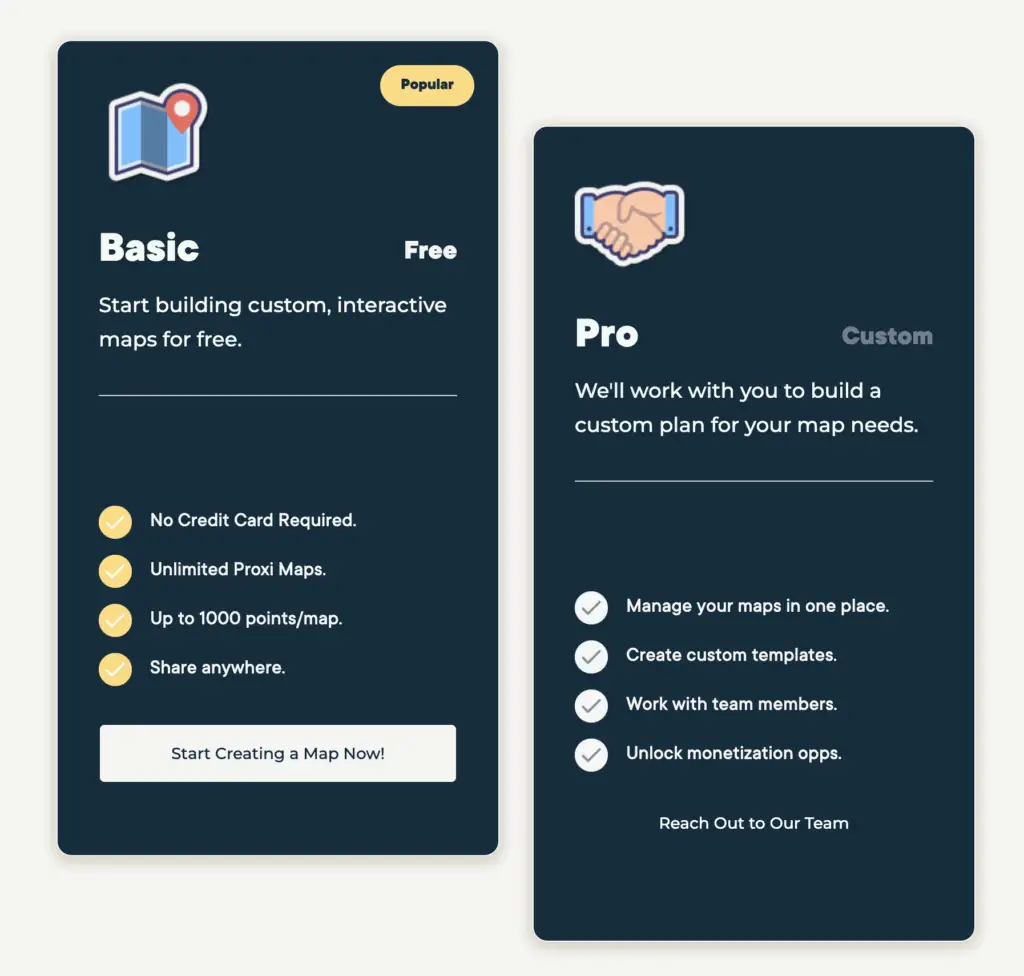 ---
Proxi vs Google Maps
If you've been a creator/blogger for a while now, you probably have a few Google Maps floating around your website. If you explore Voyaging Herbivore you'll be sure to find some here.
So should you bother changing your maps from Google Maps to Proxi maps?
---
Google My Maps Example
Here you can see the restaurant map that we've used on the site for years. Because this map includes vegan and vegan-friendly restaurants from all over the world, we needed to figure out how to categorize these. Ideally, this would have been done by having a category, or layer, as Google Maps calls it, for each country. However, the number of layers is limited so instead, we've had to resort to larger groupings which makes it very hard to filter.
For someone who has never used one of these maps before it can also be difficult to find the list of the points which is accessible by clicking the arrow at the top left-hand corner of the map. From here, clicking and scrolling are necessary to navigate through the list. 
Overall, the whole thing is clunky, difficult to use and navigate, and not that good-looking.
---
Proxi Interactive Website Map
Next up we have Proxi, which as you already know is a fantastic free tool. Below is a map that I created highlighting vegan and vegan-friendly restaurants in Edinburgh.
I've customized the header logo to be my own (yep – that's a free feature) and the color of the bar at the top. The categories have custom icons that I've pulled from online and by clicking on them you can see just the restaurants in that category.
By hovering over the buttons on the bottom left, you can search for points, see a list of all points and browse these, save the map, build your own map, or share the map. When clicking on points you can like your favorites and see how many people have liked other points.
When you compare this basic Proxi map (there are so many more features to use!) to the Google Map above, there's no contest – Proxi is easier to use, has more features, and looks way nicer. All in all, it's better for you as a creator and for your audience. And it's free, so what's not to love!
---
Get Started with Proxi Today
There's no denying that the creator game is a lot more than just nice photos or blog posts about what you did on holiday. Instead, an engaged audience and consistently adding value are key to success.
---
Find More Creator Tools and Courses
---
And as always, you can find more sustainable travel content on Instagram @VoyagingHerbivore, Youtube, and TikTok and to get updates straight to your inbox, enter your email below in the footer, or to the right on the sidebar.

If you found this guide helpful and want to help us keep these resources free,
please consider making your next Amazon, Expedia, Hostel World, Etsy, and Booking.com purchase through our links (just click right on those words – you can do it right now and unless you clear your cookies before your next purchase, it will remember). It costs you no extra and gives us a small commission. Thank you!
---
Pin It For Later