Cramond Island is one of Edinburgh's more hidden gems that boasts historical ruins, views to remember, and a day of filling your lungs with fresh sea air. 
Cramond Island is a landmass that visitors can reach without the need of a ferry. And no, we're not recommending you take a dip in the icy Scottish waters and swim there – on the contrary, you can walk there.
So, if that's whetted your appetite for a trip to Cramond Island, this article will provide all the knowledge you need to make the best of your day out.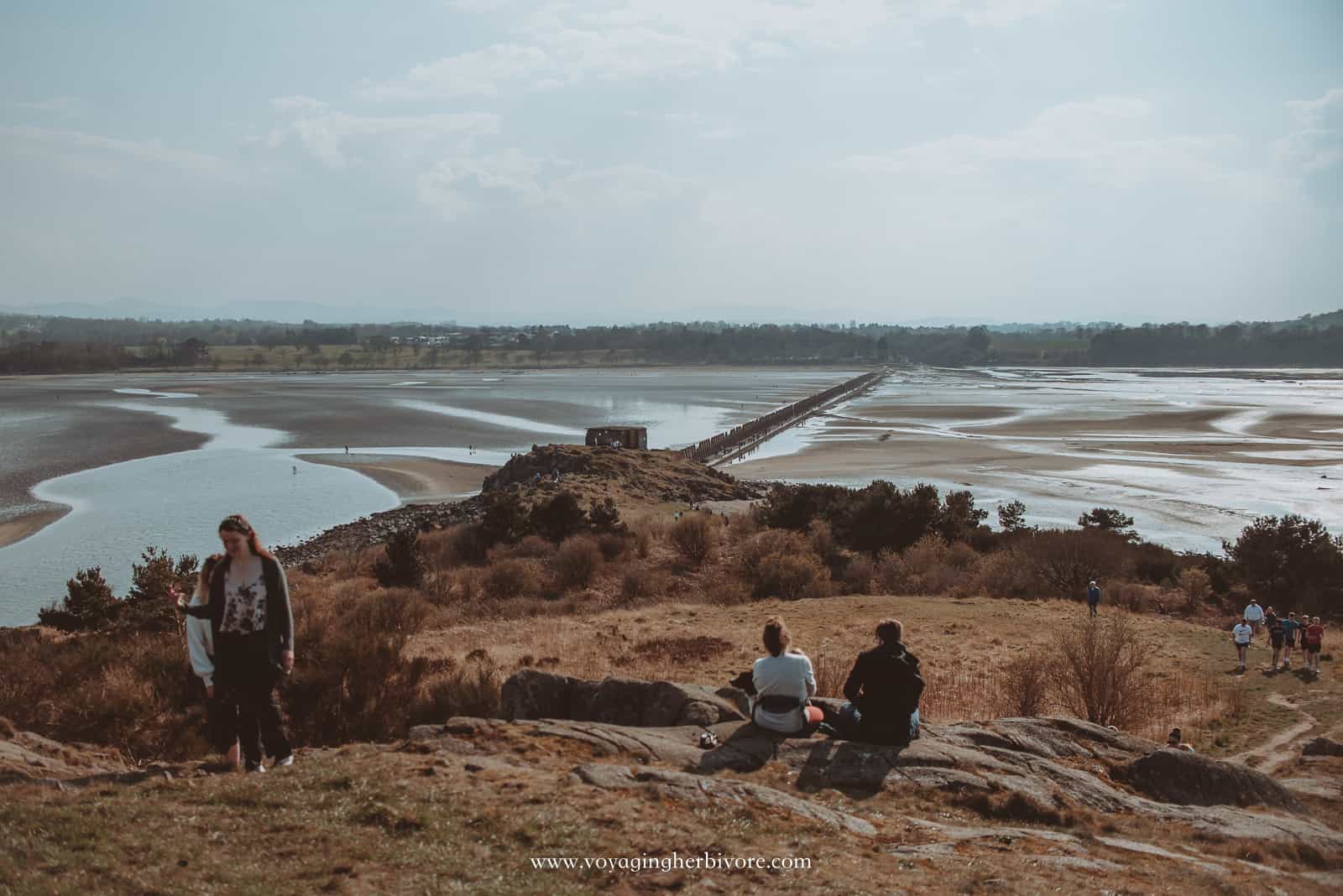 ---
This site is user-supported and that's why we use affiliate links. At no extra cost to you, we get a little bit of money when you purchase something through one of our links. Thank you for helping support ethical, sustainable, and plant-based travel! You can read more about our affiliate disclosure policy here.
---
Cramond Island
Where is Cramond Island?
When the tide is out, Cramond Island can be reached on foot at approximately 1/3 of a mile off the mainland of Drum Sands, Edinburgh. The island is nestled in the Firth of Forth and is one of seventeen islands that can be accessed on foot in Scotland.
The Cramond causeway consists of a paved path that is exposed during low tides, allowing access by foot. Adjacent to the path is a row of concrete pylons that date back to the Second World War and were erected as an "anti-boat boom" (an obstacle across a navigable stretch of water to control or block navigation from invading forces).
The island itself is approximately 0.54 km (1⁄3 mile) in perimeter, so walking around it and taking in the stunning views of Edinburgh, Fife, and the Forth bridges is easily doable.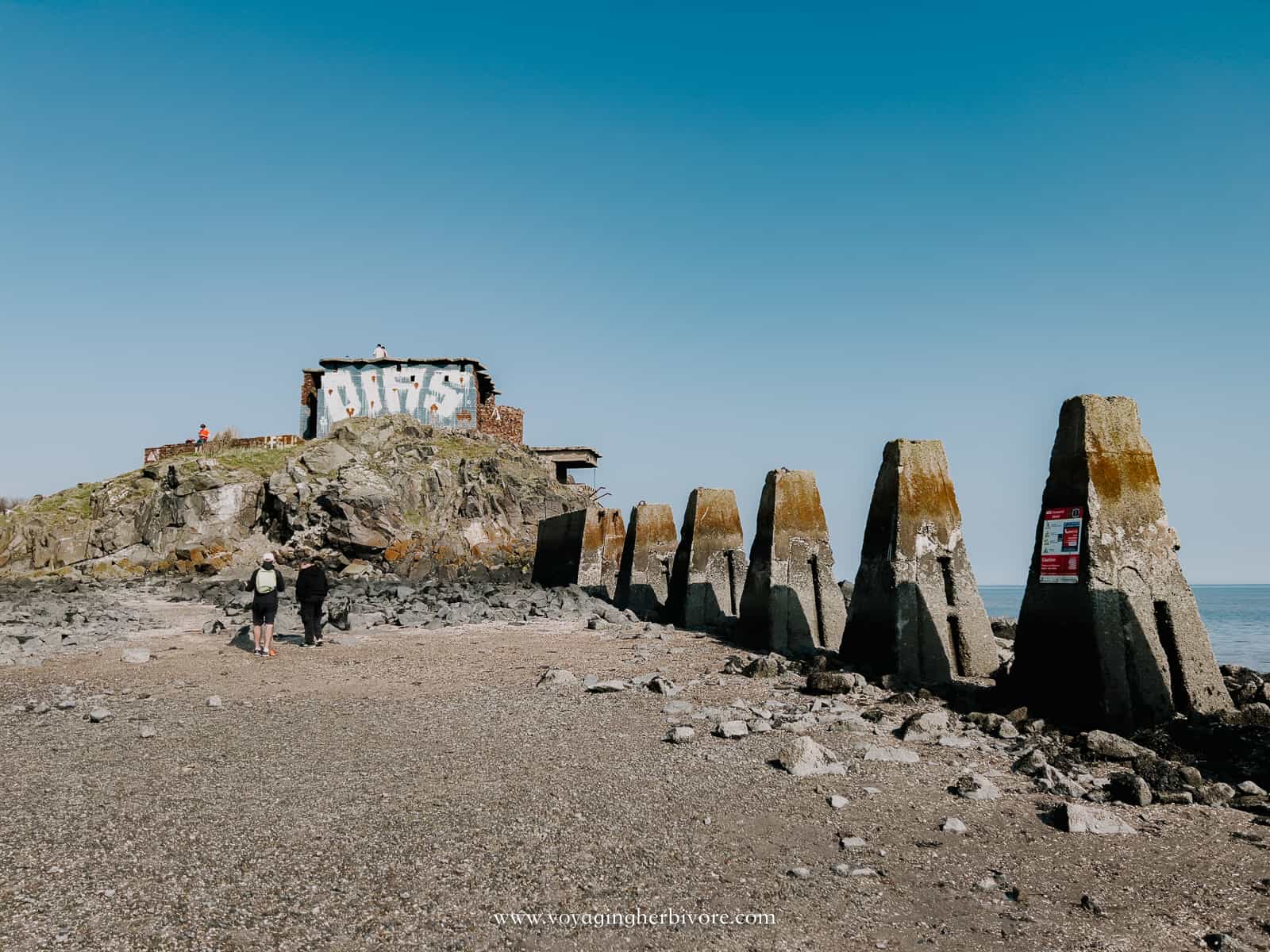 ---
What To Do on Cramond Island
Because the island is so small, it can be covered and explored in a few hours, making it a perfect day out in the summer months. Many visitors are enchanted by the scattering of ruins on the island, as well as searching for fossils, crystals, and other treasures on Cramond beach while the tide is out. The island isn't inhabited, so there are no bars, restaurants, or shops, so taking a picnic with you (and not leaving anything behind nothing but footprints!) is recommended in case you get peckish!
During the First World War, the island donned an anti-submarine net that ran from Cramond Island to the Fife coast to prevent incoming invasions, and later during World War II, Cramond Island was used as a fortress to prevent further German invasions. The island still features the haunting remnants of concrete bunkers and buildings, and the eerie teeth-like pylons still remain, making the location an important one for World War historians.
During the Victorian era, Cramond Island was a popular holiday spot and featured a farmhouse-turn-holiday home, known as Duck House, that still rests today (though now abandoned).
---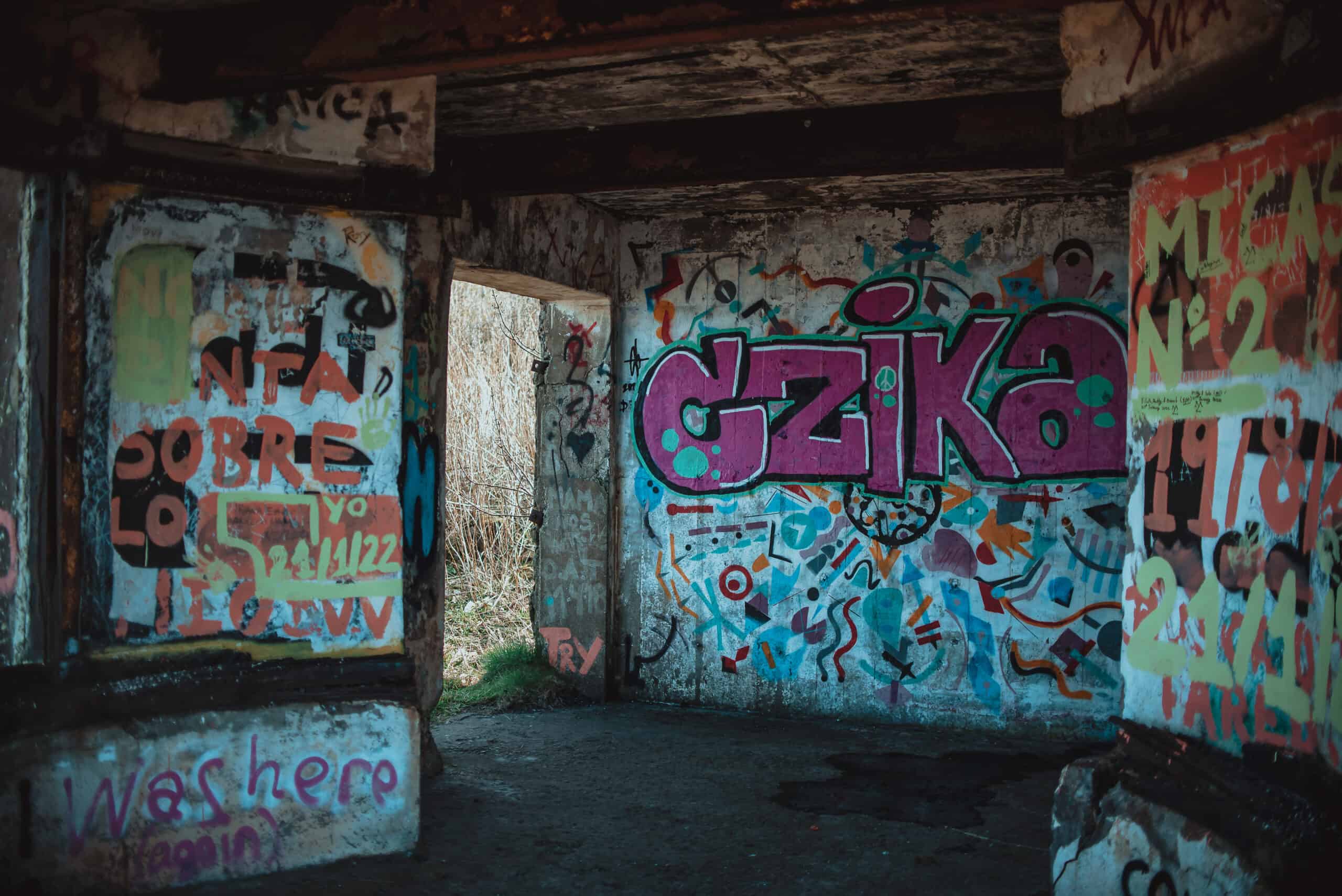 ---
Walking Around Cramond Island
Because the island features a landmass of a mere 19 acres, it is small enough for you to stroll its perimeter in the space of an afternoon, making it a popular spot for lovers of hiking, camping, picnicking, and seashell collecting.
Once you reach the highest point of the island, you can take in the views of the islands of Inchmickery and Inchcolm, as well as the Fife coast to the north of the island. If you look west, you can see the three Forth bridges. Facing south, on a clear day you can see Edinburgh Castle and Arthur's Seat.
---
Tide Times at Cramond Island
Because access to Cramond Island is dependent on the tides (at least by foot, that is), it is important to schedule your day around the sea's comings and goings. At high tide, the walkway will be submerged, so if you're on a time limit (and you don't fancy an impromptu swim), it is wise to take note of the Cramond Island tide times, which can be found here.
You can also text CRAMOND to 81400 to get the safe Cramond Island crossing times sent to your phone.
At low tide, the crossing is accessible for around two hours before the tide comes back in. People have been known to become stranded on the island and have had to be rescued by the coastguard, so be mindful of tide times.
It isn't advised to visit the island if you want to take in its full bounty when you're stretched for time! Allow for plenty of time to explore, but to make it back to the mainland safely.
---
How to Get To Cramond Island From Edinburgh City Center
If you're not native to the city, this part of the guide features handy advice on how to find Cramond Island from the adjacent city of Edinburgh.
From the city centre, take bus 41 from Princes Street. This journey takes around 40 minutes to a bus stop near the causeway. Buses in Edinburgh are fairly regular and getting around the city on a day ticket is a cheap way to take in all the sights the city has to offer.
If you've hired a car, you'll be pleased to know there is a FREE carpark in Cramond village.
---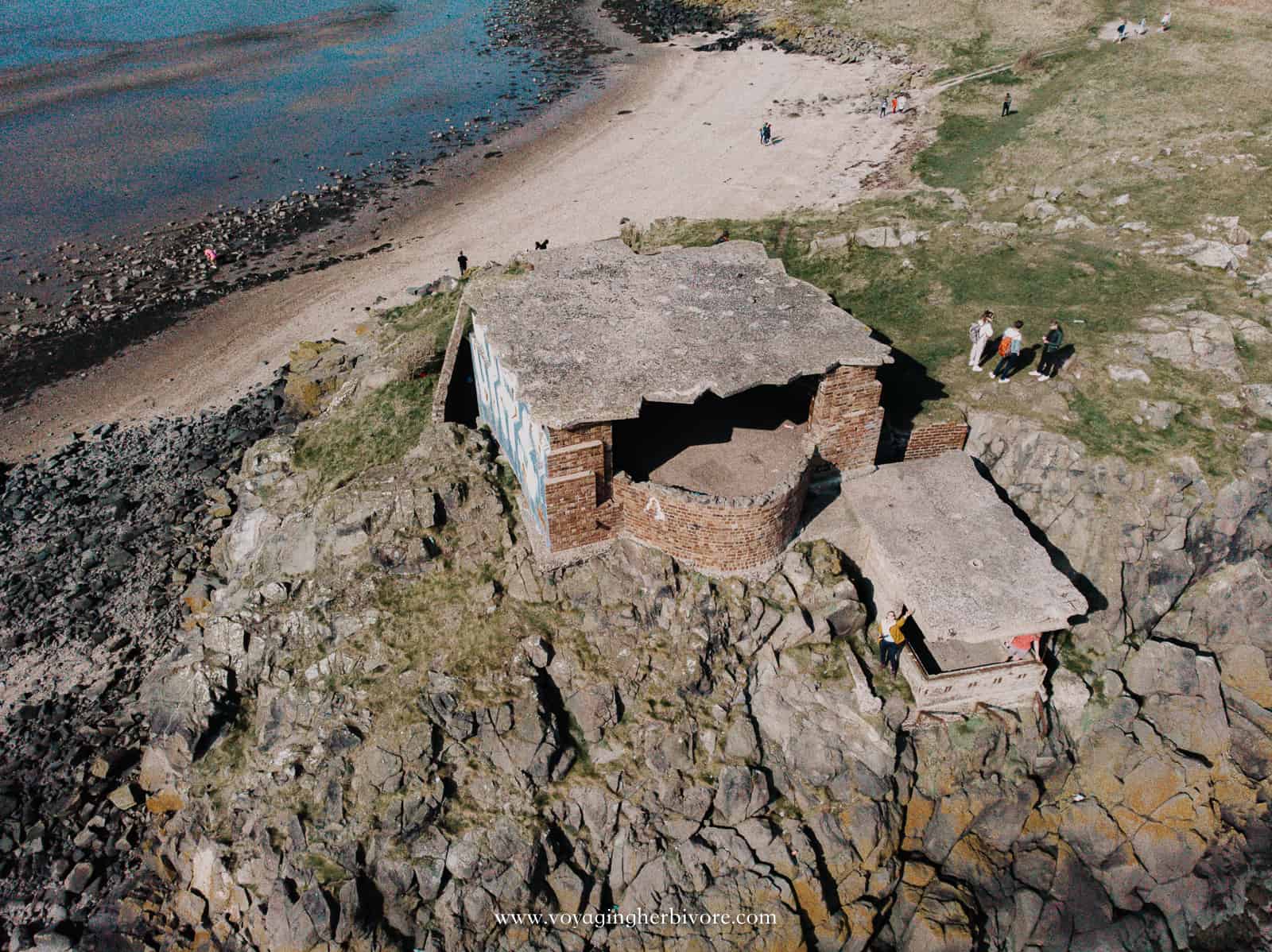 ---
What to Wear to Cramond Island
Cramond Island kisses the north sea, and because it's coastal, even in the summertime, it can be a bit nippy and windy, so you're advised to take a jacket with you. If you're visiting in the colder months of the year – wrap up warm. Though there is a beach nearby, it's unlikely you'll be doing much sunbathing! Scottish weather is unpredictable at best, and chances are you'll receive some rain whatever time of year you visit, so packing the waterproofs is well-advised too!
If hiking the island is on the agenda, comfortable clothing and practical footwear is a must. 
---
Cramond Village
Where Is Cramond Village?
Contrary to any confusion around the name, Cramond village isn't located on the island of Cramond. Instead, it can be found on the mainland of Scotland in a suburb in the north-west of Edinburgh, at the mouth of the River Almond, where it joins the Firth of Forth.
Cramond village boasts much culture and history, and is a hot-spot for historians and lovers of antiquarian culture, Celtic history, and archaeology, as it is rich in evidence of Mesolithic, Bronze Age and Roman activity. 
---
What To Do In Cramond Village
Because of Cramond village's rich culture and heritage, a visitor can bask in the many historical sites, including the remains of an old Roman Fort that was built around 140 AD.
The island and village are also rich in World War history. But Cramond Village is mostly renowned for its Roman history. The village boasts a famous archaeological site called the Cramond Roman Fort. This settlement was built around 140 AD (during the time of Emperor Antonius Pius) and was occupied until circa 170 AD.
A stone's throw away from the fort is Cramond Tower, which is said to date back to around the 15th century. Cramond Village is also the birthplace of the Cramond lioness…
Don't worry – she isn't real!
The Cramond Lioness is a statue that was discovered in 1997 at the mouth of the nearby River Almond, where it lay hidden for 1800 years. The sculpture depicts a prisoner being killed by a lioness and is reminiscent of gladiator times. No one is fully certain of the purpose of the statue, but popular belief suggests it may have been part of a tomb of a high-ranking Roman officer.
The sculpture can be viewed at the National Museum of Scotland, located in nearby Edinburgh.
Other jaw-dropping Cramond hot-spots include:
Dalmeny House, a Gothic revival mansion
Eagle Rock or Hunter's Craig, a Historic Environment Scotland monument
Barnbougle Castle, is a 13th-century tower house (now used as a wedding venue).
---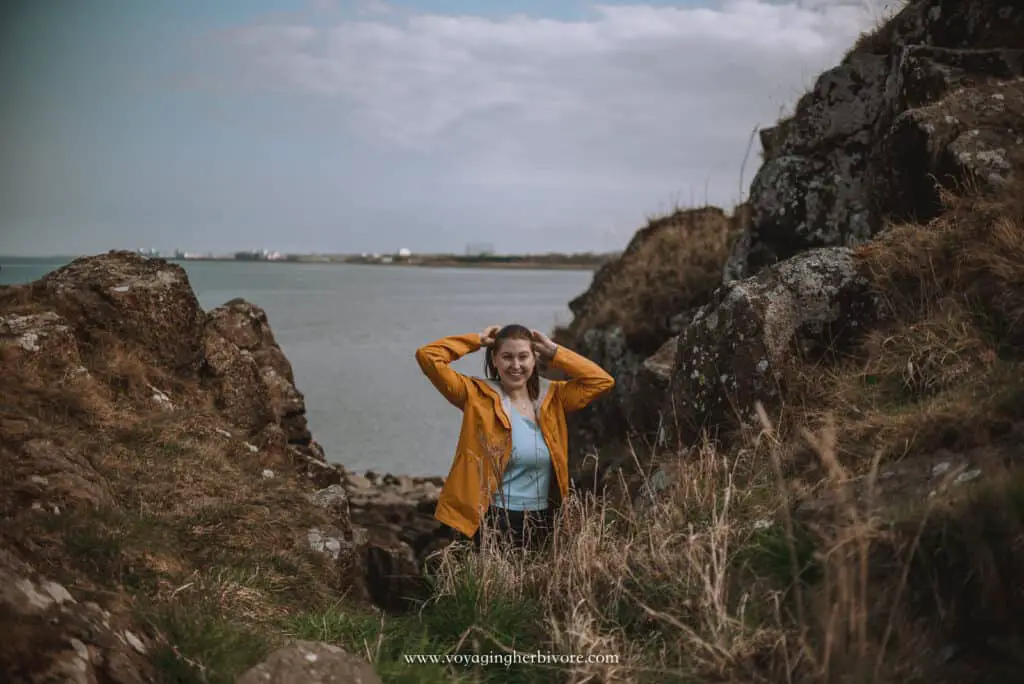 ---
Where to Eat in Cramond Village
Unlike the island, the village is inhabited, so you'll be able to grab a bite to eat and a warm beverage (the winds in that region can be rather bitter!) Be advised that there aren't many vegan options in Cramond Village but Edinburgh itself has plenty of incredible vegan restaurants. I recommend grabbing some snacks from a Sainsbury's or Tesco (both chain grocery stores with plenty of vegan options) and having a light picnic lunch on Cramond Island before heading into the center for dinner. 
Places to eat in Cramond Village include:
Cramond Bistro (4-5 Riverside, EH4 6NY)
Cramond Bistro is ideal for a brunch or lunch option, with a menu that boasts delicious breakfast favourites, such as poached eggs and avocado on toast, as well as lunch options, such as bagels, paninis, soups, and traditional Scottish dishes, including Cullen Skink (soup with cream, smoked haddock, leek and tatties!)
Boardwalk Beach Club (50 Marine Dr, EH4 5ES)
This is a little café based on the Silverknowes beach promenade and offers many summer favourites, such as ice cream, cakes, crepes, milkshakes, as well as main lunch options, such as haggis, wraps, and burgers.
Ye Olde Inn (25 Main St, Davidson's Mains, EH4 5BZ)
This traditional-style pub/restaurant can be perfect for a warm meal and a pint of ale on a chilly Scottish day, so if those Cramond winds have piqued that appetite, you can enjoy traditional fish & chips, veggie burgers with triple-cut chips, and other pub lunch classics!
---
Visiting Cramond Island
We hope you've found this guide insightful and it has got you in the mood for a trip out to this Scottish gem. Cramond Island and village can offer many unforgettable sights, lovely food, and a day to remember. Just remember to dress for the weather and be mindful of the tides!
---
What Camera Gear Do We Use?
If you want the full list of things we keep in our camera bag, check out the complete guide or browse our photography guides.
---
---
And as always, you can find more sustainable travel content on Instagram @VoyagingHerbivore, Youtube, and TikTok and to get updates straight to your inbox, enter your email below in the footer, or to the right on the sidebar.

If you found this guide helpful and want to help us keep these resources free,
please consider making your next Amazon, Expedia, Hostel World, Etsy, and Booking.com purchase through our links (just click right on those words – you can do it right now and unless you clear your cookies before your next purchase, it will remember). It costs you no extra and gives us a small commission. Thank you!
---
Pin It For Later