Did someone say modern art? Edinburgh's Van Gogh Alive immersive experience is giving an art gallery a new meaning with a sensory experience.
Keep reading for our full Van Gogh Alive review to discover if it's worth visiting this Edinburgh attraction.
---
This site is user-supported and that's why we use affiliate links. At no extra cost to you, we get a little bit of money when you purchase something through one of our links. Thank you for helping support ethical, sustainable, and plant-based travel! You can read more about our affiliate disclosure policy here.
---
---
Van Gogh Alive vs Van Gogh the Immersive Experience
On a rainy day in March, I left my cozy flat to take the bus to what I thought would be my Emily in Paris Van Gogh experience moment. It wasn't until leaving that a relative responded to my Instagram story asking how I enjoyed the VR experience that I wondered what Van Gogh experience I had just attended because it hadn't quite matched what I had seen online.
It turns out there are two Van Gogh experiences popping up around the world: Van Gogh the Immersive Experience and Van Gogh Alive.
Van Gogh the Immersive Experience is the one featured in Emily in Paris, where you can learn about Van Gogh's life and see massive projections on the walls and entire floor while lounging in deck chairs. There's also a VR experience where you can explore the town and see the places that inspired his famous paintings.
The Van Gogh Alive experience features tall projections on the walls of animated portraits with accompanying music. One of the main draws of the Van Gogh Alive immersive experience is the sunflower room (more to come on this!).
It turns out that I attended the Van Gogh Alive experience which is what this review covers. Keep reading to find out if it's worth the money. Throughout the rest of this post, I'll refer to the Van Gogh Alive experience as the Van Gogh Alive Immersive Experience, the Van Gogh Immersive Experience, and VGA just to change it up a bit, but know that it's all referring to Van Gogh Alive.
---
What is the Van Gogh Alive Immersive Experience?
VGA takes Van Gogh's most famous works and brings them to life through movement, music, and lights. Participants in the activity can explore the famous sunflowers (although it's not quite what you might think), watch paintings come to life in their Sensory4 gallery, and try their hand at drawing a few of Van Gogh's most famous works of art.
The experience is presented by Grande Experiences and has been running around the world and in the UK since at least 2021. The exhibit is over 20,000 square feet and light and sound projections span two stories tall with wall and floor projects. This unique art gallery typically only stays in a city for a few months, so if you do want to see it, it's best to book your tickets in advance to ensure a spot.
The gallery consists of four different sections:
Interpretive Area: As you enter the experience, you're welcomed into a bright and busy room. Each wall has details on paintings, exploring not just when and what the painting is of, but how Van Gogh's life and mental state affected his paintings. Explanations are relatively long but easy to read and understand. There are QR codes in this area that can be scanned for sign language and audio options. In this area, you'll also find the famous bedroom from Van Gogh's paintings. It's created to look like a painting with thick brush strokes and you're able to enter it to take photos.
The Sensory4 Gallery: This large gallery, which you probably saw in Emily in Paris, features two-story tall projections with accompanying music. Van Gogh's paintings are animated where appropriate (rain falls down, a train starts to move, trees bend in the wind) to give the viewer a sense of being inside a painting. There is limited seating and although people are welcome to sit on the floor, leaning on the walls is not permitted which can make finding a place to sit a bit awkward. The entire show lasts over 30 minutes, but as there's no distinct storyline, it's easy to wander in and out as you please.
The Sunflower Room: Perhaps what draws people to VGA the most is the sunflower room, an Instagrammer's dream. Photos make it look like you'll weave through paths of sunflowers and mirrors when in reality the room was probably only a few square meters.
Art Activity: The final stop is the art activity. About 15 small easels with paper are set up and a video at the front quickly shows how to sketch Starry Night and Van Gogh's Bedroom.
---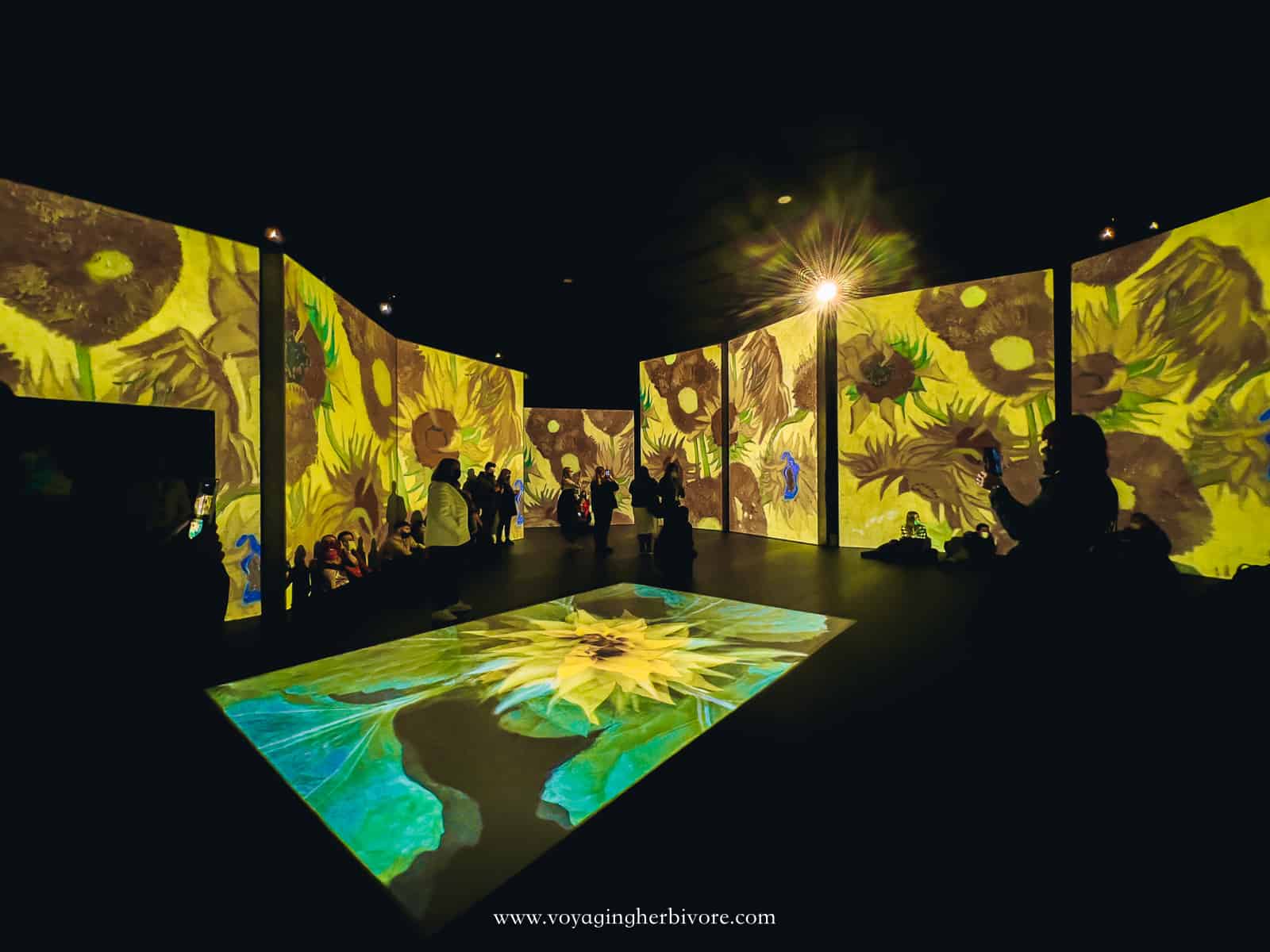 ---
How Long is the Van Gogh Alive Experience?
The Van Gogh Alive experience is a go at your own pace activity. Here's our estimated time that it takes to do the various sections:
Interpretive Area: 20 to 30 minutes depending on reading speed
Sensory4 Gallery: 45 minutes
Sunflower Room: 5 minutes
Art Activity: 5 minute activity and/or 15 minute activity
In total, you can expect to spend around 90 minutes at the Van Gogh immersive experience.
---
How Much does Van Gogh Alive Cost?
Van Gogh Alive Edinburgh tickets cost £22/person at full price. 
---
When Is Van Gogh Alive in My City?
Van Gogh Alive is in Edinburgh from March 17, 2022 to July 17, 2022. You can book tickets and find out what city the Van Gogh experience is in here.
---
Van Gogh Alive Immersive Experience Pros and Cons
Pros: Perhaps the biggest pro of the VGA was the music. The gallery show is incredibly impressive with music timed perfectly to the animations. There were also plenty of photo opportunities with Van Gogh's bedroom (no laying on the bed allowed) and the sunflower room. 
Cons: Our Van Gogh Alive experience review isn't complete without a few cons. The Van Gogh Alive experience was crowded and most people (I'm guilty as well!) seemed to be using the experience more as a photo opportunity. This could potentially be improved by adding a no-photo time where camera and phone use is prohibited. While a photo here and there is of course more than fine, there's a point where a 15 minute photoshoot is a bit much. I also think the area could have been improved with more seating options. Finally, the biggest dissappointment of VGA is the size of the sunflower room.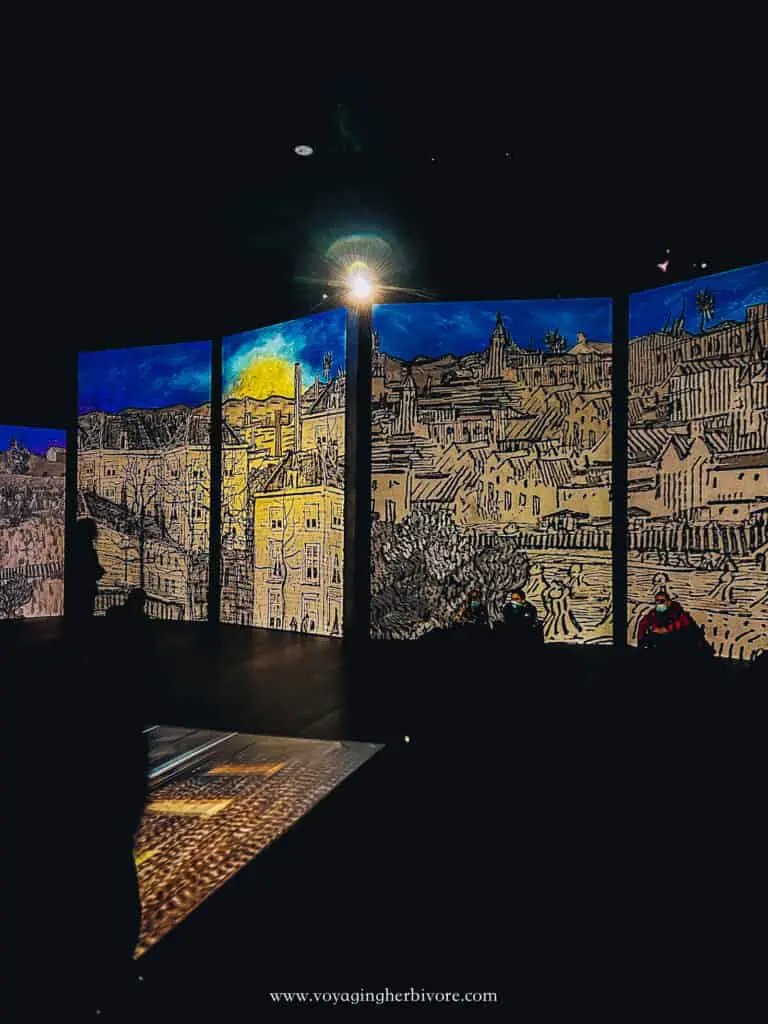 ---
Van Gogh Alive FAQ
Do I have to wear a mask at Van Gogh Alive?
Yes. At the time of writing, masks needed to be worn at all times, even while taking pictures. We were told that Van Gogh Alive would be fined for photos without masks.
Can I take photographs at the Van Gogh immersive experience?
Yes! You can take photos but flash is not permitted.
How long does the Van Gogh Alive experience take?
You can walk through the experience at your own pace. It's recommended to give yourself at least 90 minutes.
Can I participate in Van Gogh Alive if I'm blind, deaf, or have limited mobility?
Yes! Van Gogh Alive in Edinburgh is completely on one floor and there are no stairs. There is ramp access available. There are also QR codes to scan for BSL and audio options.
Is the Van Gogh immersive experience suitable for children?
The art gallery isn't aimed at children and reading is required. The gallery itself has music but no voiceovers so it may be boring for little ones who are easily distracted.
Is there a virtual reality experience at Van Gogh Alive?
Supposedly, there is a chance to do a VR experience where you look around the town that inspired Van Gogh's paintings. As far as we're aware, this is not an option at Van Gogh Alive Edinburgh, but it may be available at other events in the UK.
---
Final Thoughts: Should You Go?
So, when it comes down to it at the end of this Van Gogh Alive review, is the immersive experience worth visiting? If you're an art lover, then yes. I do think that this is a great experience and one well worth visiting. However, if you're looking for a chance to add some unique photos to your Instagram feed, save your money and skip it. Edinburgh has plenty of incredible photo spots where you can shoot away to your heart's content with better lighting.
Are you planning on visiting this unique Edinburgh experience? Let me know in the comments!
---
What Camera Gear Do We Use?
If you want the full list of things we keep in our camera bag, check out the complete guide or browse our photography guides.
---
Explore More of Edinburgh
---
And as always, you can find more sustainable travel content on Instagram @VoyagingHerbivore, Youtube, and TikTok and to get updates straight to your inbox, enter your email below in the footer, or to the right on the sidebar.

If you found this guide helpful and want to help us keep these resources free,
please consider making your next Amazon, Expedia, Hostel World, Etsy, and Booking.com purchase through our links (just click right on those words – you can do it right now and unless you clear your cookies before your next purchase, it will remember). It costs you no extra and gives us a small commission. Thank you!
---
Save This Van Gogh Immersive Experience Review for Later