If you want to keep your home fresh during the winter months and bring the rainforest to you, visit your favourite Edinburgh plant shop. Not only do indoor plants improve a room's appearance, but they can also improve mental health, increase creativity, lower stress levels, and remove air pollutants, all of which contribute to a happier and healthier you. 
Indoor plants can help us with our mood and appearance, which is why you should visit plant shops. Edinburgh has a lot of amazing ones. See our list to find out where you can buy plants in Edinburgh: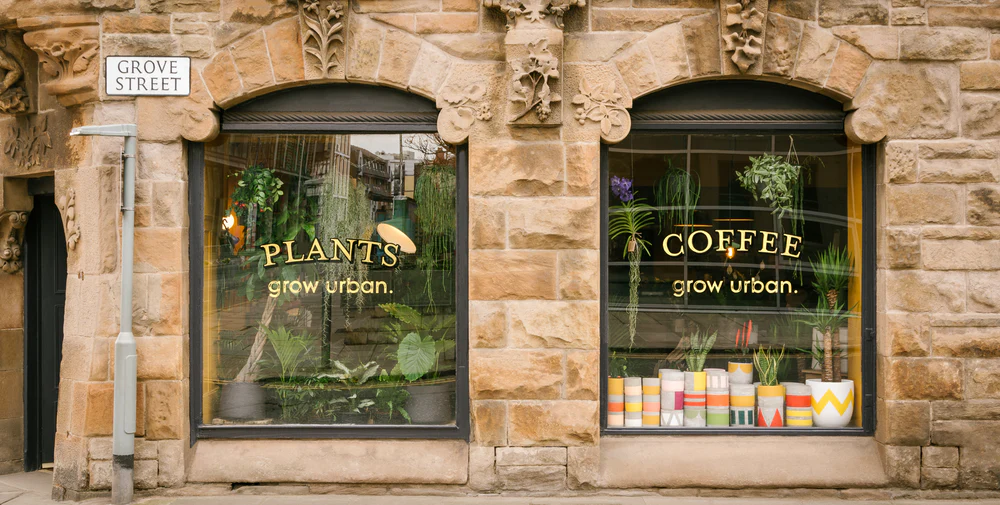 ---
This site is user-supported and that's why we use affiliate links. At no extra cost to you, we get a little bit of money when you purchase something through one of our links. Thank you for helping support ethical, sustainable, and plant-based travel! You can read more about our affiliate disclosure policy here.
---
1. Lily West, the coziest plant shop in Edinburgh
Lily West is among the coziest plant shops Edinburgh has to offer, and if you love plants, you have to stop by this cute shop in the old town. Since its opening in 2003, Lily West has been offering the neighbourhood's residents a vibrant and colourful selection of plants and flowers. You will always find an abundance of orchids, succulents, and beloved houseplants like the monstera available for purchase. 
Lily West Florists is situated in West Port, just next door to Bánh Mì Brothers where you can find delicious vegan sandwiches. They deliver from their amazing webshop and hold frequent flower classes. But if you love browsing in a plant store forget ordering online, Edinburgh is the city for you.
---
2. Grow Urban, a place for coffee and plants
Grow Urban is my favorite plant and coffee shop in Edinburgh – particularly the shop on St Vincent Street.
You can perfectly combine your love for plants and coffee here because Grow Urban has the best coffee in Edinburgh from a local coffee roaster. They also have a small, delicious selection of baked goods – the vegan lemon cake is a must-try. You can stop by whenever you are passing through, just for a quick cup of coffee and to enjoy the ambiance.
Since it opened in 2019, this Fountainbridge plant store has become a favourite among Edinburgh's plant parents thanks to its amazing selection of exotic house plant specimens, including succulents, trailing forest cactus, and enormous leafy calathes.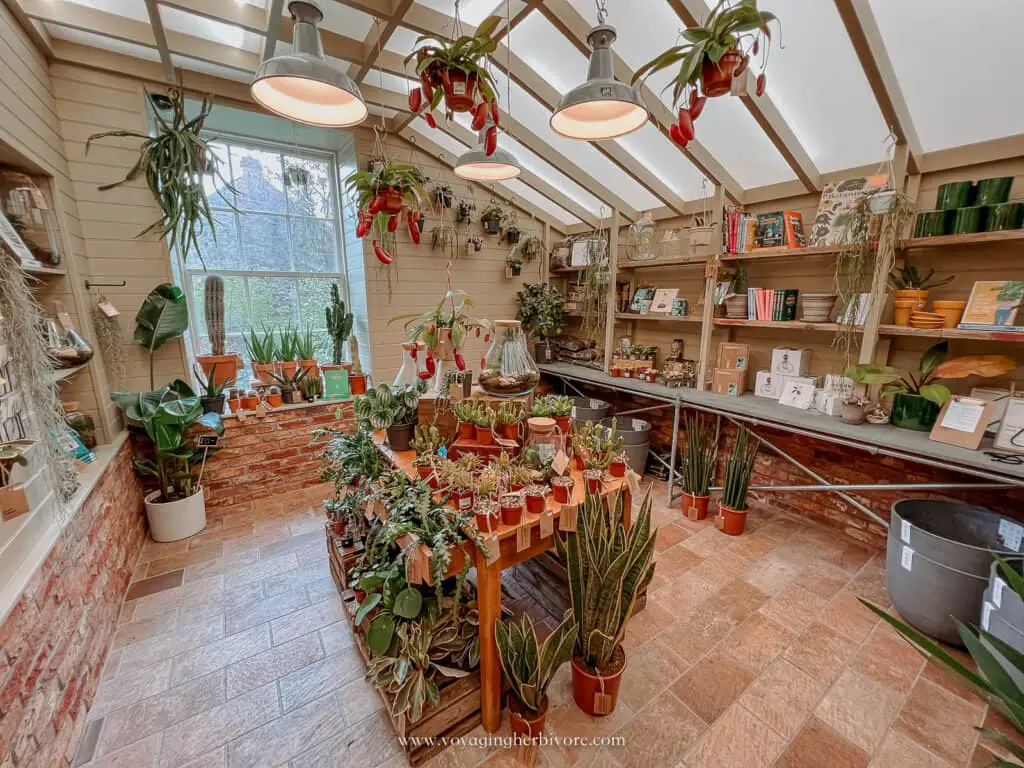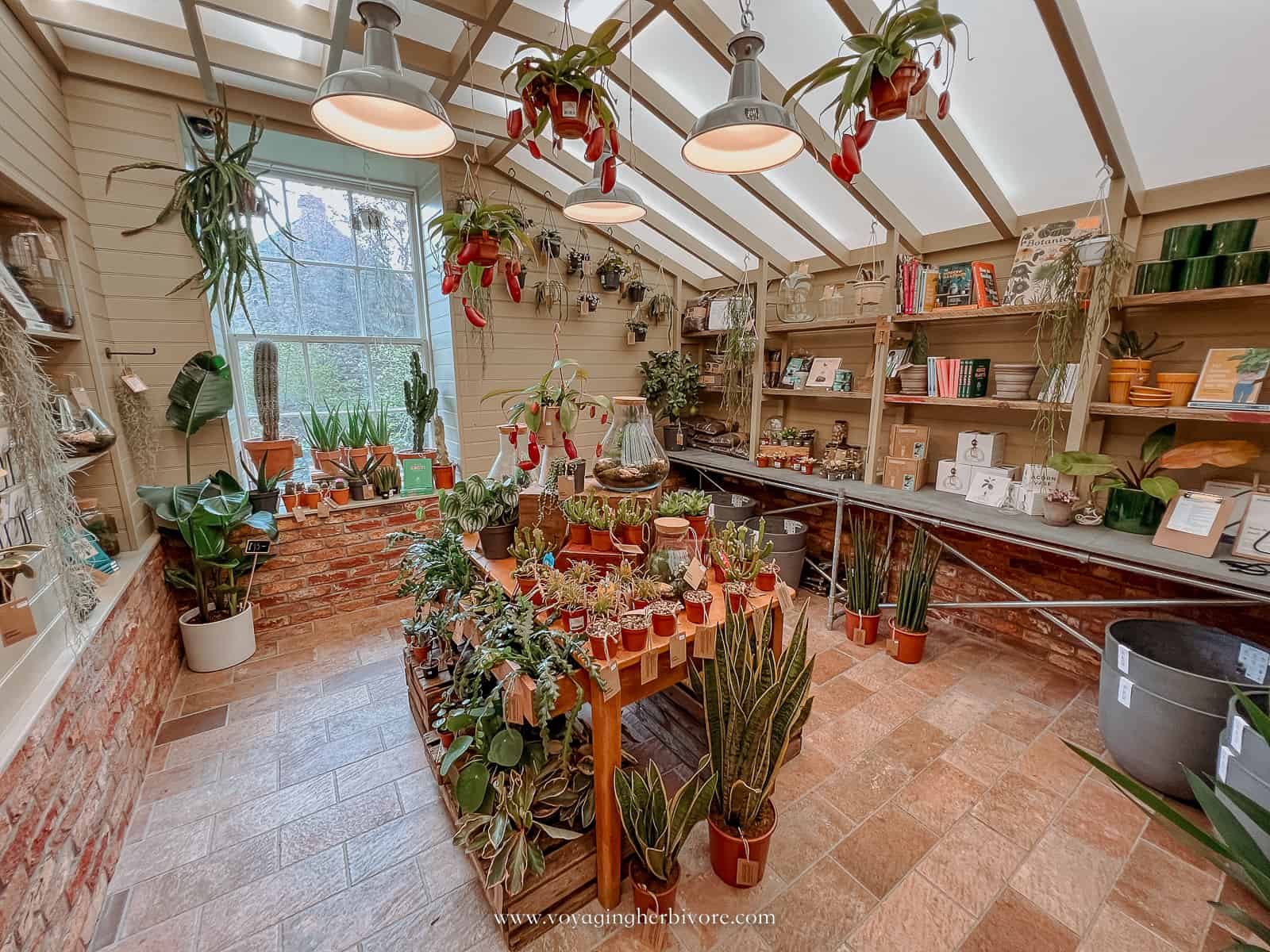 ---
3. Dobbies and Little Dobbies, garden centres in Edinburgh
Dobbies
Surrounded by greenery and golf courses Dobbies Garden Centre is a quick 20 minutes drive from Edinburgh downtown. There are multiple stores in this building, including Mountain Warehouse, Hotter, and The Greenhouse People, making it a one-stop shop for buying house plants, having afternoon tea, and buying other goods or picking up your Amazon packages.
They offer different events regularly, including workshops where you can learn how to take care of your plants or how to grow your own fruits and veggies. If you can, sign up for afternoon tea which includes vegan options as well.
Little Dobbies
A smaller version of Dobbies, Little Dobbies is located in Stockbridge, just down the street from Stockbridge Market (one of Edinburgh's many fantastic markets). Little Dobbies has a small tea and coffee selection, but the best attraction is the wide variety of plants! They also have a discount section where plants that need a little extra TLC are on sale.
---
4. Green Meadows & Green Leith
Green plant shop Edinburgh consists of Green Meadows but also its sister shop Green Leith. You can visit either location as they are both fabulous. With social and environmental sustainability at its core, Green is a contemporary interpretation of a tropical plant store. 
Green Meadows address: 137 Buccleuch St, Newington, Edinburgh EH8 9NE
Green Meadows opening hours: 10.00 – 18.00
Green Leith address: 55 Elm Row, Leith Walk, Edinburgh EH7 4AQ
Green Leith opening hours: 11.00 – 19.00
They offer a satisfying and ethical retail environment and provide a varied and constantly-evolving collection of plants that are frequently unavailable in standard plant stores.
The best thing about this store is that for every plant purchased, 25p is contributed to Trees for Life, an organisation whose goal is to rewild the Scottish highlands. They have planted over 1000 trees already.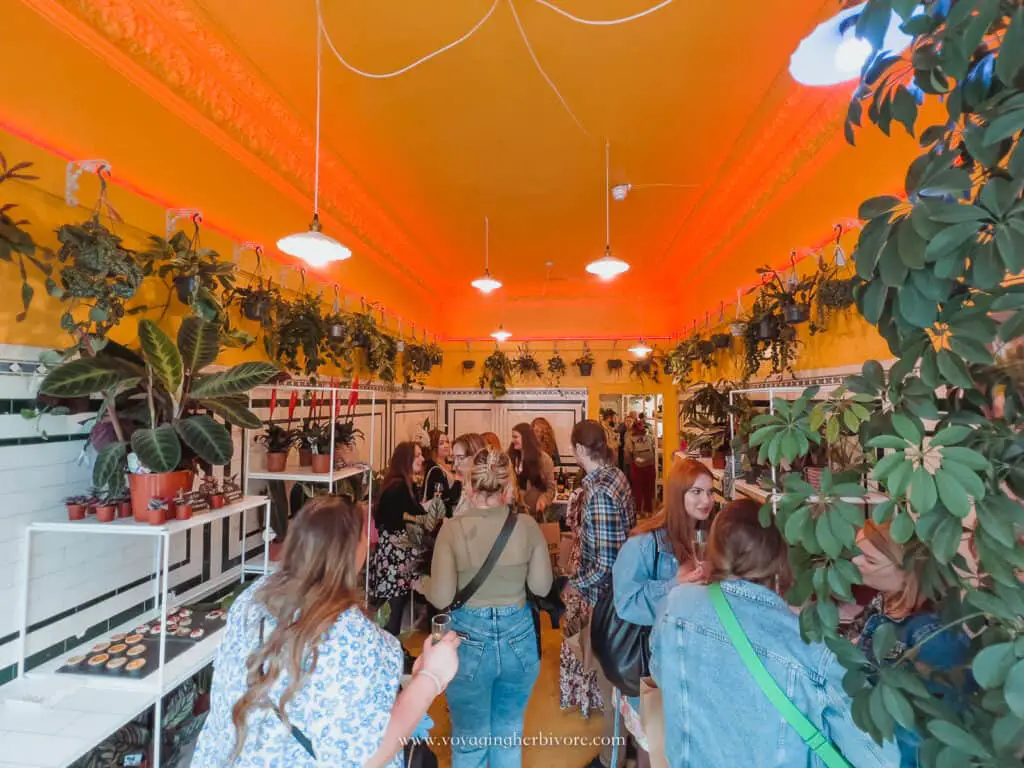 ---
5. Rose & Ammi, for fresh-cut flowers
If you want to buy some fresh-cut flowers together with gorgeous house plants, Rose & Ammi are among the plant shops Edinburgh residents love the most. Already at the outside of the store, you will be amazed by its white and grey facade covered with plants and a vintage bike.
This charming florist has nestled away on Gillespie Crescent and is quite simple to miss if you're walking up toward Bruntsfield. In addition to running a stunning boutique that they founded in 2012, Rose & Ammi also use their magnificent flowers to adorn wedding locations. 
---
6. Dahlia, a bohemian flower shop
This big store, which is stuffed to the gills with blooming houseplants of every sort, has, naturally, become highly popular with Marchmont residents. Many local students have taken advantage of the opportunity to brighten up dilapidated tenement flats with hanging jungle cacti, decorative ferns, and tiny succulents thanks to the area's affordable plants.
Dahlia is an elegant addition to Edinburgh's indie sector and offers a fantastic selection of plants and flowers, as well as numerous gifts relating to plants and flowers, like lovely gardening books and their lovely selection of greeting cards.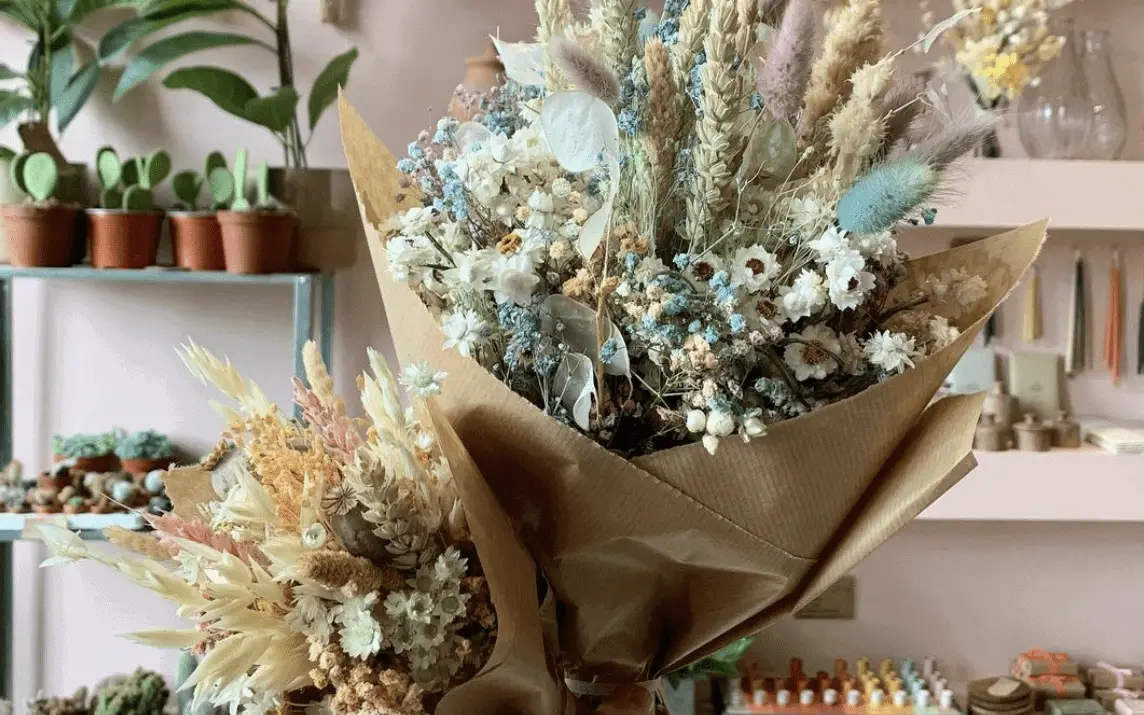 ---
7. Snapdragon, a favourite local plant shop
Snapdragon is a well-known neighbourhood plant store brimming with a variety of indoor plants, flowers, and accessories for those with a green thumb. It has the necessities for developing your own indoor garden with its reasonable selection of low-maintenance plants like parlour palms, a string of hearts, Chinese money plants, and peace lilies. 
The tucked-away store on Bruntsfield Place also sells a wide range of vital items for gardeners, like organic fertiliser and watering cans and misters. They can also deliver gift bouquets, wedding flowers, flower vases, and much more all around Edinburgh.
---
8. Narcissus, a beautiful florist and botanical shop
Locals adore this lovely floral and plant store on Broughton Street for its stunning window displays and variety of plants. Top species including ficus lyrata, barrel cacti, and joyful hoyas may be found here and will look great in any home. Along with bouquets of fresh or dried flowers, a variety of vibrant concrete pots are also available.
Narcissus, a florist specialising in cutting-edge floral design, was established in 1997. The New Town shop features an unmatched assortment of odd plants, fresh flowers ideal for a variety of bouquets, distinctive vases, and one-of-a-kind designs. 
Narcissus offers a distinctive service, specialising in innovative design for weddings and parties for both individual clientele and Edinburgh's top companies. The Narcissus Flower School is headquartered in East Norton Place and offers training for aspiring, seasoned, and professional florists.
---
9. Garlands, Leith plant shop with stunning window display
Garlands is a tiny, family-run business that has been operating at the top of Leith Walk for nearly 30 years. They are a leading provider of gorgeous, premium flowers both locally and nationally.
The staff at the store is always welcoming and pays attention to the details of your orders. They are always open to explaining a little bit about plants, which is great if you are a beginner.
Garlands' gorgeous window displays of trailing plants and flowers draw a lot of local Leithers and plant enthusiasts from all around Edinburgh. The store offers a wide selection of cacti, string of pearls, snake plants, and aloes, and boasts a few unusual specimens on occasion, giving plant enthusiasts of all levels the possibility to choose a new houseplant to bring home.
---
10. Rogue Flowers, for those who love fresh bouquets
If you want to buy plants in Edinburgh or at least some flowers there are plenty of options, and one of our favourites is Rogue Flowers on William Street. This cute shop offers a lovely selection of indoor plants and flowers to choose from. These often include a wide variety of ferns, including giant trailing ivy plants, little leafy succulents, and anything from fluffy Boston ferns to finicky maidenhairs.
Rogue Flowers is a quaint small business that is sure to inspire you as soon as you enter through the door. They have created floral arrangements for more private events like weddings in addition to working with some significant clients including the National Museum of Scotland and the Edinburgh International Film Festival.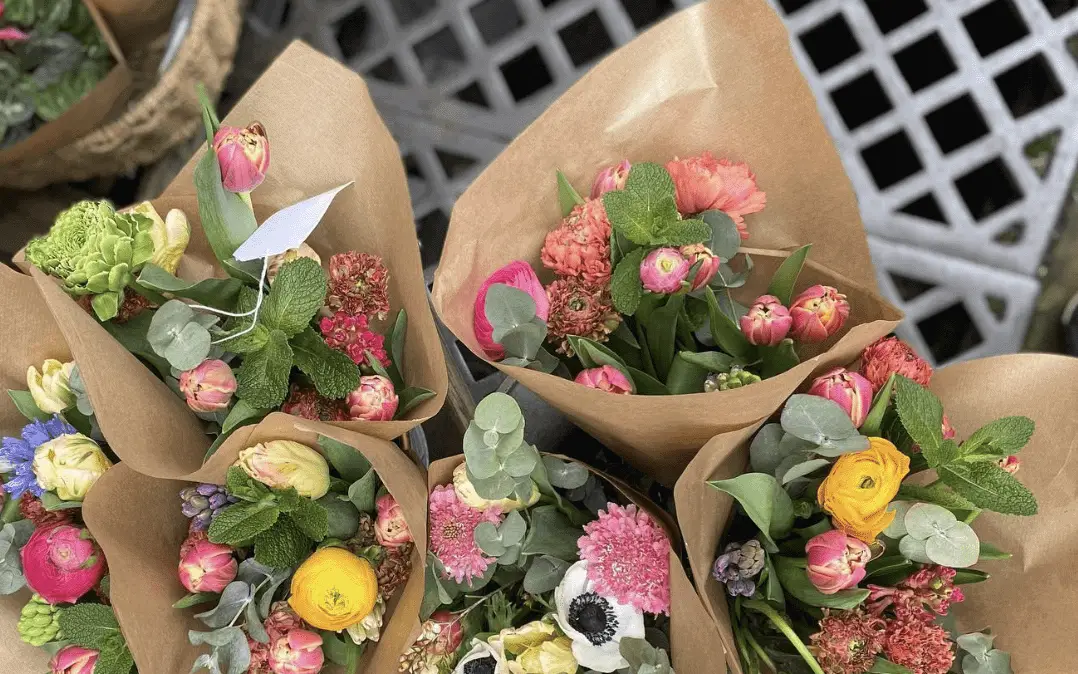 ---
Final thoughts
Of all the plant shops in Edinburgh, these are the ones that have stolen our hearts. Bring new life to your rooms or work spaces with new house plants and your winter will be more fulfilling!
---
Explore more of Edinburgh
---
Free Resources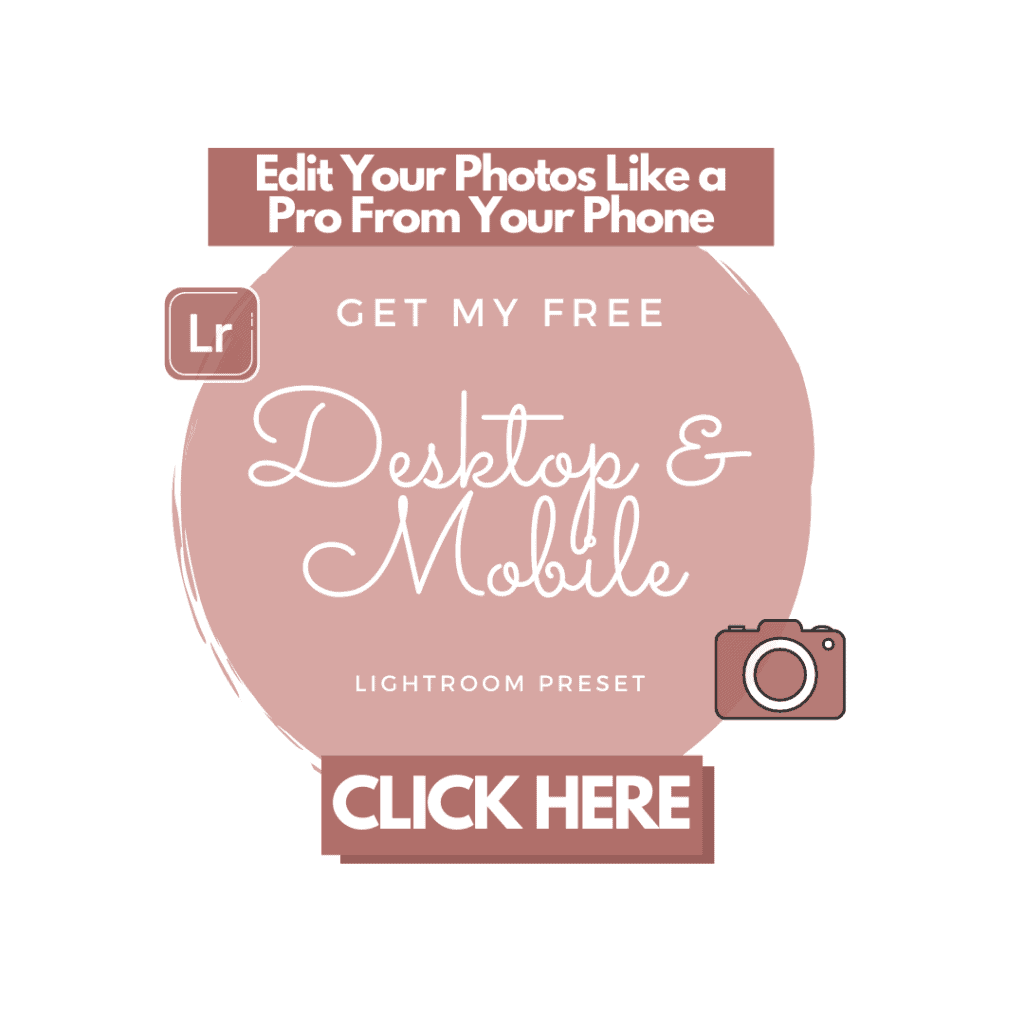 ---
And as always, you can find more sustainable travel content on Instagram @VoyagingHerbivore, Youtube, and TikTok and to get updates straight to your inbox, enter your email below in the footer, or to the right on the sidebar.

If you found this guide helpful and want to help us keep these resources free,
please consider making your next Amazon, Expedia, Hostel World, Etsy, and Booking.com purchase through our links (just click right on those words – you can do it right now and unless you clear your cookies before your next purchase, it will remember). It costs you no extra and gives us a small commission. Thank you!
---
Pin Plant Shops in Edinburgh