Nothing brings out my competitive side like mini golf and if you're reading this, I imagine that you're the same.
Mini golf is family-friendly, has a broad appeal, and is loved by players of all skill levels and ages. Compared to kart racing, paintball games, or arcades, a mini golf course is simple and inexpensive to operate. Mini golf can be played alone, in pairs, or with large groups of friends and family and requires no special equipment.
If you are looking for truly unexpected Edinburgh mini golf, look no further because we have some truly CRAZY golf on the list.
---
This site is user-supported and that's why we use affiliate links. At no extra cost to you, we get a little bit of money when you purchase something through one of our links. Thank you for helping support ethical, sustainable, and plant-based travel! You can read more about our affiliate disclosure policy here.
---
Crazy Golf Edinburgh Map
---
1. Fore Play Crazy Golf Edinburgh
Address: 14 Picardy Pl, Edinburgh EH1 3JT
Indoor or Outdoor: Completely indoor.
Other Venue Activities: Beer garden and street food venue.
Bookable for Parties?: Yes, recommended for corporate parties.
Gift Vouchers Available?: Yes, £1 – £250, choose your amount.
This was the first crazy golf course and cocktail bar of its kind in Scotland. Before practising your swing on their renowned crazy golf courses, all of which were inspired by Edinburgh's cultural background, pick from their delectable drink menu and grab some of their award-winning street food meals. 
The nine-hole golf course is home to such storied Edinburgh landmarks as the Greyfriars Bobby statue and the Scott Monument. Two bars that are stocked and ready to fuel your play are on-site. You can choose from local drinks to cocktails, bears, and gin from the long drinks menu at the bar. This is an ideal place for first-time visitors to the city.
---
2. Boom Battle Bar
Address: Units 3 & 4, Omni Centre, Edinburgh, EH1 3AU
Indoor or Outdoor: It is an indoor venue.
Other Venue Activities: Axe throwing, shuffleboard, augmented reality darts, American pool, splash pong.
Bookable for Parties?: Yes, it has an unlimited number of participants.
Gift Vouchers Available?: No, but you can book online in advance.
You may have maybe heard of the Boom Battle Bar, which can be found in many locations throughout the UK. If you are looking for indoor crazy golf Edinburgh location has exactly what you are looking for. Doesn't matter if it is a date night or a corporate event, you will have a ton of fun at this 9-hole course.
Besides crazy golf, they also have escape rooms, axe throwing, shuffleboard, and virtual darts. After 7 pm this venue is strictly for adults only because there are often parties and drinking involved. It is a lot of fun for you and your friends, but maybe not the best place to come with your smaller children. If you are planning a birthday celebration, this can be a unique experience like no other in the city.
Read More: 10 FANTASTIC Escape Rooms in Edinburgh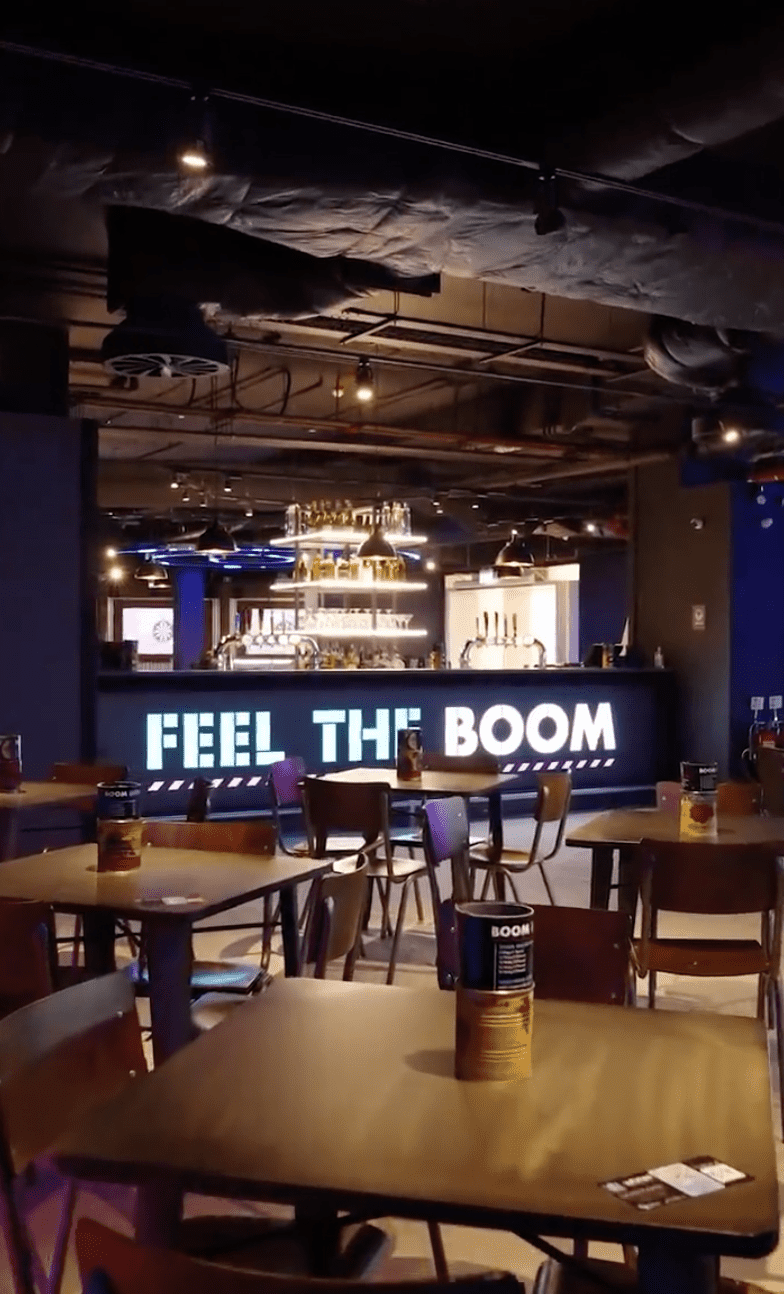 ---
3. Volcano Falls Adventure Golf
Address: 130 Dundee St, Edinburgh EH11 1AF
Indoor or Outdoor: Indoor venue.
Other Venue Activities: Parties and celebrations like Octoberfest or Christmas.
Bookable for Parties?: Yes, usually for birthday parties.
Gift Vouchers Available?: Yes.
A wonderful indoor golf course with two 18-hole courses designed in a prehistoric environment full of turns and curves is called Volcano Falls Adventure Golf. They feature a fully licenced bar with seating and food and beverages accessible all day. Everything you need for a fun day out, including dinosaurs, golf, food, and drink.
This amazing venue is a lot of fun for the whole family. You can spend a day here playing golf with your loved ones, and when you get tired grab a bite to eat or a drink. Here they often have interesting seasonal events available, so make sure to check their event calendar when you are booking your session. If you're not comfortable taking the bus or an Uber, you can rent a car to get to the golf course, so hire a car in Edinburgh with Rental24.co.uk in advance as well.
---
4. Portal Golf
Address: 10 New Market Rd, Edinburgh EH14 1RJ
Indoor or Outdoor: Indoor golf course.
Other Venue Activities: Bert's Coffee Bar, the World of Football, and the Corn Exchange Function Rooms and Venue, Bowling.
Bookable for Parties?: Yes, it is recommended for kids' parties or corporate events.
Gift Vouchers Available?: No, but you can book online in advance.
Portal Golf is a popular mini golf course in Edinburgh with twelve professional ten-pin bowling lanes with the most up-to-date lighting and scoring equipment. The venue where the miniature golf courses are located is called World of Bowling. There is also a licenced bar on site, and as the name suggests, a very popular bowling venue.
If we weren't able to time travel to the 1980s, play our favourite arcade games, and journey through a Stranger forest, our vacation to Portal Mini Golf wouldn't be complete. All ages are welcome and this retro mini golf venue is popular among kids as well as adults.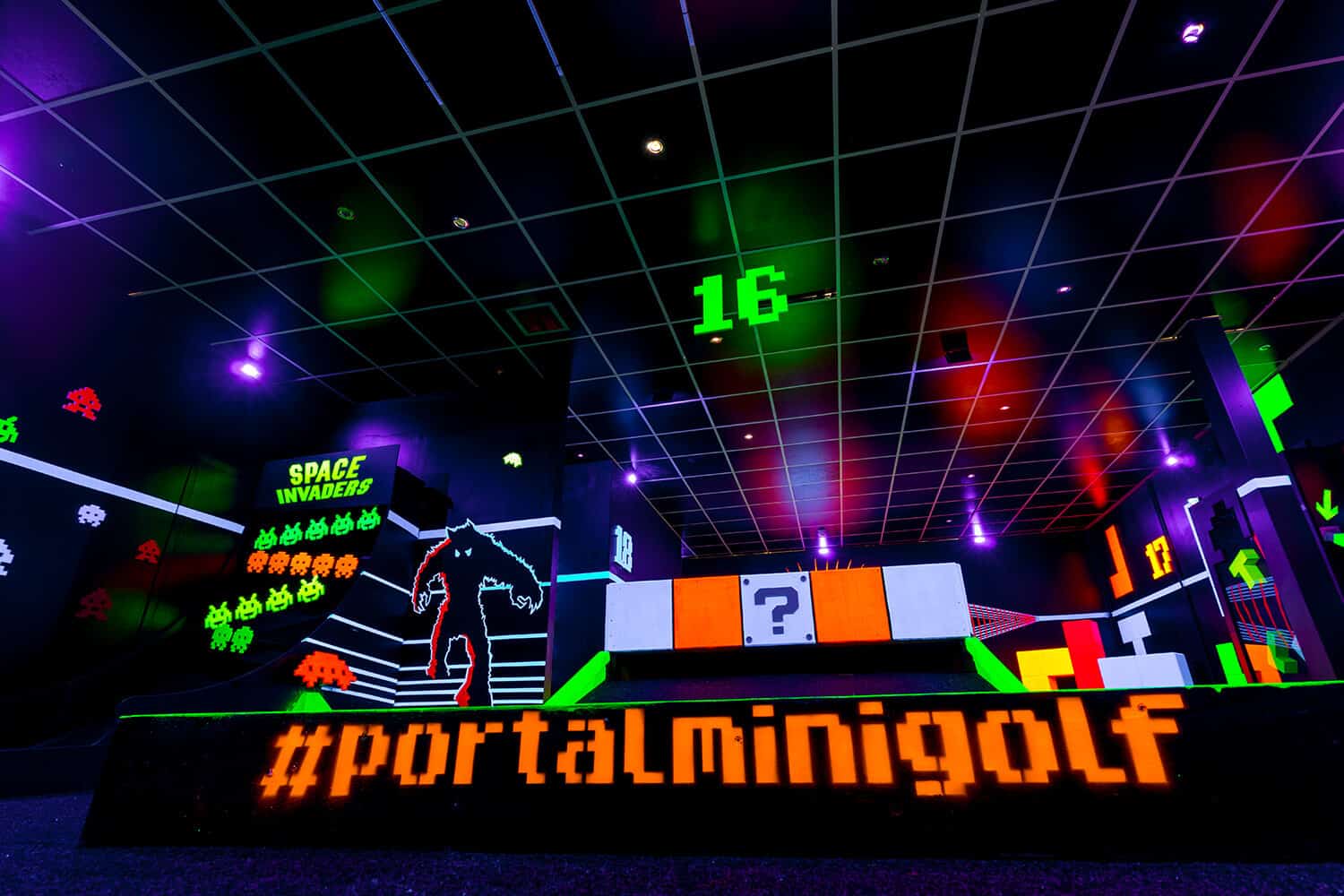 ---
5. Scrapheap Golf
Address: 12 Blair St, Edinburgh EH1 1QR
Indoor or Outdoor: Two indoor courses.
Other Venue Activities: Sometimes events and parties.
Bookable for Parties?: Yes, they sometimes offer specials for date night as well.
Gift Vouchers Available?: No.
Just a minute walk from Royal mile, this is one of the best locations for mini golf in Edinburgh so far. On the Scrappy Doo course, which is themed after a construction site, play golf over delightful trash. You must overcome halfpipes, large machines, and dangerous substances to rule the scrap heap.
The magical golf course gives you a witch and wizard experience. By navigating the Troll Cave, you can hone your abilities. You can even play some Pinball Wizard as you navigate your way through magical beings. This is a very interesting course for anyone who was inspired by Harry Potter to visit Edinburgh in the first place.
Read More: Hot Air Balloon Scotland: 4 Places to Catch a Ride
---
6. Lane7
Address: Floor 4, 02b St James Square, Edinburgh EH1 3AD
Indoor or Outdoor: Indoor venue.
Other Venue Activities: Bowling, shooting pods, darts, pool.
Bookable for Parties?: Yes, for birthdays or corporate events.
Gift Vouchers Available?: Yes, from £10 to £250.
With a variety of games available, including pool, darts, bowling, ping pong, and others, Lane 7 is the newest hot spot in Edinburgh. Making reservations in advance is advised due to the site's high volume of visitors. With so many activities, it is the ideal location for any birthday celebration. You can even buy a variety of foods and beverages while participating in your activities.
Two packages are also offered for sale, the Baller Package, which includes a game of golf or bowling, a meal tray, a drink, and an hour of pool or darts, and the Drinks Packages, which is ideal for large groups or parties because it contains a variety of drinks in bulk at a discounted price.
---
7. Paradise Island Adventure Golf Livingston
Address: Almondvale Ave, Livingston EH54 6QX
Indoor or Outdoor: It is an indoor venue.
Other Venue Activities: Different golf courses.
Bookable for Parties?: Yes, especially kids' parties.
Gift Vouchers Available?: Yes.
There are two adventure golf courses at Paradise Island in Livingston, just one hour's drive west of Edinburgh. There are 13,000 square feet of bliss for adventure golfers with a golfing journey that takes you from a shipwreck via sea caverns to a desert island with a lost lagoon. 
All adventure golfers have the opportunity to win a free game after the round on our 19th hole. Be on the lookout for strange wildlife along the road and keep in mind that this is adventure golf, not crazy golf.

---
8. Adventure Golf Island
Address: Adventure Golf Island complex, 8 Whimbrel Place, Fife Leisure Park, Dunfermline, KY11 8EX
Indoor or Outdoor: Both.
Other Venue Activities: Parties, paintball, food market, special events.
Bookable for Parties?: Yes, including kids and corporate parties.
Gift Vouchers Available?: Not exactly, but you can book online and also qualify for some discounts like student discounts.
A perfect summer adventure at mini golf, Edinburgh. This venue has several indoor and outdoor courses, as well as a pirate ship, waterfalls, and palm trees. It is a short drive from Edinburgh, and probably the best location to visit with kids outside of the city.
At Fife Leisure Park in Dunfermline, you will have a feeling you are somewhere in Florida and not in the heart of Scotland. This indoor and outdoor adventure golf complex is offering fun for all ages. Play within the only completely floodlit indoor mini golf dome in Europe while making use of the fully manicured Treasure Island course's outdoor play area.
---
Mini Golf in Edinburgh FAQs
Is miniature golf a sport?
Mini golf is a well-known, competitive activity that many ardent golfers participate in professionally. It is a great fun activity that is also considered a sport, and you can find many courses of mini golf in Edinburgh.

How is mini golf different from regular golf?
The first and most noticeable distinction between the two is size. A golf course can cover up to 100 acres of land, whereas a mini golf course is rarely more than one or two acres. Both games typically feature a course of 18 holes.
Where can I play regular golf in Edinburgh?

If you are interested in regular golf courses in Edinburgh, there are several places where you can try them, some operating for decades, even centuries. Book a Luxury Golf Day at Stirling Golf Club with a Scottish Guide if you want your day to be perfect with all the logistics being taken care of.
---
Explore more of Edinburgh
---
Free Resources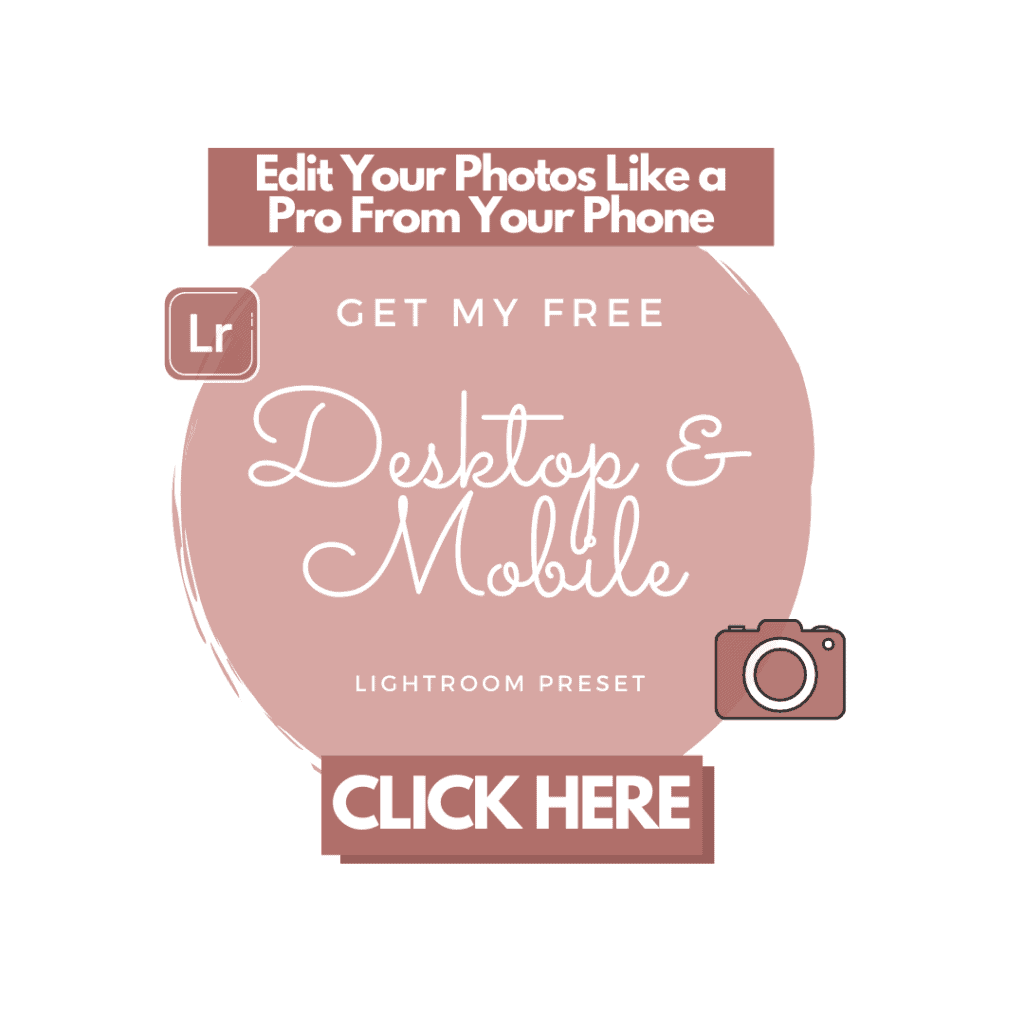 ---
And as always, you can find more sustainable travel content on Instagram @VoyagingHerbivore, Youtube, and TikTok and to get updates straight to your inbox, enter your email below in the footer, or to the right on the sidebar.

If you found this guide helpful and want to help us keep these resources free,
please consider making your next Amazon, Expedia, Hostel World, Etsy, and Booking.com purchase through our links (just click right on those words – you can do it right now and unless you clear your cookies before your next purchase, it will remember). It costs you no extra and gives us a small commission. Thank you!
---
Pin Mini Golf in Edinburgh